Updated 2023, June 14th: There are many reasons why Spain is an amazing country: Colorful festivals, blue flag beaches, vibrant nightlife, and world-renowned cuisine, which is more than tapas.
Famous holiday destinations in mainland Spain include Madrid, Barcelona, and Valencia and popular beaches like Costa del Sol or Costa Blanca. Digital nomad-friendly hotspots are Barcelona, Valencia, Tenerife, and Gran Canaria.
🌱 Travel health insurance for Spain
💡
Genki Explorer
is a travel health insurance with worldwide cover. Monthly payment plans, and easy signup in less than 1 minute.
The table of content will be generated here
🇪🇸 Entry requirements for Spain
Visa: Valid Schengen visa.
Insurance: Travel health insurance that matches the Schengen requirements. Your insurance policy needs a minimum amount of 30,000 Euros of emergency cover.
🏡 How to find a place
Airbnb & Flatio: Airbnb has way more listings than Flatio, however, I would still compare prices on different platforms. You might be shocked to find that monthly rents in the centers, for example, in Madrid or Barcelona, can be between 1,500 Euros (lucky) or up to 3,000 Euros when booking last minute.
Hotels: In times when Airbnb and co. are not as fun to book anymore, due to the high fees platform charges, the dynamic pricing models most hosts now use, and the overall host-focused business model to gain as much profit as possible, it is worth the time to check on hotels on Agoda, booking, or Google.
✈️ How to get to Spain
Plane: Madrid offers a great international connecting hub to the Americas, in any event, you want to continue to for example Mexico. Also, Barcelona is a good destination when coming from abroad.
🚌 Public transport
Taxi: Available in all parts of the country, and base fares start at 1.33 Euro in Seville, and 4 Euro in Valencia. Every additional km is between 0.59 Euro (Bilbao) and 1.47 Euro (Malaga). You can pay for taxis with cash or a card.
Uber: Uber is affordable in Spain but not available in every corner of the country. Check Cabify and Bolt. Please note that you need different apps for different cities. Uber and Cabify are the most common.
Bus: Buses are widely available in Spain's cities and connect suburban areas, towns, and airports. Buses are often near train stations.
Tram & subway: Historic trams rumbling through ancient towns, for example in Madrid, Barcelona, Seville, or Alicante.
🏘 Where to stay in Madrid
Chamberí: Chamberí is a residential neighborhood with a relaxed and charming atmosphere. It offers a mix of traditional and modern architecture, with tree-lined streets, small parks, and a wide range of restaurants, cafes, and boutiques. The average monthly rent for a one-bedroom apartment in Chamberí ranges from 900 to 1,200 Euro.
Malasaña: The vibrant and bohemian neighborhood attracts a young and creative crowd. It has a bustling nightlife, unique shops, and plenty of cultural events. The average monthly rent for a one-bedroom apartment in Malasaña varies between 1,000 and 1,400 Euro.
Retiro: Located close to the famous Retiro Park, this area offers a peaceful and upscale living environment. It has beautiful avenues, luxury boutiques, and a wide range of dining options. Retiro is known for its elegant apartment buildings and tranquil atmosphere. The average monthly rent for a one-bedroom apartment in Retiro ranges from 1,200 to 1,600 Euro.
🧑🏻‍💻 Where to work from in Madrid
Coworking spaces
The Shed: The coworking space is located in a convenient area of Madrid, providing easy access to transportation, restaurants, cafes, and other amenities. The space is characterized by its industrial-style interiors, ample natural light, and a cozy atmosphere and emphasizes building a strong community. A flexible workstation is available for 149 Euros per month.
Modo: Modo Coworking is ideally situated in Madrid, offering convenient access to transportation, dining options, and various amenities. With its modern and industrial-style interiors and abundant natural light, the space creates a warm and inviting atmosphere. It prioritizes fostering a strong and supportive community. A flexible workstation can be obtained for 149 Euros per month.
TheMun: TheMun is a prime coworking space centrally located in Madrid. As usual, the membership options grant individuals access to all essential amenities required for a productive work environment, including high-speed internet, printing facilities, and comfortable workstations. Additional shared spaces, such as a fully equipped kitchen and inviting communal areas, are provided for relaxation and networking purposes. Here, community building is a key focus so you can count on having several workshops, events, and meet-ups. Monthly membership is available for 170 Euros.
Coffee shops
Toma Café: Toma Café is a popular coffee shop located in the Malasaña neighborhood. It offers a cozy and relaxed atmosphere, making it an ideal spot for working. The space has ample seating, including communal tables and individual tables with power outlets. They serve high-quality coffee and a selection of pastries. Wi-Fi is available, and the staff is known to be friendly and welcoming.
HanSo Café: This is a charming and cozy coffee shop located in the Lavapiés neighborhood. It has a unique and artsy vibe, featuring colorful decor and a welcoming atmosphere. The cafe offers comfortable seating options, including couches, wooden tables, and window nooks. They serve specialty coffee, tea, and light bites. HanSo Café provides free Wi-Fi and a relaxed setting for work or creative pursuits.
Federal Café: ​​The space is a stylish Australian-inspired cafe with multiple locations in Madrid, including the Conde Duque and Malasaña areas. It combines a modern and minimalistic design with a comfortable ambiance. They have spacious seating, including communal tables and cozy corners suitable for working. Here you will get a range of delicious brunch options, coffee, and other beverages. Wi-Fi is provided, and the atmosphere is conducive to productivity.
🏘 Where to stay in Barcelona
Gràcia: The lively and bohemian neighborhood Gràcia is known for its vibrant squares, independent boutiques, and charming narrow streets. It has a relaxed atmosphere with a strong sense of community. Gràcia is popular among artists and creatives, with many cultural events and festivals taking place throughout the year. You can count on average monthly rent from 800 to 1,200 Euro for a one-bedroom apartment in the Gràcia ranges.
Poblenou: Poblenou is an up-and-coming neighborhood situated near the beach and known for its transformation into a tech and innovation hub. It offers a mix of modern and industrial architecture, with former factories now housing coworking spaces and startups. Poblenou has a laid-back vibe, with a growing number of cafes and restaurants. The average monthly rent for a one-bedroom apartment in Poblenou ranges from 900 to 1,300 Euros.
Sant Antoni: Sant Antoni is a trendy neighborhood that has undergone a revitalization in recent years. It is known for its vibrant food scene, with a variety of restaurants, bars, and local markets. Sant Antoni offers a mix of modern apartments and traditional buildings. It has a great central location and is well-connected to public transportation. The monthly rent here would be between 900 to 1,300 Euros per month.
🇪🇸
Read about the cost of living in Barcelona, which neighborhood to pick, and where to search for accommodation.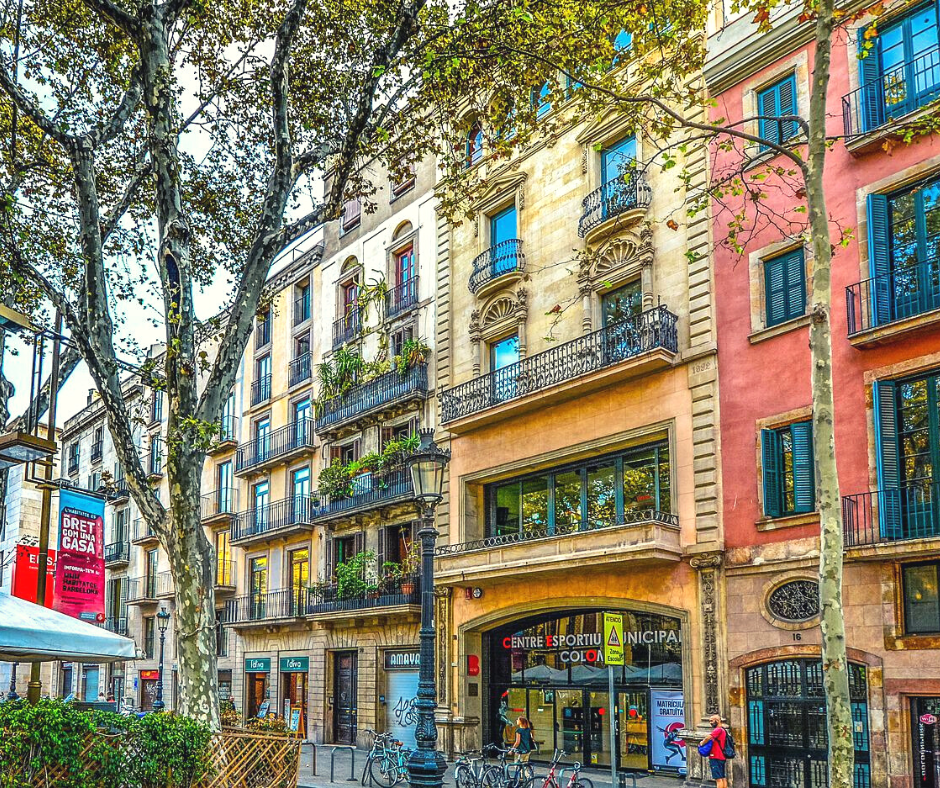 🧑🏻‍💻 Where to work from in Barcelona
Coworking spaces
Cloudworks Barcelona: Cloudworks Barcelona is a boutique coworking space with multiple locations throughout the city, including Poblenou, Eixample, and Sant Antoni. They offer stylish and modern workspaces, with focusing on creating a collaborative and inspiring environment, with a strong emphasis on community building and networking. Monthly Membership costs 260 Euros.
Betahaus Barcelona: Betahaus Barcelona is a well-known coworking space located in the vibrant neighborhood of Gràcia. It offers a dynamic and creative environment with open work areas, private offices, meeting rooms, and event spaces. Betahaus Barcelona also hosts regular networking events and workshops to foster collaboration among its members. Membership prices start at around 180 Euros per month.
MOB: The popular coworking space focuses on nurturing a supportive and innovative community. They have two locations, MOB Bailén, and MOB Pau, both offering a variety of workspaces, including dedicated desks, shared tables, and private offices. MOB Coworking also provides access to workshops, events, and networking opportunities. Membership prices start at around 160 Euros per month.
Coffee shops
Nappuccino: Fancy siesta? Nappuccino Corner is a cozy and welcoming cafe located in the Eixample neighborhood that offers nap pods, which are individual sleeping areas for having a quick break from work. The cafe also serves a variety of beverages, including coffee, tea, and refreshing juices. It provides free Wifi and power outlets, which makes it a suitable spot to work from.
The Coffee House: Also located in Eixample, the Coffee House prides itself on serving high-quality coffee, along with a variety of other beverages and light bites. The atmosphere is inviting and free Wifi a good option for working sessions.
Hidden Coffee Roasters: With multiple locations throughout the city, these cafes offer a unique and welcoming atmosphere. The cafes are known for their specialty coffee, carefully sourced and expertly roasted in-house, ensuring a delightful coffee experience. The comfortable seating options, including spacious tables and cozy corners, make them ideal for working with a laptop.
🏘 Where to stay in Valencia
El Carmen: El Carmen is a historic and vibrant neighborhood located in the heart of Valencia's old town. It is known for its narrow streets, colorful buildings, and lively atmosphere. The area is filled with trendy cafes, restaurants, bars, and boutiques. The average monthly rent for a 1-bedroom apartment in El Carmen ranges between 600 to 900 Euros.
Ruzafa: Also known as Russafa, this is a trendy and bohemian neighborhood just south of the city center. It has become a popular hub for artists, designers, and digital nomads. Ruzafa offers a mix of stylish boutiques, art galleries, hipster cafes, and international cuisine. Rent here can also vary between 600 to 900 Euros for a single household.
Canovas: Canovas is an upscale and cosmopolitan neighborhood located near the Turia Riverbed. Here you can find wide tree-lined streets, elegant architecture, and upscale shops. Canovas offers a vibrant nightlife scene, with numerous bars, restaurants, and clubs. The average rent for a 1-bedroom apartment can be slightly higher with prices between 800-1,100 Euros per month.
Benimaclet: The more laid-back and eclectic neighborhood is situated to the north of the city center. It has a bohemian and alternative vibe, with a mix of local bars, cafes, and shops. Benimaclet is also known for its affordable prices compared to other central neighborhoods. The average monthly rent here for a 1-bedroom apartment ranges from 500 to 700 Euros.
🧑🏻‍💻 Where to work from in Valencia
Coworking spaces
WayCo: WayCo is a boutique coworking space with three locations in Valencia. All of their locations offer a creative and collaborative environment with comfortable workstations, meeting rooms, event spaces, and amenities such as high-speed internet, printing services, and a kitchenette. Membership options include flexible desks and private offices. You can get an unlimited monthly membership for 235 Euros.
LLUM coworking: LLUM coworking is located in the heart of Valencia and offers a prime location when it comes to transportation, amenities, and vibrant city life right around the corner. The bright and modern space has all amenities needed, such as high-speed internet, and monitors, as well as free water, tea, and coffee flow. They also arrange events and networking opportunities which provide a platform for knowledge sharing, skill development, and potential partnerships, contributing to a vibrant and growing community. The monthly membership starts at 180 Euros.
Coffee shops
Bluebell Coffee Roasters: Located in the Ruzafa neighborhood, Bluebell Coffee Co. is a cozy and inviting cafe with a relaxed atmosphere. It offers comfortable seating, including individual tables, and provides free Wifi for customers. The cafe serves specialty coffee, Waffles, and light bites. With its welcoming ambiance and laptop-friendly environment, it's an excellent choice for digital nomads.
Dulce de Leche Boutique Café: You can find this cozy Cafés throughout Valencia and always find a charming and welcoming atmosphere, suitable for some office hours including free Wifi. The cafe offers a variety of coffee drinks, artisanal teas, and delicious pastries.
Ubik Café: Located in the Ruzafa neighborhood, Ubik Café is a unique establishment that combines a cafe, bookstore, and coworking space. It offers a comfortable and relaxed environment with ample seating, including individual tables, free Wifi, and a dedicated workspace. The cafe serves a selection of coffee, tea, cold drinks, and snacks.
🚊 How to travel around Spain
Train: Spain offers high-speed trains with more than 300km/h, and wifi on board. Try out traveling apps for short travel like Renfe Ticket, Cercanías, or Alsa, Avanza, and Hife for long-distance traveling. Additionally, check out my favorite site Rome2Rio
Plane: The Balearic and the Canary islands are connected to mainland Europe via plane and ferry.
Ferry: Spain offers several ferry options for travelers, allowing them to explore various destinations both within Spain and beyond. One popular ferry route is between Valencia and the Balearic Islands, which includes destinations such as Mallorca, Ibiza, and Menorca.
🎖Must see in Spain
Barcelona: Sagrada Familia, the Gothic Quarter, Casa Milà, Picasso Museu, the Palace of Catalan Music, Parc Güell, Casa Batlló, and the neighborhood around La Rambla. On the weekend visit Bogatell beach or La Barceloneta fishing village.  
Madrid: When in Spain's capital, visit the Plaza Mayor, Parque del Retiro, Museo Nacional de Prado, Palacio Real, Puerta del Sol, and the clock tower. Get delicious churros with chocolate, and stroll through the historic Mercado de San Miguel and the antique market of El Rastro.
Bilbao: Guggenheim Museum. You can reach Bilbao by bus (5 hours) or plane (1 hour) from Madrid and many other places in Spain.
Santiago: Catedral de Santiago de Compostela. You can reach Santiago de Compostela by train from Madrid (4 hours), and plane (3.5 hours). But also from many other parts of the country. You can also connect to Santiago de Compostela from Porto in Portugal by bus (3.5 hours) or train (4.5 hours).
Cordoba: Patios. On the way between Madrid and Seville, you can stop at the beautiful little town of Cordoba. Cordoba lacks a coffee shop, the only one I found was The Golden Stack.
Granada: Alhambra.
Ronda: El Tajo Gorge.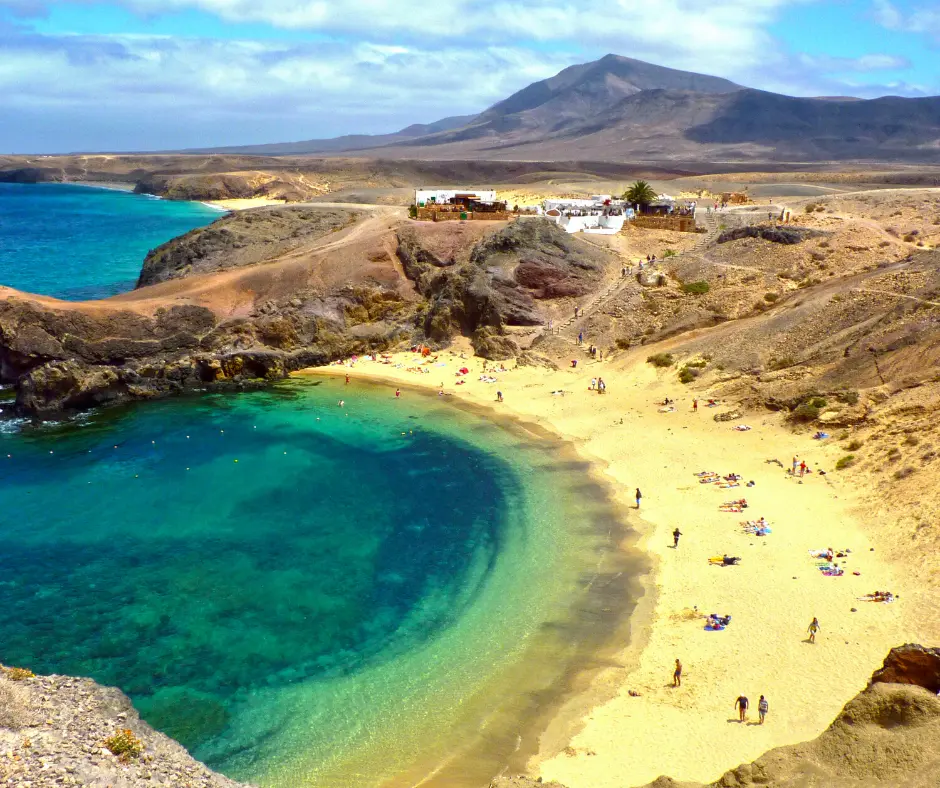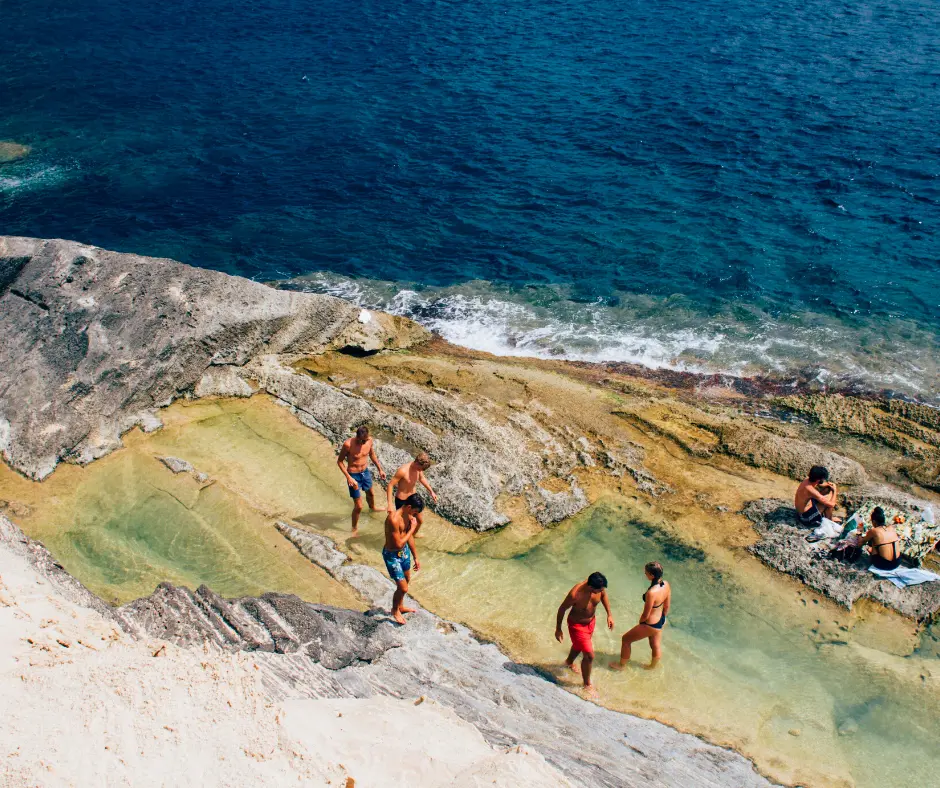 💡Good to know
Internet: The average internet speed for fixed broadband in Spain is 136 Mbps download and 106 Mbps upload speed.
Sim cards: Stable SIM coverage with Vodafone, which has the best coverage in Spain. Its 4G/LTE network covers 96.5% of the country.
Safety: Spain is a very safe country and ranks 36 on the World Peace Index. Neighboring country Portugal ranks 13 and France ranks 47
Digital nomad community: Some rising stars in Spain, and interesting hotspots for digital nomads are Tenerife, Barcelona, Gran Canaria, and Valencia. The Canary Island of Gran Canaria ranks 6th top destination for Europe on Nomdlist. Check out the area's Facebook groups, and meetup.com for events, meetups, and workshops.
Cost of living: In Madrid, and Barcelona you can estimate spending around 1,000 Euro in rent for an apartment in the city if you do a lot of research in advance. For the last-minute search, you will probably pay around 1,500 - 2,000 Euros per month, if you want to stay in the center area.
Coastal towns: Valencia ranks 16th on Nomadlist, followed by Barcelona (28th), also check out Sitges and Tossa del Mar, two smaller beach towns close to Barcelona.
Islands: Ranking 6th on Nomadlist as a top destination for digital nomads in Europe, you will find a thriving and vivid digital nomad community for example in Gran Canaria, but also in Tenerife, and the Balearic islands of Mallorca, or Ibiza.
🚧 What to avoid
Eating early: This one is for me. I am an early bird, and after a long fast of around 18 hours, I start the day with a late breakfast at around 12 pm. If you have local friends, they will probably have lunch between 1 pm and 3:30 pm. That said, dinner time - for me would be around 6 pm, whereas Spanish love to eat late, meaning not before 9 pm.
False patriotism: Don't get into the discussion of the conflict between Spain and Catalan. Barcelona, the capital of the Catalan province, is not only the melting pot for digital nomads but also the center of a national conflict between Catalans, who voted for independence from Spain in 2017, which was neglected by the Spanish government.
False labels: Don't call a Catalan a Spanish and the other way around. Don't do it. Read the point above. And just don't do it. Don't be involved. Be like... Switzerland.
Narrow yourself to one spot: Spain is a fairly big country. Besides the mainland, there are the Canary Islands and the Baleares.
Don't judge the bullfights: Catalonia and the Canary Islands banned this blood sport. However, it is still popular in other regions and provinces. If you want to avoid it, stick to Catalonia and the Canaries.
Being on time: The pace of Spain might feel slower than the pace of life in Northern Europe. Hate it or love it. There are pros and cons. However, the siesta is a thing, and shops will be closed. Take a nap, and enjoy the slow pace of life. Oh, and don't expect your local friends or colleagues to be on time. Punctuality needs a big stretch in Spain.
Costs for rental homes: Research in Facebook groups and on Airbnb, and you will be offered a tiny bedroom with a shared bathroom in a shared apartment for just €1,500/month in cities like Madrid or Barcelona. Plus, one-month deposit upfront, no contract. Sure, it is cheap when coming from California's Bay Area. However, gentrification is a huge challenge for cities like Madrid and Barcelona, and you will face similar problems in Lisbon, Budapest, or Berlin.
No heating: Have you ever been to Spain in winter? 15 degrees in northern Europe might feel ok with central heating, but 15 degrees without central heating in an old apartment complex feels really arctic. Ensure your accommodation comes with AC in summer and a heater in winter.
🚴🏻‍♀️ How to stay healthy
Stay active
Hiking the Camino de Santiago: Just across the border to France, Saint-Jean-Pied-de-Port marks one of the famous starting points to hike the famous pilgrim route that ends in Camino de Santiago. But, before getting excited, you still have around 700 km to walk. Map out your individual route according to your fitness and comfort level and tick this trail from your bucket list.
Hiking around Madrid: Just an hour's drive from the capital, you find the Sierra de Guadarrama mountain range and the Peñalara circular route. The trail is about 14 km long, takes about 4 hours, and is categorized as an intermediate-level hike. Another trail close to Madrid is the La Pedriza trail, which is 12 km long and takes about 3 hours.
Kitesurfing in Tarifa: The coast around Tarifa is known for its strong winds and waves, and it marks the perfect kitesurfing spot. Come between April and October, to enjoy kitesurfing in a warm Mediterranean climate.
Worth checking out: Canyoning in Sierra de Guara, hiking Mount Aneto, rock climbing in Barcelona, and horse riding in Menorca.
Health risks
Water quality: In general, you can drink tap water in Spain.
Air quality: The air quality in Spain is generally good.
⚓️ Long stay
If you intend to stay longer in Spain, check out the following possibilities.
Digital nomad visa
Digital nomad visa: This type of visa is for you if you do not hold an EU or an EAA-area passport, and you want to stay in Spain for 1 year. The digital nomad visa can not be used to apply for permanent residency.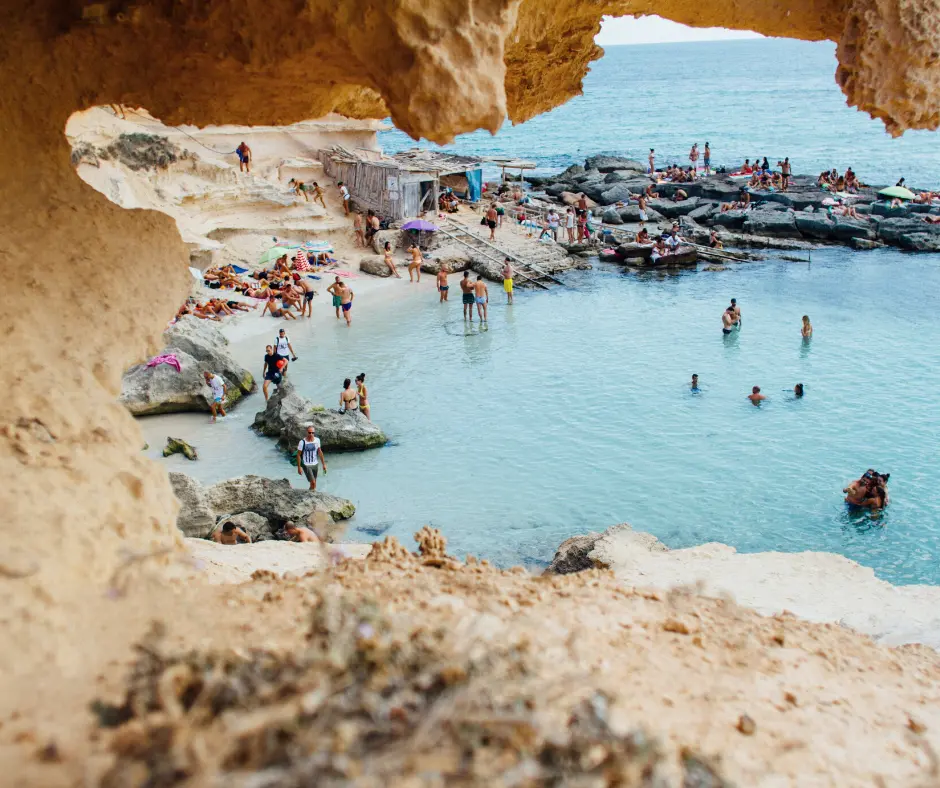 Residency
Green card: This type of residency is for EU and EEA citizens (plus Switzerland), which allows them to stay in Spain longer than 3 months and live and work in Spain legally.
Non-lucrative visa: This type of long-stay visa is for non-EU and non-EEA citizens, who want to live in Spain for more than 3 months and up to 1 year. One important requirement you need to check is 26,000 Euro in your bank account or split into 2 accounts.