Barcelona, Berlin? Why not change up the travel plans to places like Bolzano, Bad Belzig, and Batumi?
We introduce you to 9 coliving spaces in Europe's countryside worth adding to your bucket list.
A beautifully renovated house transformed into a coworking and coliving space in the mountains of Bolzano, South Tyrol in northern Italy. Here, in the 1960s, the founder's grandparents, Franz & Mathilde, founded a small hotel that was successfully operated for more than 40 years. After being closed for 2 decades, Sarah, the founders' granddaughter reopened the house together with Philipp and they transformed the place into a modern, airy, and welcoming place for nomads to exchange ideas, work productively, and experience adventures in the stunning nature around.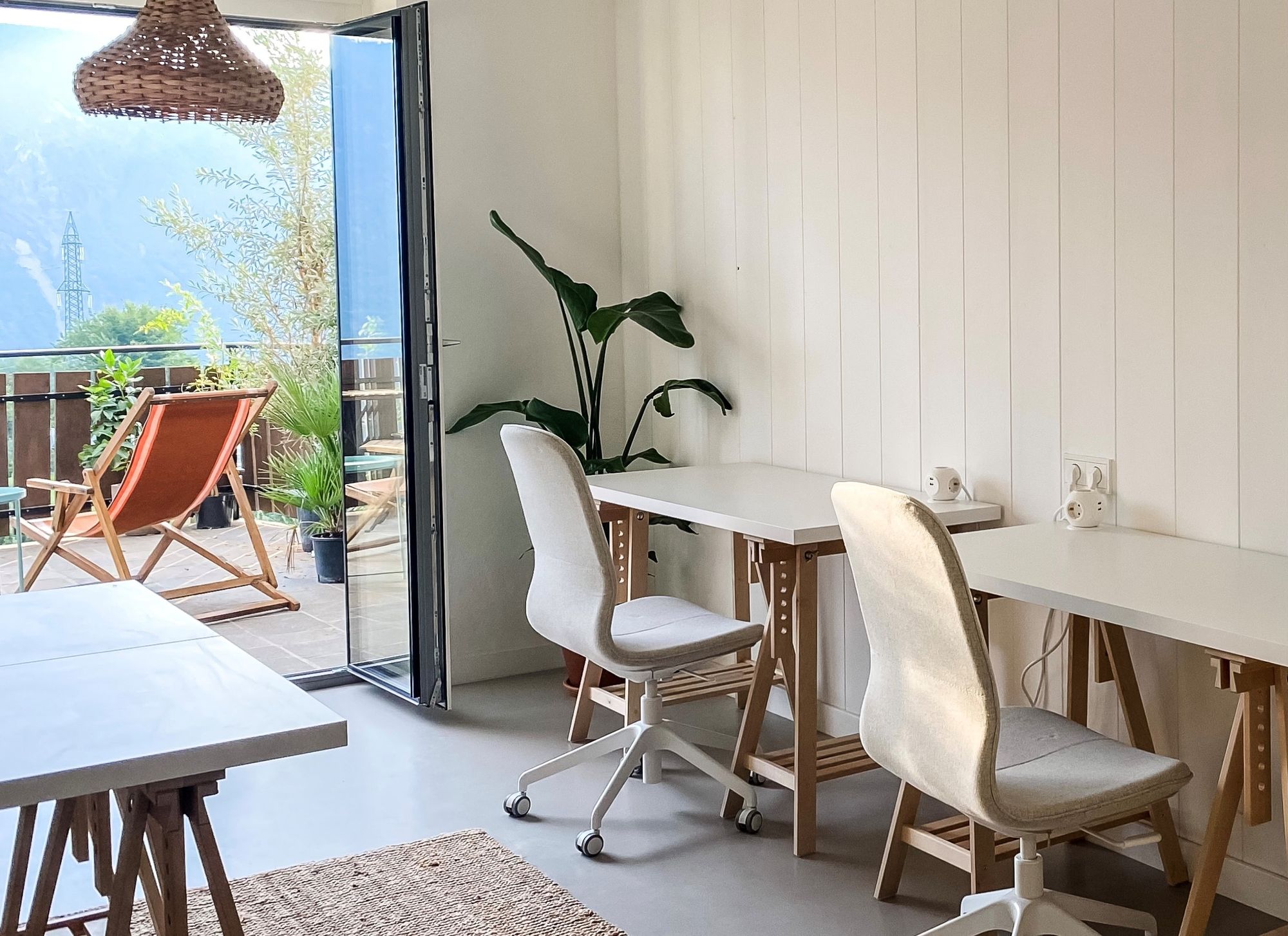 Nestled in the northernmost province of South Tyrol, between the Dolomite Mountains, you find the tiny village of Tesimo, just a 30-min drive from Bolzano. The area is a famous winter sport, and hiking destination, attracting tourists all year round. It takes you 2 hours to Verona, and 3 hours to Venice.
You can reach Bolzano Airport from Germany, Switzerland, Belgium, and Spain. When coming by train, you can access Bolzano train station from Austria, Switzerland, Germany, and France. Have a look at our article Italy & Germany by train.

From Bolzano you take the Regiobus 17109 Merano to Vilpiano Nalles. You arrive at the train station of Vilpian and take the bus 216 Lana to Tisens, Longnui. From the bus stop, it is just a 140 m walk to the coliving space. The journey takes between 1:15 and 1:45 hours.
Community
The founders Sarah & Philipp focus on building a community-oriented space combining business and leisure, productivity and adventure, as well as a modern work environment and lush green nature. When staying at Franz & Mathilde, you can join fun hikes, communal coffee breaks, shared meals, movie nights, and other leisure events.
Accommodation
As mentioned, the coliving space turned out to be a modern, cozy, and yet minimalistic space with plugs, perks, and high-speed internet. You will find all you need to stay comfortably. It is a quiet space with a mix of private rooms, shared and common areas, as well as large outdoor spaces.
Prices per room
Week single: 7-nights in a single room for 350 - 490 Euro
Week double: 7-nights in a double room for 560 - 700 Euro
Month single: 28-nights in a single room for 1,190 - 1,666 Euro
Month double: 28-nights in a double room for 1,900 - 2,300 Euro

Check out their current pricing here.
---
Since 2015 the people behind Sun & Co. coliving space welcomed nearly 1,000 guests, from nearly 50 countries, and hosted more than 325 events, and 13 retreats. For Eduardo and Jon, the founders of Sun & Co., the focus lies to open a space that feels like home and attracts like-minded individuals seeking community, belonging, and connection.
The space can host up to 20 people and offers coliving, coworking, community, and team retreats.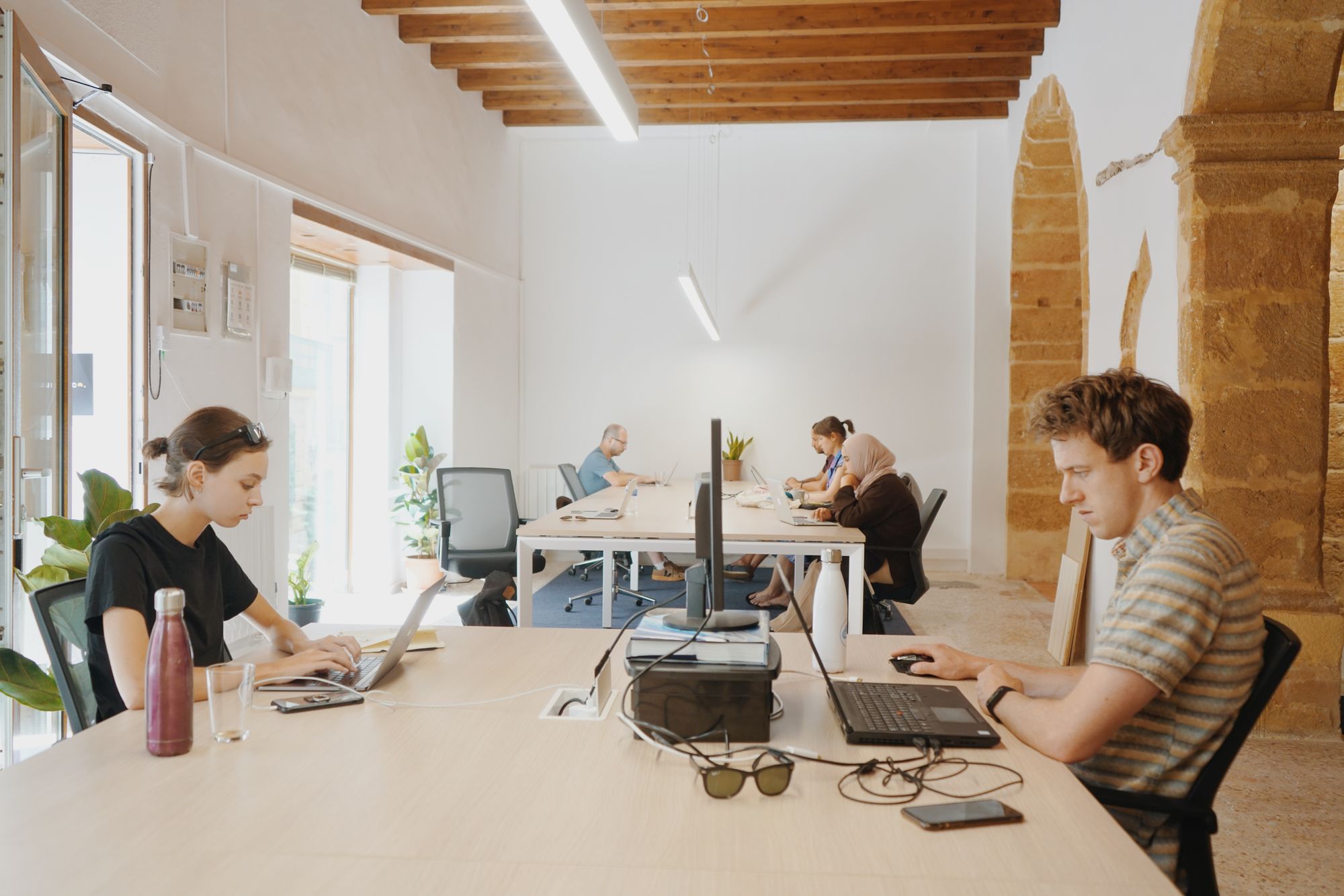 This beautifully designed space is located on the coast of Alicante in Xàbia, just opposite Ibiza, and 112 km south of Valencia.  
You reach the space from Valencia by car or bus to Javea, which is a 2-hours drive. The next airport is Alicante, which is a 1-hour drive to Xàbia. You can also take the ferry from Ibiza.
Community
The founders Eduardo and Jon put an emphasis on building a community-based space that combines work and relaxation, business and leisure both on one of Spain's sun-kissed coasts. Excursions, shared meals, morning coffee, and focused work sessions are some of the highlights to expect at Sun & Co. The mix of local hosts and an international community is what makes this place unique.
A brand new membership type just launched which is suitable for everyone traveling with kids, pets, or simply wanting more privacy. The community pass allows you to stay somewhere in Javea and still join the coworking and community at Sun & Co.
Accommodation
Choose between your private room or a shared dorm, cook your own lunch and share it with others or join your new coworkers at the restaurant nearby. You have privacy if needed, and friends if you want, there is always something going on, an event to join, a workshop to take part in, or a communal meal to prepare.
Prices per room
Week single: 7-nights in a single room for 455 Euro
Week double: 7-nights in a double room for 630 Euro
Month single: 30-nights in a single room for 1,350 Euro
Month double: 30-nights in a double room for 2,100 Euro

Community pass pricing:
Two weeks for 250€
One month for 400€

Check out their current pricing here.
---
The founders María and Edo brought an abandoned house in a small Spanish village back to life by creating a modern coliving space that attracts international nomads and remote workers. This place is for you if you love being surrounded by nature, and if you are open to creating new connections with people. This works best over a delicious Spanish meal.  
Sende Coliving is located in Senderiz, a small village in northern Spain, close the Portuguese border. The closest airports are Porto International Airport in Portugal, and Santiago de Compostela or Vigo, both in Spain. From the airport in Porto, take a taxi or Grab or Uber which might cost between 80 and 100 Euro and takes around 2 hours.

When coming from Spain, take the bus or train to Ourense, then switch to the local bus to Bande which is around 1 hour and costs around 5 Euro. You can also take a taxi which is between 50 and 70 Euro when coming from Santiago de Compostela.
Community
The coliving space hosted already more than 3,000 nomads and it established a strong community within the digital nomad universe. Besides being a member of the coliving space, you can take part in different retreats, and excursions, such as camping, hiking, or join communal dinners.

Sende Coliving is hosting special events for creatives, for example, Bosquexo, or gamers, for example, Bitsommer.
Prices per room
2 weeks single/double: 14-nights between 350 and 450 Euro
Month single/double: 28-nights between 500 and 1,200 Euro
For bookings and up-to-date prices, contact them via [email protected].
---
Have you ever dreamed of living in a castle? At Château in France, this dream comes true. Wake up in the 12th century built Manor house which has been transformed into a modern, innovative and vibrant coliving retreat.
This place combines tranquility with modern facilities, minimalism, and nature with luxurious and spacious space - the perfect balance for those seeking to be surrounded by nature, animals, and a conscious and healthy community.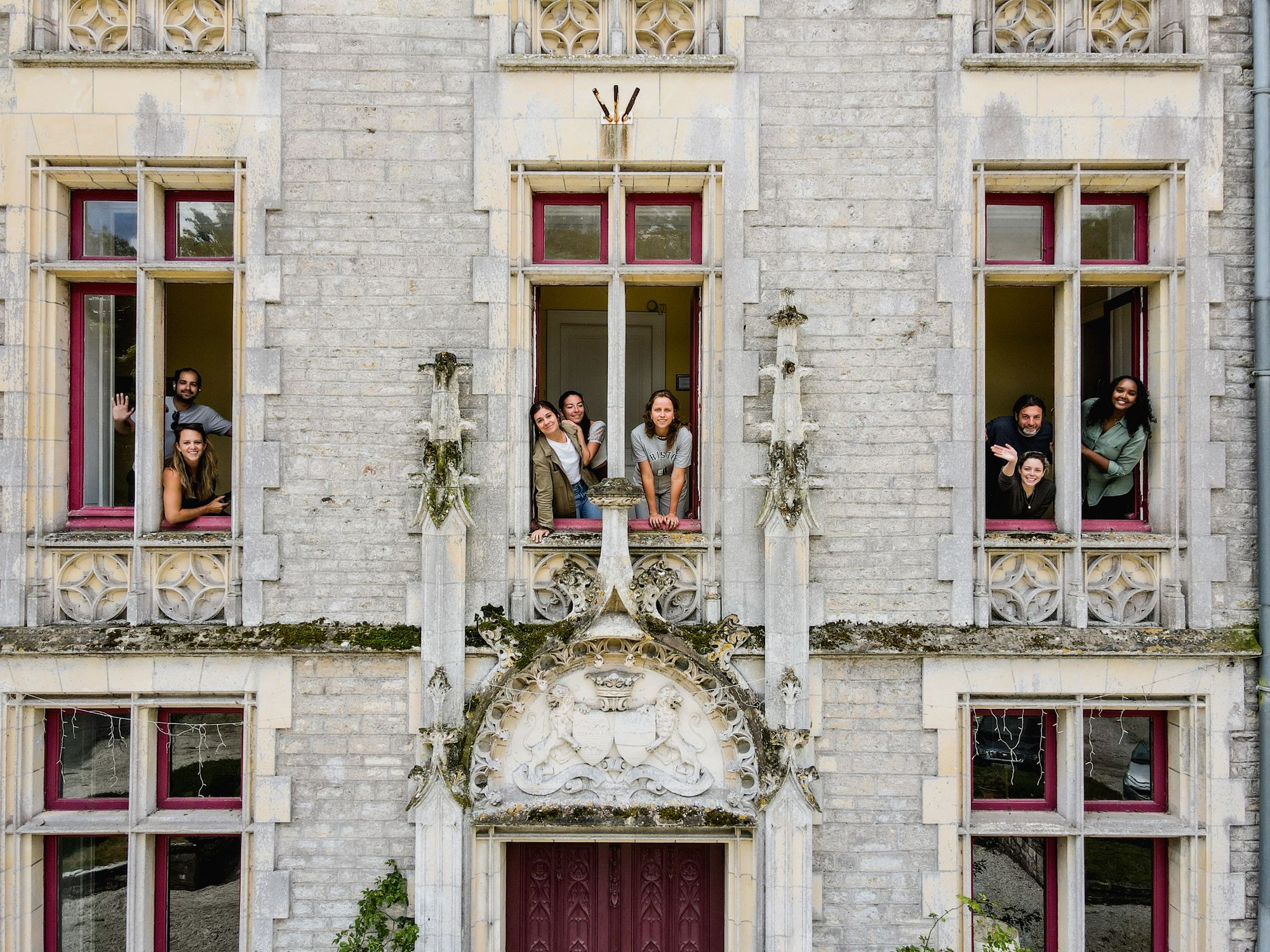 The Château is located northwest of Paris, and you can get there by taking the train from Saint Lazare in Paris to Carentan. The journey takes 2.45 hours and requires a 15-min. drive from Carentan station to the castle. But hey, once you drive through the gate you will forget about the travel and just enjoy being in heaven.
Community
Staying at the Château is for you if you are a nomad, individually traveling, or with your partner, family, or pet. If you want to meet new people of all ages, races, sex, and walks of life, and if you love being in nature, surrounded by animals and far away from the hustle and bustle of the world's metropoles.
The space offers bikes to explore the area, private bedrooms and apartments, shared meals, communal breakfast, 3 x yoga per week, free flow of coffee, and tea, a bi-weekly shopping and grocery pickup, a library, and access to social events, such as movie nights, workshops, games nights, skill share, or bonfire evenings. Other excursions, meals, and services can be booked upon request.
Accommodation
The Château provides private rooms and apartments, which have their own bathrooms. In total, the castle has 8 main bedrooms, 2 budget bedrooms, 3 apartments with private kitchens, and a total of 15 bathrooms. The apartments are suitable for families and nomads traveling with their pets.
10% yoga retreat discount
The Château coliving in France is giving you a 10% discount on their next yoga retreat, organized in their beautiful estate in Normandy. Use GENKI10 when booking here.
Prices per room
Week single: 7-nights in a single room for 550 Euro
Week double: 7-nights in a double room for 700 Euro
Month single: 28-nights in a single room for 1,650 Euro
Month double: 28-nights in a double room for 2,100 Euro
Check out their current pricing here.
---
Located in the heart of the French Alps, Cloud Citadel is an amazing place for nature-loving nomads. Combine nature adventures and coliving which means working productively and making friends at the same time.
This coliving space is based in an old and renovated military citadel in the small French town of Briançon. The town is situated in the Ecrins National Park which is famous for its winter sports destination in Serre Chevalier.
The closest international airport is Turin International Airport which takes a 1.40-hours drive by public transport, for example to Torino Porta Susa. From there you take the TGV, the French high-speed train to Modane (1:20 hours), and a connecting bus (1:30 hours) to Briançon.
Alternatively, check out the international airport in Lyon, Saint Exupery International Airport which is a fabulous, modern, and bright airport at the foot of the French Alps. It takes 2:30 hours to drive to Cloud Citadel.
Accommodation
Staying at Cloud Citadel means living in a former military residence, built in 1823 as well as staying in a UNESCO World Heritage site. The citadel is renovated and provides state-of-the-art homes for 8 to 15 nomads. You can choose between shared or private bedrooms. The cleaner comes twice per week.
Community
Cloud Citadel can host up to 15 guests which creates a cozy family feeling. The team organizes communal dinners, movie nights, outdoor activities, and excursions. Climbing, hiking, canyoning, or paragliding tours are on the event schedule.

During the week, the schedule is packed with smaller events, such as BBQs, slackline time, or joining for a hot chocolate in one of the cafés around town.
Prices per room
2 weeks single: 14-nights in a single room for 840 Euro*
2 weeks double: 14-nights in a double room for 840 Euro*
Month single: 30-nights in a single room for 1,540 Euro
Month double: 30-nights in a double room for 1,540 Euro

*The minimum amount of nights is 14.

Check out their current pricing here.
---
Another beautiful rural countryside experience which offers luxurious and modern stays in a stunning chalet in the Swiss Alps, surrounded by nature and the panoramic mountain view.

The founders Fanny and Haz can't wait to meet you.
Swiss escape is located in the charming village of Grimentz, nestled in the Alps and accessible by public transport from Geneva, Zurich, and Milano airports in less than 3 hours' drive.

When taking the train and bus, take a ticket to Sierre Airport, then switch to a local bus to Grimentz Télécabine.
Accommodation
The 2 chalets of swiss escape are located directly next to each other and were built in 2013 by a local architect, who considered low-energy consumption. Both chalets have cozy shared and private bedrooms, a fully equipped kitchen, and a shared living room. You can expect 4 housemates and a house manager who is around when needed and who takes care of the common areas.
Community
Fanny and Haz organize regular group events, from sporty outdoor activities such as hiking, winter sports, and snow excursions to business-related talks, and social dinners. Winter months include delicious fondue and raclette evenings at the local restaurant, movie nights, and games nights. In the summer months, Fanny and Haz organize wine tasting tours, climbing trips, and fun BBQs.
Prices
Week single: 7-nights in a single room for 449 Euro
Week double: 7-nights in a double room for 519 Euro
Month single: 28-nights in a single room for 1,619 Euro
Month double: 28-nights in a double room for 1,869 Euro
Check out their current pricing here.
---
Located in an old renovated country estate, Coconat opened its doors back in 2012 and moved to the Klein Glien estate in 2017. The beautiful property is made for international nomads, nomadic working families, team retreats, and open-minded individuals.
Coconat stands for community, concentrated work, and nature, which build the vision of the founding team. Dive into an innovative, welcoming, international community, and live quietly and serenely without being isolated. While you have direct access to nature in the German countryside, you find yourself productively working in a modern office environment in a home-like atmosphere.
Coconat is located 95 km southwest of Berlin, a relaxed 1-hour drive from the German capital to the Brandenburg province.
You can reach the space by taking the train R7 from Berlin Hauptbahnhof (Berlin central station) to Bad Belzig (1 hour) and continuing by bus (13 min.) to Klein Glien.
Community
As mentioned, Coconat is made for people seeking a balance of solitude and community. This space is a wonderful retreat if you wish for a change from busy urban city life, or if you just wish to change your environment entirely.
The team prepares 3 vegetarian meals a day, hosts social events, and organizes the annual village festival, too.
Accommodation
Choose between shared and private rooms, enjoy common areas, a fireplace, communal meals, social events, outdoor areas for camping or glamping, a sauna, yoga and meditation space, quiet walks, a forest, and a modern workspace.
Coconat is a big estate, renovated, modernized, and well equipped. Sip your morning coffee at the lake, go for a swim, or stroll around the small village before joining the community or starting your work day.
Prices per room
Week single: 7-nights in a single room for 455 Euro
Week double: 7-nights in a double room for 672 Euro
Check out their current pricing here.
---
This tranquil space is a coworking and coliving space, an education and retreat center, built in the picturesque mountains of Western Georgia. Surrounded by forest, overlooking the valley, the place offers a main house with a huge common area, perfect for yoga, workshops, and parties.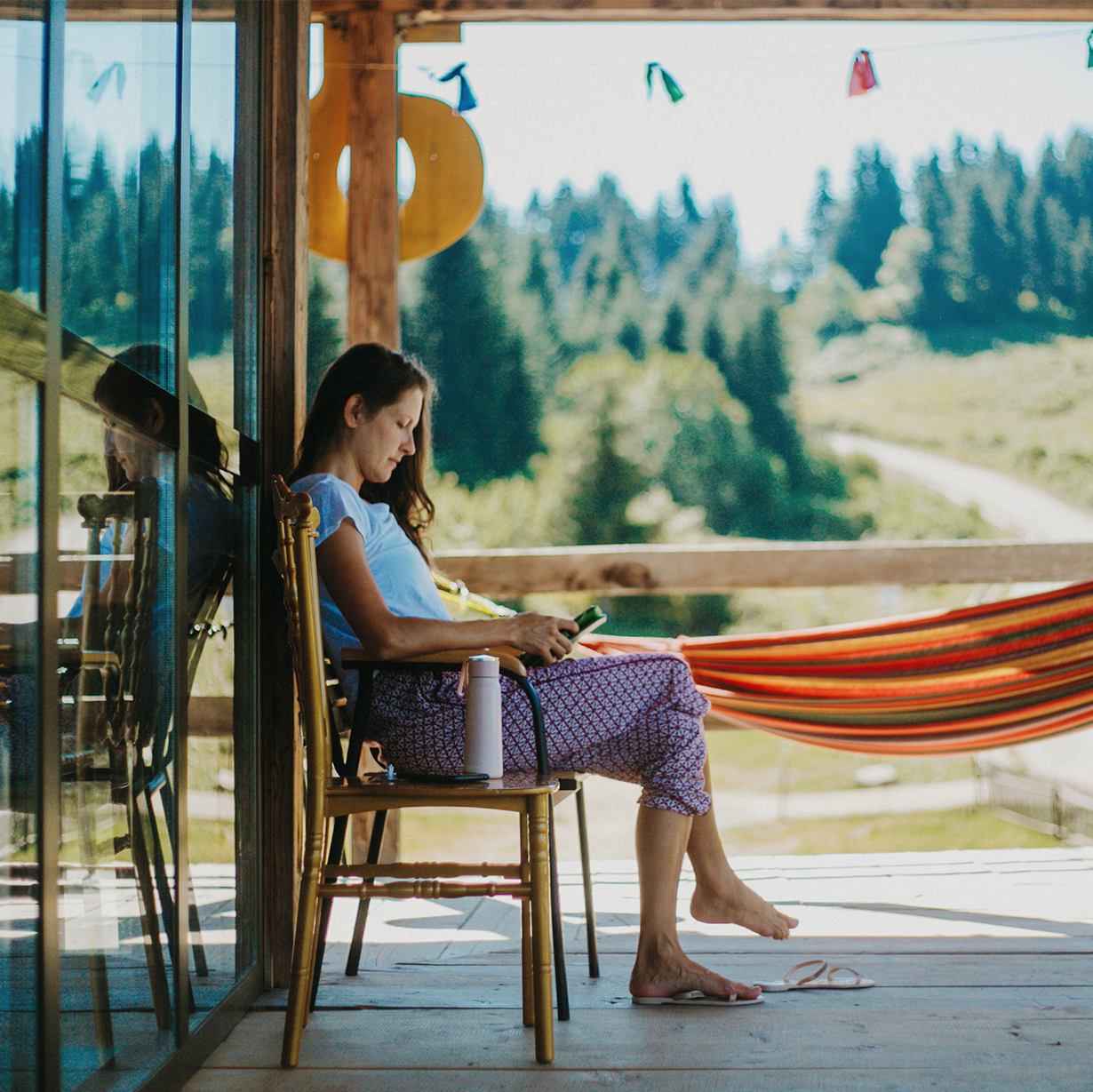 Built on top of a mountain, overlooking the valley, and the forest, Gomarduli Dao Space is located 60 km off the coast and off the next major city Batumi. The location is close to the Turkish border, and to access the space, you can either take the train or bus from Tbilisi, which take 7 hours each. The last bit will be completed by taking a taxi from Batumi to the place.
Community
The community at Gomarduli Dao Space consists of international nomads, yogis, artists, musicians, and practitioners who are seeking to get together and connect through work sessions, events, workshops, festivals, and retreats. The event schedule of the space is packed with all kinds of get-togethers.
Accommodation
Gomarduli Dao Space offers everything from dorms of 4 to private stand-alone houses. The rooms are simple, yet comfortable and offer everything you need. There is wifi in every house as well as ensuite bathrooms. For 20 Euro per day, you can book 3 healthy meals a day.
Prices per room
Week single: 7-nights in a single room for 280 Euro
Week double: 7-nights in a double room for 420 Euro
Monthly stays: 28-nights between 450 and 850 Euro.
Entire house for up to 12 people: 200 Euro per night

Check out their current pricing here.
---
A rising star for a couple of years already is Coworking Bansko, located in Bulgaria's countryside at the foot of the Pirin Mountains. The space turned the small town of Bansko into one of Europe's most popular nomad hubs and a group of nomads settled there, at least spending half of the year in Bansko.
A unique advantage of Bansko is that it comes with the 2 seasons of summer and winter. In the summer months, you have the full range of outdoor activities, sunset drinks, outside work sessions, and everything you can do in warm weather. In winter, Bansko turns into an amazing winter sports destination with slopes around the corner.
Bansko is located south of Sofia, Bulgaria's capital. A 2-hour drive is needed to reach the mountain town from the capital, alternatively, you take the bus which takes about 3 to 4 hours.
Community
Bansko is a community-oriented space that offers 2 locations, one in the south and one in the north part of the town. The team organizes weekly community events, such as movie nights, BBQs, camp nights, dinners, and potlucks, as well as games nights. Coworking Bansko is also hosting the annual Nomad Fest Bansko. This festival attracts a few hundred nomads every year to discover Bansko for a few days.
Prices
Monthly coworking membership for 129 Euro.
Check out their current pricing here.
That's it for now. Which one is your favorite coliving? Tell us in our community here.