Barcelona is another European metropole attracting many international nomads. Some stay just for a short month while others fall in love and make Barcelona their home base.
We are wondering, how much does it cost to live in Barcelona? It's a tourism hotspot. Nomads are arriving in droves from San Francisco, Paris, and other top-tier cities, pushing up rent prices.
So, we set out to find out how much does it actually cost to live in Barcelona these days?
🌱 Travel health insurance for Barcelona
💡
Genki World Explorer
is a travel health insurance with worldwide cover. Monthly payment plans, and easy signup in less than 1 minute.
What do Barcelona nomads say?
We asked 4 nomads, 3 are currently living in Barcelona and chose the city as their main base, and 1 has been in Barcelona recently for a short visit.
👨🏼‍🦱 Christopher chose Barcelona as his base and spends most of the year here.
👩🏻‍🦱 Christine moved to Barcelona and fell in love so she decided to make it her base.
👩🏻‍🦰 Taina lives on the outskirts of Barcelona.
👱🏻‍♀️ Kristin moved to a beach town just south of Barcelona.
Based on our selected nomads, we got some price ideas for rents, groceries, workspace, and suggested neighborhoods based on budget. Price-sensitive nomads find "budget-friendly" options, nomads with bigger wallets find information under "hipster", and families based on 2 adults (1 parent is working in a coworking space), and 2 smaller children find family-friendly suggestions.
In the first step, you need to find some neighborhoods which reflect your budget, and lifestyle, and an area that gives you all you need.
What is the best neighborhood in Barcelona?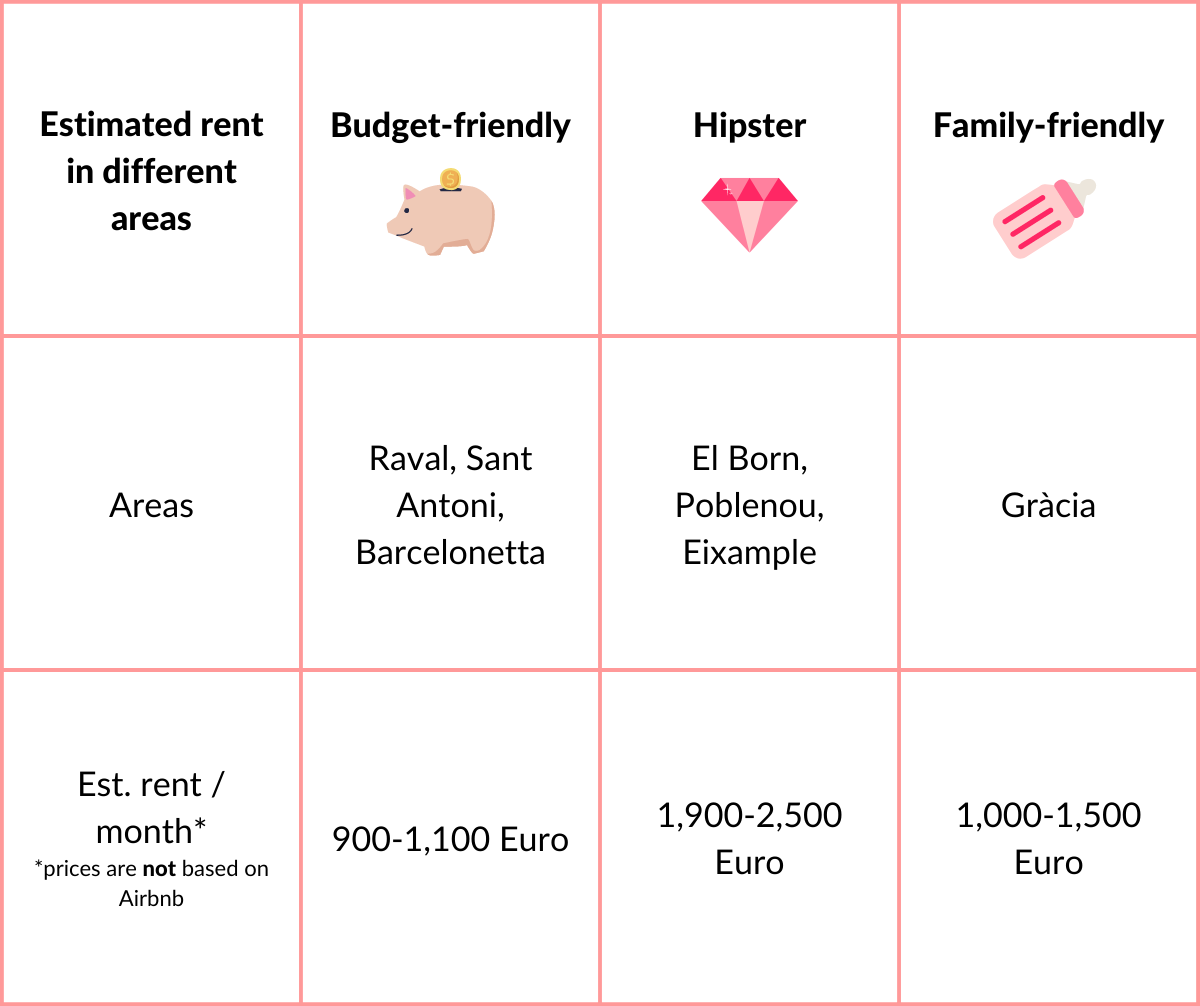 Please note that the prices do not reflect short-term rentals on Airbnb.
El Born: A trending neighborhood is El Born, located in the city center, built around the Basilica Santa Maria del Mar, and just next to the Parc de la Ciutadella. El Born is the perfect place if you want to live beautifully like in the Gothic Quarter but with fewer tourists around. You find hidden speakeasies, stylish eateries, unique boutiques, and thrift shops in El Born's narrow alleys. Short-term rent on Airbnb can go up to 4,000 Euro a month, but when investing a bit of research time, you will find apartments for 1,500 to 2,000 Euro.
L'Eixample: Next to El Born, you find L'Eixample, an upper-class, and chic district with many designer boutiques, concept stores, fine-dining restaurants, and exquisite bars. When you are lucky, you can find a 1-bedroom apartment for 1,600 Euro a month for a long-term rental contract, otherwise, rents can go up to 4,000 Euro for a long-term contract. The average rent is around 2,100 Euro. If you are looking for a short-term Airbnb in this neighborhood, rents can reach 4,000 Euro easily.
Gràcia: The large district between the La Sagrada Familia and the Tibidabo hill, is a fantastic neighborhood to base yourself in, either as a single-traveling nomad, or a nomading couple but also as a family. Gràcia is too far to reach for tourist groups but still conveniently located close to the center with all you need. Many streets in Gràcia are dedicated to pedestrians, and the vibe is tranquil and chilled. You can find mid and long-term rentals for around 1,200 Euro a month for a 1-bedroom apartment, but searching for short-term rentals on Airbnb will leave you shocked. 2- and 3-bedroom apartments are available for around 2,000 Euro.
El Poblenou: If you like to live by the beach, check out El Poblenou, the New Village, a newer and modern district with a vibrant startup scene, but also design, art, architecture, and music projects are based here. The former industrial quarters were transformed into modern lofts, hosting galleries, art studios, coworking spaces, and office spaces. You can find 1-bedroom apartments for 1,200 to 1,900 Euro here. When looking short-term, prices on Airbnb for example add another 1,000 Euro a month.  
Barcelonetta: Another hip neighborhood by the beach is Barcelonetta, also known as Little Barcelona. The district is an all-year-round tourist spot with a fantastic nightlife scene. With long-term rentals of around 1,000 to 1,100 Euro a month, Barcelonetta can still be categorized as budget-friendly. However, when looking short-term, for a period of fewer than 3 months, especially Airbnb rents add another 2000 to 3,000 Euro a month, which makes the district pretty expensive, considering all the noise and tourists.  
El Raval: Between El Born, Barceloneta, and L'Eixample, you find El Raval, which still belongs to the old town of Barcelona. The neighborhood is popular among students, and you can find many skateboarders at the MACBA square. Cool bars, affordable local restaurants, and thrift shops make El Raval an upcoming but still unique and edgy place to live. You can find long-term 1-bedroom apartment rentals for less than 900 Euro a month, for example on idealista but also on Facebook groups. Airbnb rentals add another 1,000 to 1,500 Euro for short-term rentals.
Sant Antoni: Another budget-friendly neighborhood is San Antoni, located just next to lively El Raval, and chic L'Eixample. One highlight of this neighborhood is the Sant Antoni book and food market which helped the area to develop an image to be the perfect place for foodies. Indeed, you find Japanese pancakes, Austrian specialties, Middle Eastern mezze, and African delicatessen here as dine-in options but also as street food. Mid- and long-term rentals are around 900 Euro a month.
Where to find accommodation in Barcelona?
Once the districts are defined, the question remains of where to find apartments.
In general, if you don't want to invest much time in your research and you end up booking on Airbnb, this will be the easiest and the most expensive option as you could read in the section above. If you want to invest time in research, and monitor the Facebook groups for daily updated listings on private rentals, you should be rewarded with better deals. Especially sites like spotahome.com are good sources for more affordable accommodation.
For short-term rentals of less than 1 week, Airbnb or maybe a hotel would serve you best. If you stay 1 month or longer, it might be useful to have a look at Facebook groups and check out serviced-apartment agencies, but also websites like idealista.com, and spotahome.com.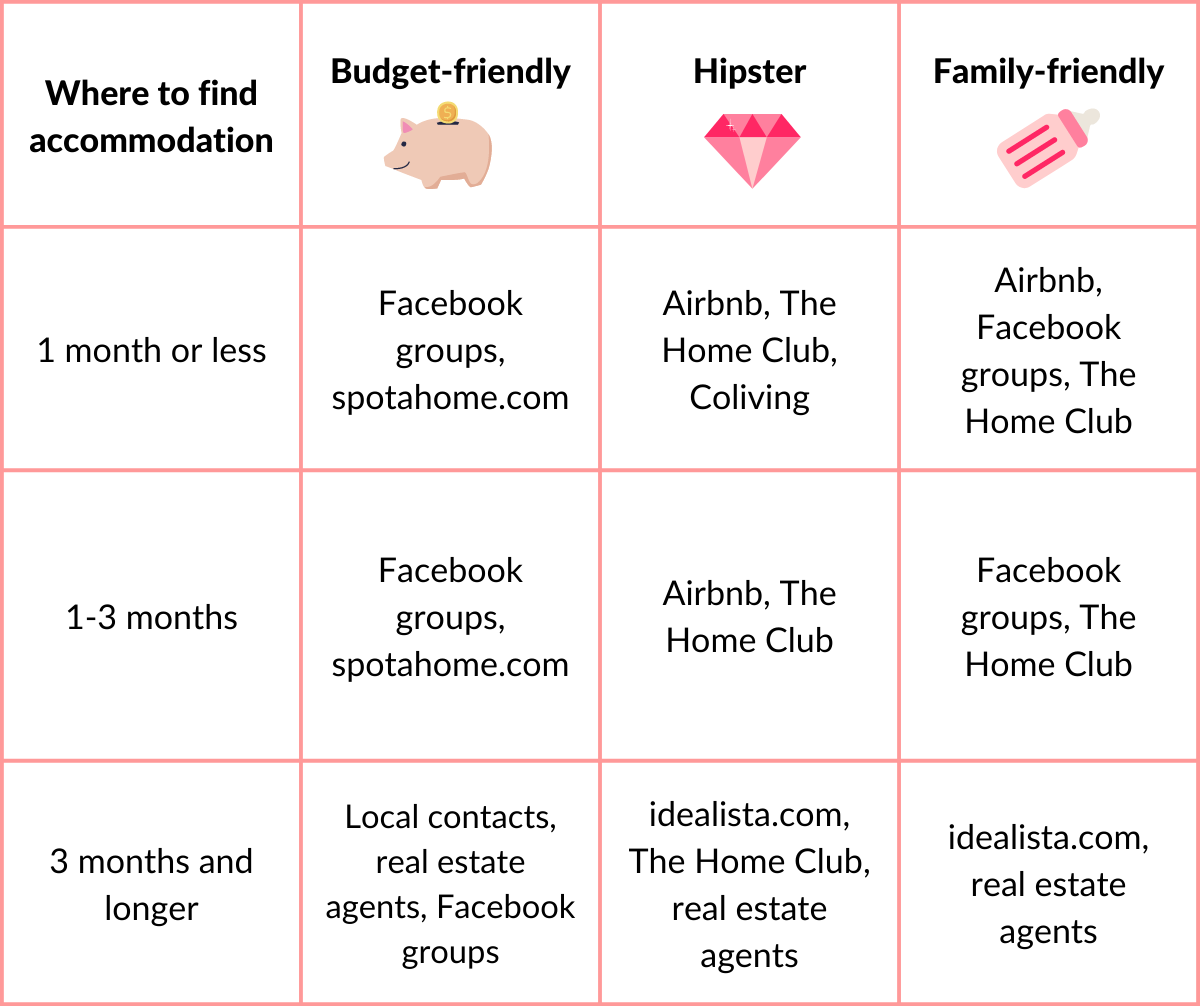 After giving you an idea of where to stay and what rental cost you should estimate, we calculated the cost of living by using the main financial chunks: rent, grocery, transportation, workspace, and miscellaneous. For the budget-friendly and hipster categories, we calculated the cost based on 1 person.
The total cost of living in Barcelona
We assume that the budget-friendly nomad cooks mainly at home, uses public transport, e.g. the monthly metro card, does not sign up for a coworking space, and has an additional miscellaneous cost of 250 Euro.
The hipster nomad cooks occasionally at home but when going grocery shopping the hipster is less price-sensitive, eats out more often, uses public transport and Uber, signs up for a monthly coworking membership, and spends more time on miscellaneous.
The family is based on 2 adults and 2 smaller children. 1 parent is working from a coworking space, and the family uses the family-metro card.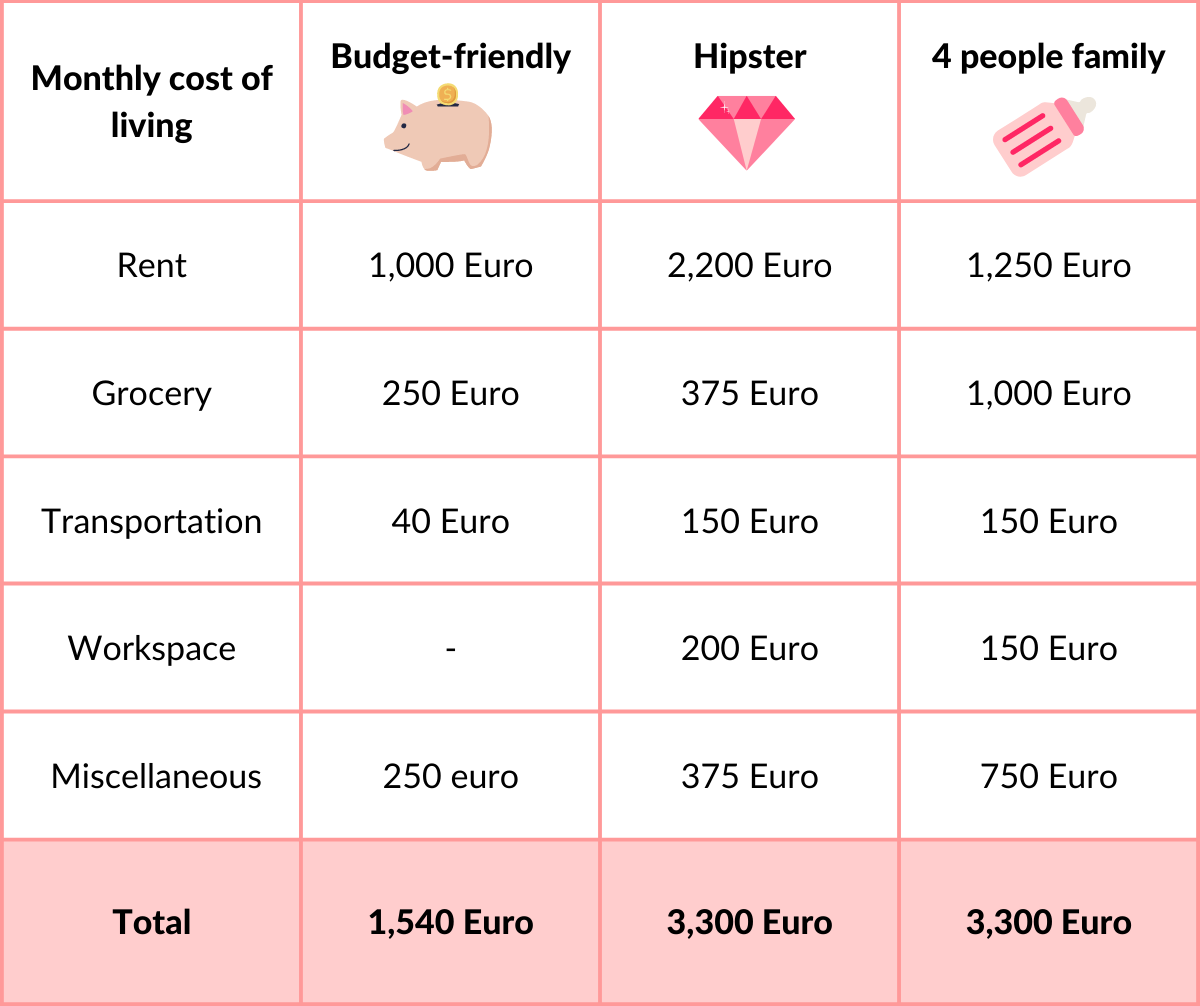 How do our 4 nomads live?
What is your monthly rent?
👨🏼‍🦱 1,700 Euro for a 3-bedroom apartment in Gràcia.
👩🏻‍🦱 995 Euro for a 1-bedroom apartment in Saint Andreu.
👩🏻‍🦰 1,700 Euro for a 2-bedroom apartment in Viladecans.
👱🏻‍♀️ bought a 4-bedroom house in Castelldelfels.
Where did you find your place?
👨🏼‍🦱 found his place on idealista.com.
👩🏻‍🦱 found her apartment on idealista.com.
👩🏻‍🦰 searched locally.
👱🏻‍♀️ found her house through friends.
How much did you pay for your last meal plus a drink?
👨🏼‍🦱 15 Euro.
👩🏻‍🦱 20 Euro.
👩🏻‍🦰 15 Euro.
👱🏻‍♀️ 25 Euro.
We are interested in your thoughts. Join our Spain channel and let's chat about Barcelona with other nomads.
Let us know your experience in Barcelona, your tips, and your questions, or simply say hello. See you!