Lisbon is one of the most popular cities on the planet for nomads. Part of the Portuguese capital's appeal is the supposedly low cost of living, especially considering the city's location within the EU.
But is Lisbon actually cheap? It's a tourism hotspot. Nomads are arriving in droves from New York, London, and other top-tier cities, pushing up rent prices. And locals complain that they can barely afford to live in their own city anymore.
So, we set out to find out how much does it actually cost to live in Lisbon these days?
🌱 Travel health insurance for Lisbon
💡
Genki Explorer
is a travel health insurance with worldwide cover. Monthly payment plans, and easy signup in less than 1 minute.
What do Lisbon nomads say?
We asked 4 nomads, 2 are currently living in Lisbon and chose the city as their main base, and 2 have been in Lisbon recently for a short visit.
👩🏼 Olivia has Lisbon as her home base and lives here for a total of 3 years now.
👨🏽‍🦱 Maxime has Lisbon as his home base and lives here for nearly 2 years now.
👩🏻 Paolina stayed in Lisbon for 1 month during the winter months.
🧔🏻‍♂️ Rafael and his family stayed in Lisbon for 2 months during the summer months.
Based on our selected nomads, we got some price ideas for rents, groceries, workspace, and suggested neighborhoods based on budget. Price-sensitive nomads find "budget-friendly" options, nomads with bigger wallets find information under "hipster", and families based on 2 adults (1 parent is working in a coworking space), and 2 smaller children find family-friendly suggestions.
In the first step, you need to find some neighborhoods which reflect your budget, and lifestyle, and an area that gives you all you need.
What is the best neighborhood in Lisbon?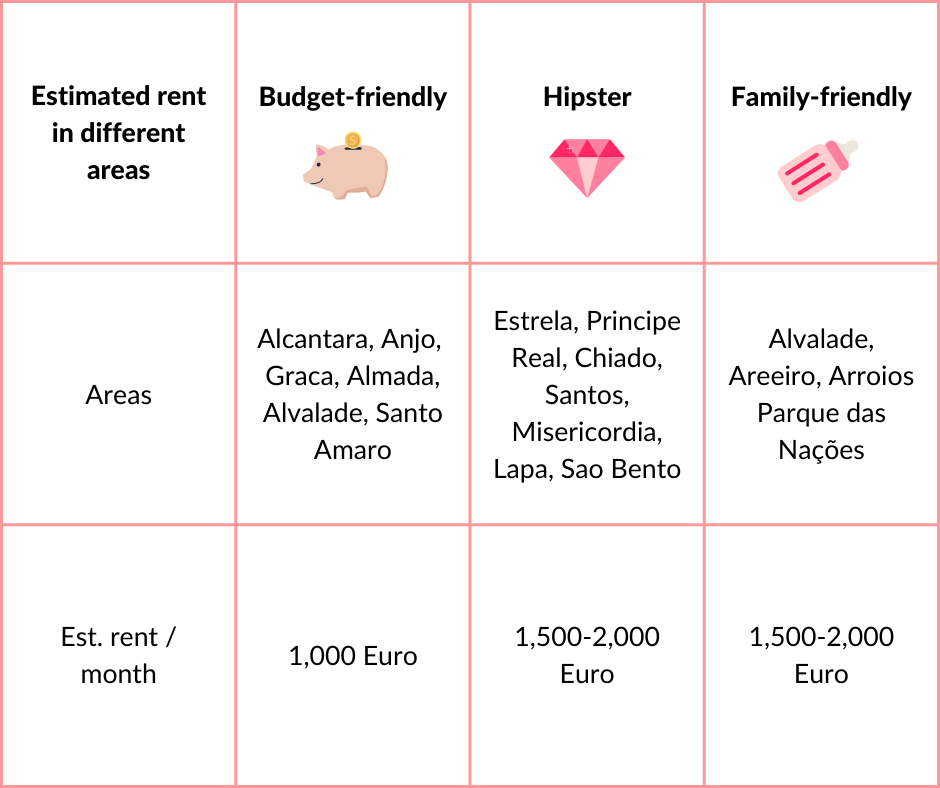 Once the districts are defined, the question remains of where to find apartments.
In general, if you don't want to invest much time in your research and you end up booking on Airbnb, this will be the most expensive option. If you want to invest time in research, and monitor the Facebook groups for daily updated listings on private rentals, you should be rewarded with better deals.
For short-term rentals of less than 1 week, Airbnb or maybe a hotel would serve you best. If you stay longer than 1 month, it might be useful to have a look at Facebook groups. For long-term rentals, and nomads who transform into expats, meaning staying in the destination for 6 months or longer, check out real estate agencies and the serviced-apartment market.
Where to find accommodation?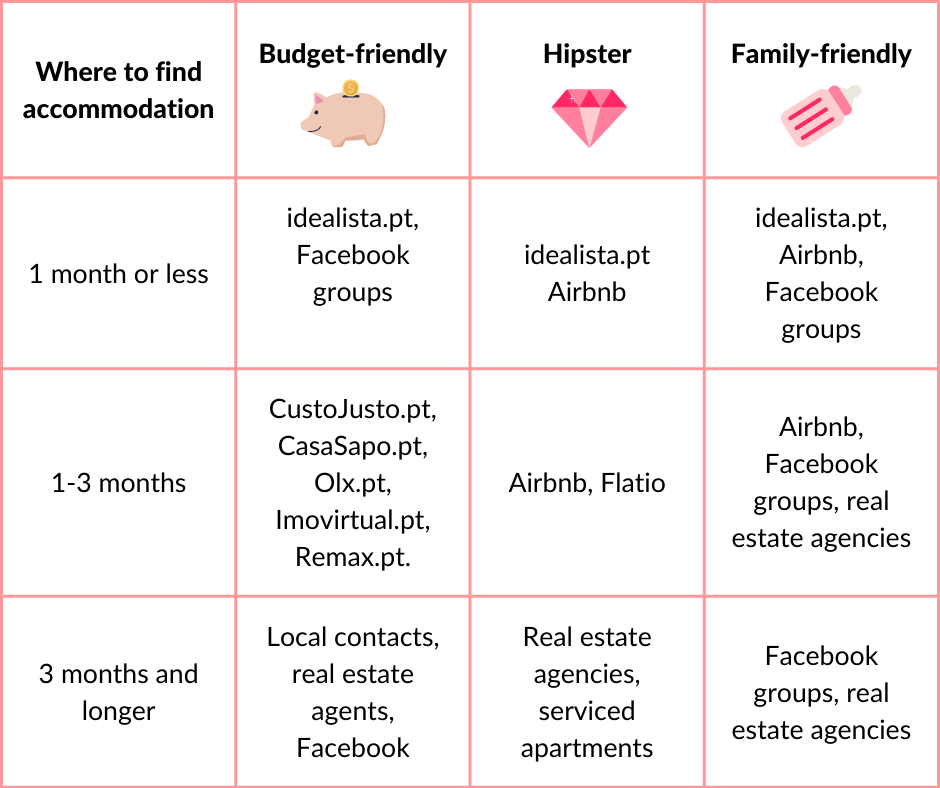 After giving you an idea of where to stay and what rental cost you should estimate, we calculated the cost of living by using the main financial chunks: rent, grocery, transportation, workspace, and miscellaneous. For the budget-friendly and hipster categories, we calculated the cost based on 1 person.
The total cost of living
We assume that the budget-friendly nomad cooks mainly at home, uses public transport, e.g. the monthly metro card, does not sign up for a coworking space, and has an additional miscellaneous cost of 250 Euro.
The hipster nomad cooks occasionally at home but when going grocery shopping the hipster is less price-sensitive, eats out more often, uses public transport and Uber, signs up for a monthly coworking membership, and spends more time on miscellaneous.
The family is based on 2 adults and 2 smaller children. 1 parent is working from a coworking space, and the family uses the family-metro card.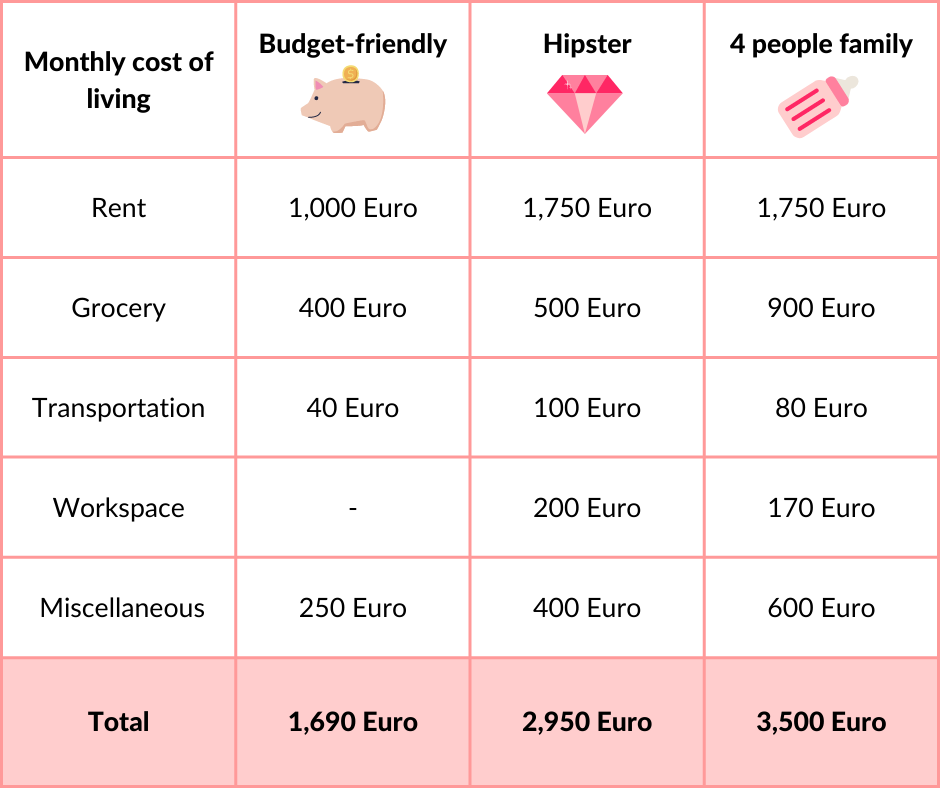 How do our 4 nomads live?
What is your monthly rent?
👩🏼 1,000 Euro (long-term contract). Plus 180 Euro for a garage.
👨🏽‍🦱 1,500 Euro (long-term contract).
👩🏻 1,200 Euro (short-term Airbnb during winter).
🧔🏻‍♂️ 1,850 Euro (mid-term through Facebook, family with 2 kids)
Which neighborhood do you live in?
👩🏼 Misericordia, between Sao Bento and Principe Real (couple).
👨🏽‍🦱 Principe Real (1 person).
👩🏻 Estrela, below Jardim da Estrela (couple).
🧔🏻‍♂️ Alvalade (family of 4).
How much did you pay for your last meal plus a drink?
👩🏼 15 Euro for lunch and drink.
👨🏽‍🦱 17 Euro for my last night's dinner.
👩🏻 24 Euro including a glass of house wine and a starter.
🧔🏻‍♂️ 59 Euro for last night's family dinner.
Where do I find other nomads?
👩🏼 Olivia is one of the hosts at the popular Thursday Digital Nomad Meetup. Here are her tips, on how you meet fellow nomads in town.
"The first step is to join the Lisbon Digital Nomads Meetup group and check the agenda of events. Especially in summer, there are events even every day. From nomad talks to coworking days to comedy, board games, and LGBTQ+A or Latino meetups, there are various specialized mini-events.
Still, one of the most regular and also loved by the community is the Thursday Nomad Meetup. This meetup is the best way to make friends as a new nomad in Lisbon. You share ideas with like-minded people, create business collaboration, get to know locals, or create romantic relationships. This event has been running regularly for the past 5 years, bringing together more than 150 people on that night, and is the secret sauce of this meetup group, the biggest one in Portugal with more than 15,000 members.
I met 95% of my friends through the meetup.
It's also a good idea to check out the slack community channel, and the Lisbon Digital Nomads & Expats Facebook group." Olivia
We are interested in your thoughts. Join our Portugal channel and let's chat about Lisbon with other nomads.
Let us know your experience in Lisbon, your tips, your questions, or simply say hello. See you!