Mexico City is a rising star among nomad destinations and especially during Covid, thousands of nomads (and other traveler types) have visited the city. When talking to the local community, Mexico City has experienced a high increase in rents and it becomes more and more difficult to find affordable housing.
The question arises, is Mexico City still affordable to live in? With many high-income earners moving to hot spots like Condesa, Roma, and Polanco, prices have gone through the roof.
So, we asked nomads who live or have lived in Mexico City for at least 1 month in 2022, to find out the real cost of living.
🌱 Travel health insurance for Mexico City
💡
Genki Explorer
is a travel health insurance with worldwide cover. Monthly payment plans, and easy signup in less than 1 minute.
The table of content will be generated here
👩🏼‍💻 What do Mexico City nomads say?
We asked 5 nomads, 3 are currently living in Mexico City and 2 have lived there for 1 and 2 months in 2022.
👩🏻‍🦰 Gabrielle stayed in Mexico City for 1 month in spring.
👩🏻 Kat lives in the city which is her new home base.
👩🏼 Emily called Mexico City her home for 2 months.
👨🏻‍🦰 Ryan lived in Mexico City for 9 months.
👩🏻 Kelly stayed in a coliving space in Mexico City for 1 month.
Based on our selected nomads, we got some price ideas for rents, groceries, workspace, and suggested neighborhoods based on budget. Price-sensitive nomads find "budget-friendly" options, nomads with bigger wallets find information under "hipster", and families based on 2 adults (1 parent is working in a coworking space), and 2 smaller children find family-friendly suggestions.
In the first step, you need to find some neighborhoods which reflect your budget, and lifestyle, and an area that gives you all you need.
🏡 What is the best neighborhood in Mexico City?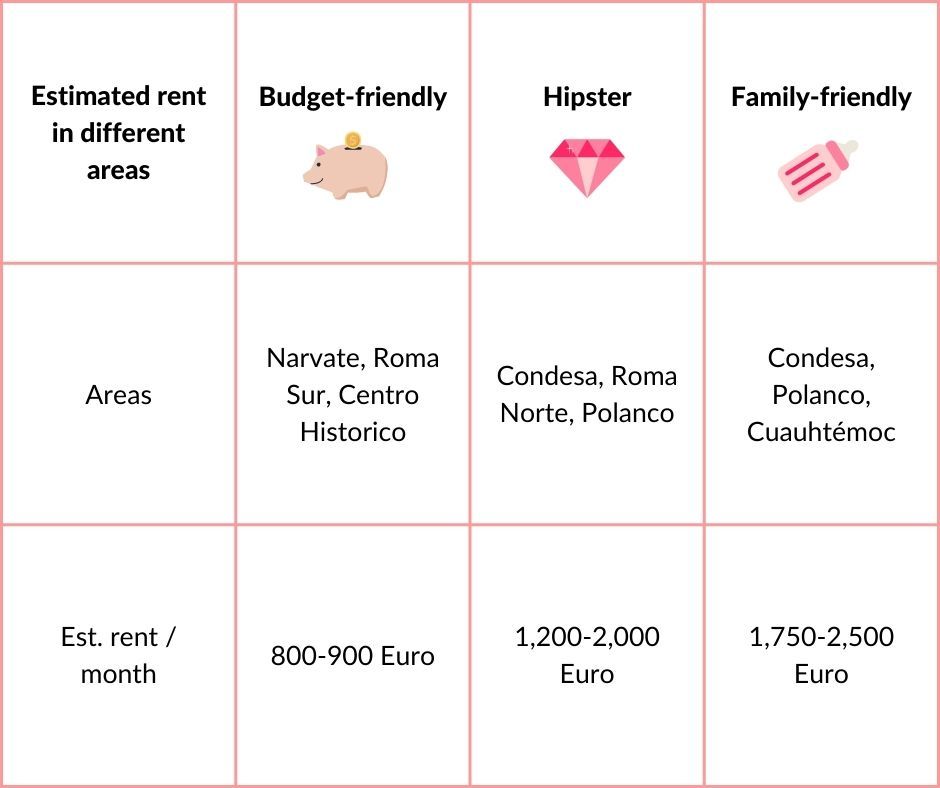 Condesa & Roma Norte: The most popular neighborhoods for nomads are Roma Norte and Condesa. You find many restaurants, bars, and cafés here. Avenida Amsterdam is one of the most beautiful streets in the city as it is built as a circle, with a green walkway, perfect for runners, dog walks, and evening strolls. In Condesa, which is located next to Roma Norte, you also have coworking cafes, for example, The Blend Station, with 2 locations. The brand is extremely laptop-friendly and especially the mornings get quite busy.
Polanco: Polanco is a luxurious district on the other side of Chapultepec park. You find 5-star hotels like the Intercontinental, or the Hyatt here, Michelin-star restaurants, chic bars, and a more diplomatic and wealthy expat community. You can find luxurious brands here, green public spaces, embassies, and my favorite café: Tout Chocolat which serves excellent coffees, and homemade pralines. Polanco feels like an extremely safe place to live, and it might be one of the most expansive parts of the city.
Cuauhtémoc: North of Roma Norte, passing through the Juarez district you come to the Angle of Independence monument, which is the beginning of the Cuauhtémoc neighborhood. The French embassy is located here, which means you have little shops offering excellent cheese, bread, and charcuterie. The area is residential, with parks, cafés, groceries, laundry shops, and everything you need during your stay. It takes about 30 to 45 min. to walk to Roma Norte and Condesa. The rent prices are more affordable here and it feels like a safe neighborhood. You will see many strollers, families, people walking their dogs, and the elderly. You can still walk home in the early evening coming from Condesa or Roma Norte.
Roma Sur & Narvarte: South of Roma Norte you find Roma Sur, which is a bit further away from Roma Norte and Condesa. Even further south you find Narvate, a local neighborhood still considered in the city center but you might need an Uber or Grab to get to the buzz of Condesa. These districts are a bit more affordable due to their distance from the hotspots. Both areas feel safe, however, you will pass a big city highway and those areas are mostly a bit dirty and less populated. I would suggest getting an Uber or Grab in the evening.
Centro Historico: Although you find many sights here, the international expat and nomad community, does not live in this district. It is around 3 to 4 km away from the districts mentioned above, quite far from Polanco. The Centro Historico is a great place to stay when visiting Mexico City for the first time. You find many tourists here. Rent here is more affordable than in the previously mentioned areas.  
🛏️ Where to find accommodation in Mexico City?
Once the districts are defined, the question remains of where to find apartments.
In general, if you don't want to invest much time in your research and you end up booking on Airbnb, this will be the easiest and the most expensive option. If you want to invest time in research, and monitor the Facebook groups for daily updated listings on private rentals, you should be rewarded with better deals.
For short-term rentals of less than 1 week, Airbnb or maybe a hotel would serve you best. If you stay 1 month or longer, it might be useful to have a look at Facebook groups and check out serviced-apartment agencies, for example, Homi. For long-term rentals, and nomads who transform into expats, meaning staying in the destination for 6 months or longer, check out real estate agencies.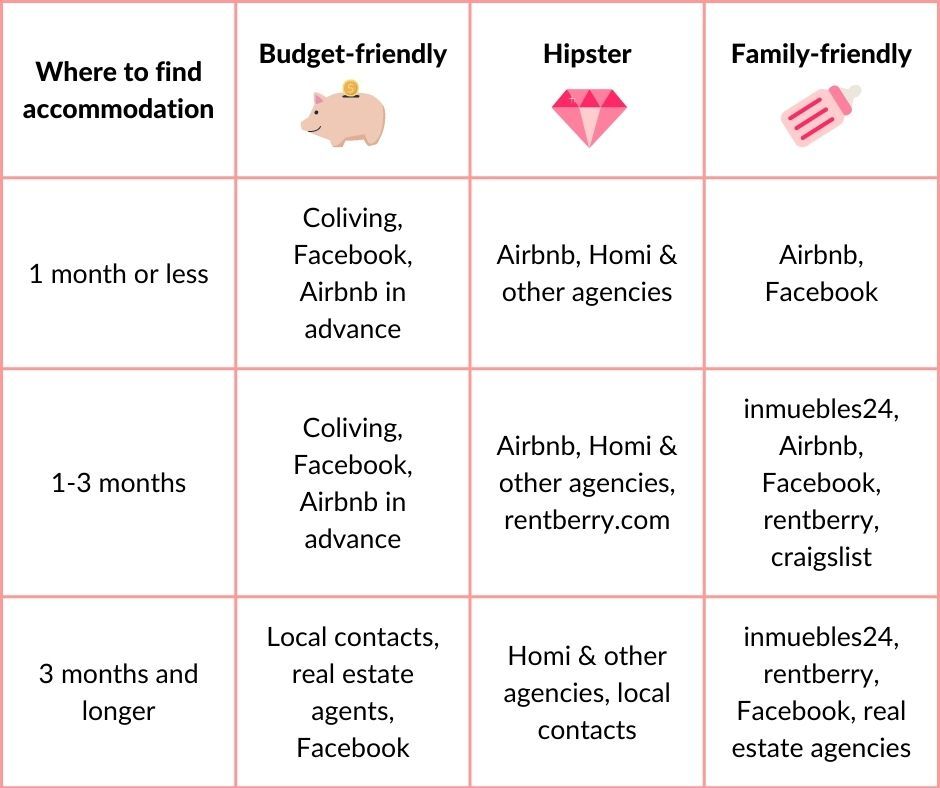 After giving you an idea of where to stay and what rental cost you should estimate, we calculated the cost of living by using the main financial chunks: rent, grocery, transportation, workspace, and miscellaneous. For the budget-friendly and hipster categories, we calculated the cost based on 1 person.
💶 The total cost of living in Mexico City
We assume that the budget-friendly nomad cooks mainly at home, uses public transport, (the metro in Mexico costs 0.05 Euro per ride), does not sign up for a coworking space, and has an additional miscellaneous cost of 200 Euro.
The hipster nomad cooks occasionally at home but when going grocery shopping the hipster is less price-sensitive, eats out more often, uses Grab and Uber, signs up for a monthly coworking membership, and spends more time on miscellaneous.
The family is based on 2 adults and 2 smaller children. 1 parent is working from a coworking space, and the family uses Uber and Grab.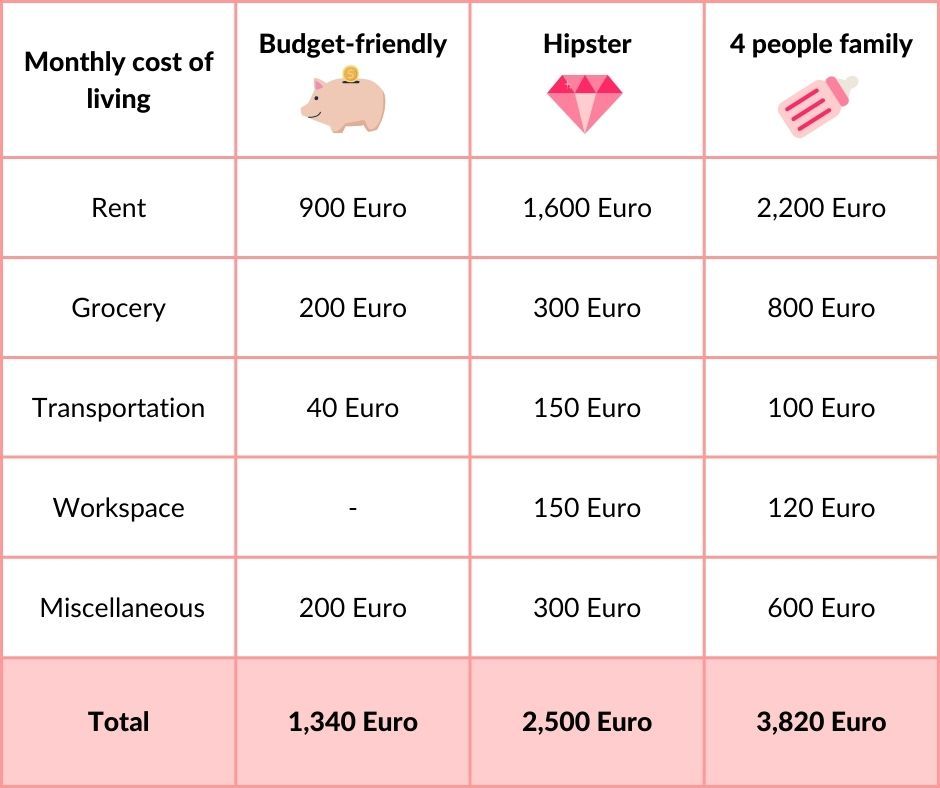 🧑🏻‍💻 How do our 5 nomads live?
What is your monthly rent?
👩🏻‍🦰 1,450 Euro for 2bdr. (1-month contract through serviced apartment agency).
👩🏻 1,100 Euro for 1bdr. (long-term contract through inmuebles24.com.
👩🏼 1,220 Euro 1bdr. (1-month contract, found on Airbnb).
👨🏻‍🦰 860 Euro 2bdr. (mid-term contract, found on Airbnb).
👩🏻 480 Euro 1bdr. (1-month coliving space).
Please note that 1bdr. means 1 bedroom plus kitchen, living room, and bathroom. 2bdr means 2 bedrooms plus a living room, kitchen, and bathroom.
Which neighborhood do you live in?
👩🏻‍🦰 Cuauhtémoc (couple)
👩🏻 Condesa (couple)
👩🏼 Condesa (1 person)
👨🏻‍🦰 Narvarte (couple)
👩🏻 Roma Sur (couple)
How much did you pay for your last meal plus a drink?
👩🏻‍🦰 14 Euro.
👩🏻 15 Euro.  
👩🏼 25 Euro.
👨🏻‍🦰 13 Euro.
👩🏻 10 Euro.
We are interested in your thoughts. Join our Mexico channel and let's chat about Mexico City with other nomads.
Let us know your experience in Mexico City, your tips, and your questions, or simply say hello.