Benvenuto in one of Europe's most beautiful regions: Northern Italy. From the Italian Alps in the Trentino to the canals of Venetia, the lake region of Lombardy, historical sites of Liguria and Piemonte all the way to Emilia Romagna and Tuscany - Northern Italy is not just rich in history, art, architecture, music, food, and wine but also a wonderful and fun destination for outdoor activities and nature escapes.
This article covers the beautiful Italian regions between the Italian Alps and Tuscany. From Turin and Milan to Venice and Florence.
🇮🇹 Entry requirements for Italy
Visa: Valid Schengen visa.
Insurance: Travel health insurance that matches the Schengen requirements. Your insurance policy needs a minimum amount of 30,000 Euros of emergency cover.
🌱 Travel health insurance for Italy
💡
Genki Explorer
is a travel health insurance with worldwide cover. Monthly payment plans, and easy signup in less than 1 minute.
Summary
The table of content will be generated here
✈️ How to get to Italy
Plane: Italy has many international airports, you can get easily from European cities to the Italian Alps, Milan, Venice, Florence in Tuscany, to Rome, Naples, and Sicily. Check out the many low-cost carriers, such as German Wings, or Ryanair for good deals.
Train: Check out the Eurail passes to travel to Italy by train. There are great connections from neighboring countries such as Austria, Switzerland, and France, but also Germany has good train connections to Italian cities. Check out our train travel itinerary connecting Italy and Germany by train.
Ferry: When on the other side of the Adria, in Albania, Croatia or Greece, you can hop on a ferry and get to the Italian coast, for example to Bari. Alternatively, you can book an overnight ferry trip from Barcelona via Sardinia to Rome with Grimaldi Lines.
🏡 How to find a place
Good to know: You can find many beautiful vintage apartments in the historic center of Florence and Milan, tiny houses and large properties in Tuscany, campsites, monasteries, and farm stays in Italy. Be aware of the different climates of the country. The summer at Lake Como or in Brixen (Italian Alps) can be different from summer in Rome or Naples, where the pavement seems to melt under the sun, especially in August. On the other hand, accommodation in Naples and Rome during July and August is more affordable as many residents escape to cooler destinations. When traveling to Italy in winter, make sure your accommodation comes with proper heating, otherwise, take a hot water bottle with you - a lifesaver for my own travels and happily used from Peru to Portugal.
Cost of living: In Milano, rents seem to be slightly cheaper than in Rome, but we are talking about €100 less. So you can expect to pay around €1,100 - €1,500 per month in renting your own apartment for a longer period (3+ months). If you plan to stay short-term, you will pay double the amount. Florence seems to be one of the most expensive places, you can expect to pay around €1,500 - €2,00o rent per month for your own apartment.
Airbnb: You will find a good amount of nice apartments and private rooms on Airbnb. Prices might be higher when booking closer to the arrival date, and May, June, and September are popular among tourists.
Facebook groups: It might be worth monitoring the local Facebook groups for rental listings as it seems that sometimes people put good deals out there. For Milano, check out Facebook groups Milan Apartments 4 Rent, Milan Housing, Rooms, Apartments, Sublets, Rents, and Affitti a Milano - Apartments, studios, and rooms for rent in Milan. In Florence, check out Love Florence Italy, with more than 40,000 members and daily postings.
🚌 Public transport in Milan
Metro: The Milan Metro is an extensive subway network with four lines (M1, M2, M3, and M5) covering most areas of the city. The metro is fast, and reliable, and connects major attractions, train stations, and neighborhoods. It's an excellent option for traveling quickly and efficiently within Milan. You can buy tickets online, and view schedules and directions via the app. The "Milan Card" offers unlimited travel options along with discounts on attractions for longer visits.
Trams: The city has an extensive tram network that covers both the city center and the outskirts. Trams are a great way to enjoy the city's streetscapes while traveling. They are frequent, reliable, and offer good connectivity to various areas.
Uber/Lyft: Milan is the only city in Italy besides Rome where Uber or Lyft is available.
Bike-sharing: A popular bike-sharing system is called BikeMi, which allows travelers to rent bicycles for short trips. This is an excellent option for exploring the city at a leisurely pace, especially in areas with dedicated bike lanes.
🏘 Where to stay in Milan
Brera: Located in the city center, Brera is known for its artistic ambiance, charming streets, and trendy cafes. It offers a mix of historic buildings and modern amenities, with coworking spaces like Talent Garden Milano Brera nearby. However, rents in this neighborhood can be higher compared to other areas.
Porta Romana: Porta Romana is an up-and-coming neighborhood that has seen significant development in recent years. It offers a good balance of residential and commercial areas, with plenty of restaurants, bars, and coworking spaces. It's well-connected to the city center and has more affordable rent compared to central neighborhoods.
Isola: Located north of the city center, Isola has undergone a revitalization in recent years and is now a trendy and artistic neighborhood. It offers a mix of residential buildings, cafes, bars, and coworking spaces. The area is known for its bohemian vibe and street art. Rents in Isola tend to be relatively affordable compared to more central neighborhoods.
🧑🏻‍💻 Where to work from in Milan
Coworking spaces
YoRoom: YoRoom is a coworking space located in Milan's Porta Romana neighborhood. It offers a central location with easy accessibility to other parts of the city. The workspace provides high-speed internet, ergonomic furniture, and plenty of natural light. They also organize networking events, workshops, and seminars to encourage community connections and knowledge-sharing. The monthly membership starts at €260.
Talent Garden Milano Calabiana: Located in the southern part of Milan, Talent Garden Milano Calabiana is a well-regarded coworking space. It offers a stylish and modern environment with flexible workspace options, including private offices, dedicated desks, and hot desks. The space provides amenities such as high-speed internet, meeting rooms, event spaces, and a vibrant community of like-minded nomads. Unlimited monthly membership costs €488.
Coffee shops
🚌 Public transport in Venice
Public transport in Venice mainly consists of water-based transportation due to the city's unique canal system.
Vaporettos (Water Buses): Vaporettos are the most common form of public transport in Venice. These water buses operate on various routes and provide transportation to different parts of the city, including major islands like Murano, Burano, and Lido. Vaporettos are operated by ACTV, the public transportation company in Venice.
Water Taxis: Water taxis are private boats that offer a faster and more personalized mode of transportation in Venice. They are more expensive than vaporettos but can be a convenient option, especially for larger groups or those with heavy luggage. Water taxis can be found at taxi stands or can be booked in advance.
Traghetti: Traghetti are gondola-like boats that are used to cross the Grand Canal at specific points. They serve as a more affordable alternative to using the bridges when crossing the canal. Traghetti rides are short and usually standing only, providing a quick and unique experience.
People Mover: The People Mover is an automated shuttle system that connects the Tronchetto parking area to the entrance of the historic city center of Venice. It is primarily used by visitors arriving by car or bus and provides an efficient way to reach the heart of the city.
🏘 Where to stay in Venice
Dorsoduro: Dorsoduro is a charming and quieter neighborhood located on the southern side of the Grand Canal. It is known for its art galleries, museums, and beautiful architecture. This area offers a more relaxed atmosphere compared to the bustling tourist areas, making it ideal for a longer stay. It also has a good selection of cafes, restaurants, and shops.
Cannaregio: Cannaregio is a vibrant and authentic neighborhood in Venice. It offers a mix of residential areas, local markets, and historical landmarks. It is well-connected and has a range of amenities, including shops, supermarkets, and restaurants. Cannaregio is also home to the Jewish Ghetto, which adds to its cultural richness.
Castello: This is the largest neighborhood in Venice and is located on the eastern side of the city. It has a local feel and is less crowded than some other areas. Castello is known for its picturesque streets, hidden squares, and proximity to the Venice Biennale. It offers a mix of residential and commercial areas, with various dining options and shops.
🧑🏻‍💻Where to work from in Venice
Coworking spaces
Venice Coworking: Venice Coworking is a vibrant and well-established coworking space located in the heart of Venice. It offers a dynamic and collaborative environment with modern amenities and flexible membership options. Whether you need a dedicated desk or a meeting room, this space caters to diverse professional needs while fostering a sense of community among its members.
Coffee shops
BAR 1 CIAK: The bar offers a cozy and relaxed atmosphere and provides a reliable wifi connection, essential for remote work. Additionally, the café's central location allows digital nomads to immerse themselves in the beauty of Venice while having access to all the amenities you need to be productive.
Caffè Vergnano 1882: With its comfortable seating, pleasant ambiance, and reliable wifi, Caffé Vergnano 1882 offers a conducive environment for focused work. The café is known for its exceptional coffee, pastries, cakes, and sandwiches.
🚌 Public transport in Florence
Bus: The bus network in Florence is operated by ATAF (Azienda Trasporti Area Fiorentina). Buses cover the entire city, including the historic center, and connect various neighborhoods and attractions. They are a convenient and affordable way to get around Florence.
Tram: Florence has a modern tram system that passes through the city center. The tram is an efficient mode of transportation for reaching popular destinations like Santa Maria Novella and Cascine Park.
Train: Florence is well-connected by train, and the main train station, Santa Maria Novella, is located in the city center. Trains are a convenient option for traveling to nearby cities and towns in Tuscany, such as Pisa, Siena, and Lucca.
Bike Sharing: Florence promotes eco-friendly transportation with its bike-sharing system called Mobike. Visitors can rent bicycles from various docking stations throughout the city, allowing for a convenient and enjoyable way to explore Florence at your own pace.
Walking: Florence is a compact city with many attractions located within walking distance of each other. Walking is an excellent way to experience the city's historic streets, admire its architecture, and discover hidden gems.
🏘 Where to stay in Florence
Santo Spirito: Located on the Oltrarno side of the Arno River, Santo Spirito is known for its bohemian and artistic vibe. This neighborhood is home to numerous cafes, artisan shops, and trendy bars. It offers a relaxed atmosphere and a strong sense of community, making it an ideal place if you are seeking a vibrant and creative environment. Santo Spirito is within walking distance of the city center and is well-connected by public transportation.
Santa Croce: Situated near the historic center of Florence, Santa Croce is a charming neighborhood with a mix of local life and tourist attractions. It is home to the famous Basilica di Santa Croce and offers a wide range of cafes, restaurants, and shops. The neighborhood's central location makes it convenient for exploring the city, and it has a lively atmosphere that combines historic charm with modern amenities. Here you can find co-working spaces, reliable wifi, and a variety of accommodation options.
San Lorenzo: San Lorenzo is a vibrant and bustling neighborhood with lively markets and close proximity to the historic center. The neighborhood is home to the famous Mercato Centrale, a large indoor food market where you can find a variety of local and international cuisines. San Lorenzo offers a mix of residential areas, commercial spaces, and cultural attractions. It has a youthful and energetic atmosphere.
🧑🏻‍💻Where to work from in Florence
Coworking spaces
The Social Hub: The Social Hub Florence is a vibrant, stylish, and modern co-working space located in the heart of Florence. The space offers a range of amenities, including high-speed internet, comfortable workstations, meeting rooms, and a communal kitchen. The Social Hub Florence aims to foster a sense of community by organizing networking events, workshops, and social activities for its members. The monthly membership starts at €109.
91C: 91C is a renowned coworking space situated in a prime location in the city center of Florence. It offers a convenient and accessible workspace while boasting a modern and stylish design, providing a comfortable and productive environment with all amenities digital nomads may need. 91C prides itself on fostering a sense of community and collaboration through networking events, workshops, and a supportive atmosphere for individuals and businesses alike. The monthly membership starts at €200+VAT.
Coffee shops
Ditta Artigianale: The venue offers a cozy and inviting atmosphere, perfect for focusing on work while enjoying artisanal coffee and delicious food.
La Menagere: This multifunctional space combines a café, restaurant, flower shop, and concept store, creating a dynamic environment that stimulates creativity. With its stylish design, comfortable workspaces, and welcoming ambiance, La Menagere offers a refreshing and inspiring setting for digital nomads to work, network, and enjoy the vibrant energy of Florence.
🚌 Public transport in Turin
Metropolitana (Metro): Turin has a metro system consisting of three lines (Line 1, Line 2, and Line 4) that cover various parts of the city. The metro provides a quick and convenient way to travel to different neighborhoods and important landmarks in Turin. Furthermore, Turin has an integrated ticketing system called Torino+Piemonte Card, which allows users to use the same ticket across different modes of public transportation. This system simplifies travel and offers cost-saving benefits for frequent travelers.
Buses: Turin has an extensive bus network that serves both the city center and suburban areas. Buses in Turin are equipped with modern amenities and offer wide coverage, making them a popular mode of transportation. The network operates on an extensive schedule, ensuring frequent service throughout the day.
Trams: Turin is famous for its historical tram system, which adds charm to the city's transportation options. Trams cover various routes and provide an efficient way to travel within the city. Some tram lines also operate during the night, offering convenient transportation options outside regular hours.
Regional Trains: Turin is well-connected to other cities in the region through its regional train services. These trains provide access to nearby towns and attractions, making it easy to explore the surrounding areas of Turin.
Bike-Sharing: Turin offers a bike-sharing system known as ToBike, which allows users to rent bicycles for short trips around the city. This eco-friendly option provides an alternative means of transportation and promotes a healthier lifestyle.
🏘 Where to stay in Turin
San Salvario: Known for its vibrant atmosphere, San Salvario is a multicultural neighborhood that attracts a diverse community. It offers a range of cafes, bars, and restaurants, making it a lively and trendy area for expats and digital nomads.
Quadrilatero Romano: Located in the city center, Quadrilatero Romano is a historic neighborhood with narrow streets and charming architecture. It is known for its vibrant nightlife, trendy boutiques, and artisan shops. The neighborhood's central location and lively ambiance are good reasons for choosing this as a living area.
Vanchiglia: Situated along the River Po, Vanchiglia is a trendy neighborhood known for its artistic and bohemian vibe. It has a thriving arts scene, with galleries, theaters, and cultural spaces. The area also offers a range of cafes, coworking spaces, and international cuisine, attracting a creative community of expats and digital nomads.
Aurora: Aurora is an up-and-coming neighborhood with a growing reputation among expats and digital nomads. It has undergone a significant revitalization in recent years, offering a mix of industrial charm and urban renewal. Aurora is home to art studios, coworking spaces, and alternative cultural venues, attracting a dynamic community.
🧑🏻‍💻Where to work from in Turin
Coworking spaces
Silos 93 Coworking Space: Situated in the heart of Turin, Silos93 enjoys a central location with easy access to transportation, amenities, and cultural attractions. The space fosters a community of like-minded professionals, offering networking events, workshops, and activities to facilitate collaboration and knowledge-sharing within a modern, industrial environment. A workplace in the open space costs €180 per month.
Coffee shops
Locanda Leggera: Locanda Leggera in Turin is an excellent choice for digital nomads seeking a tranquil and cozy workspace.
🚊 How to travel around Italy
Train: The best way to travel across Italy is by using the train as they are efficient, convenient, and comfortable. They can speed up to 300 km per hour (185 miles per hour), and offer a board bistro and wifi. Train stations are usually located in the center of cities, towns, and villages and are connected with taxis, and or bus networks. Trenitalia and Italo are two train companies in Italy and you can easily check prices, schedules, special discounts, and passes via Omio. Popular train lines connect, for example:  
1) Venice – Padua – Bologna – Florence – Rome – Naples – Salerno
2) Turin – Milan – Bologna – Florence – Rome – Naples – Salerno
3) Milan – Brescia – Verona – Vincenza – Padua – Venice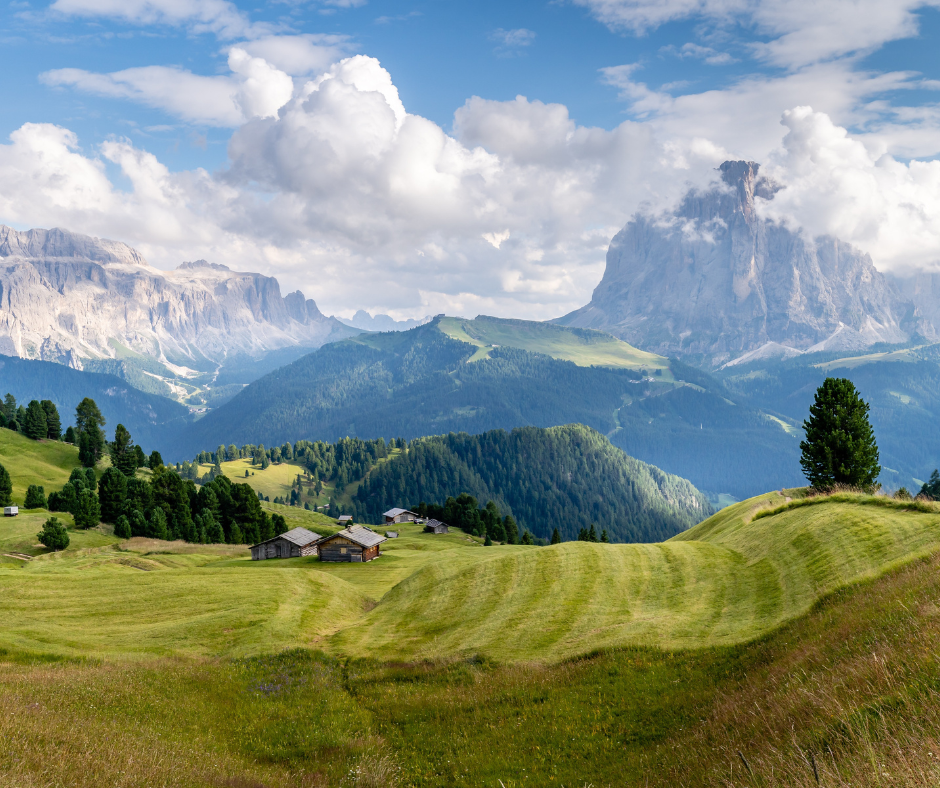 Car: Renting a car in Italy is fun, as long as you are not driving in Rome and trying to find parking lots on a daily base, which is really challenging. The best regions to drive a car are Tuscany, Tirol, Dolomites, and the Riviera. When renting a car, be aware of tolls, restricted driving in historic city centers, congestion, and lack of parking lots. Also, many rental cars will be manual, and Italians are known to drive fast and furious.
Bus: Italy provides a good and affordable bus network that connects villages, towns, and all major cities. The intercity buses are comfortable, come with wifi, and are fairly clean. Check out Flixbus, one of Europe's biggest bus companies.
Boat: Take the ferry to across the Adria and travel to Albania or Croatia.
Taxi: You find taxis in every town in Italy, and you see the official license plate on the side of the car. Tipping is done by simply rounding up, but you don't need to tip like you are in the city center of Chicago.
Uber: You can find Uber in Milan, in other cities such as Verona, Florence, or Naples Uber is prohibited. Additionally, you can only find Uber Black in Italy, meaning the cars are nicer and the fees are higher. If you have trouble with Uber, try Cabify and Free Now.
🎖Must see
Venice: It's a special feeling when walking through the historic sites, narrow alleys, and beautiful parks in Venice. Make sure to take the local ferries, explore the northern part of the city, which still remains a bit more local, and stroll around Markus Square but avoid eating there as you will pay 4x the price for a pizza than finding a restaurant further away. When traveling to Venice, have a look at the cruise ship schedule and avoid visiting the historic center during those hours.
Cinque Terre: In the northwest of Italy, on the coast of the Ligurian Sea, five villages, named Monterosso al Mare, Vernazza, Corniglia, Manarola, and Riomaggiore are reason enough to attract thousands of tourists each year. The nearby Cinque Terre National Park is a great hiking and outdoor sports destination. Cinque Terre is part of the UNESCO World Heritage site since 1997.
Amalfi coast: This celebrated coastline in the south of Italy is overlooking the Tyrrhenian Sea and the Gulf of Salerno. Listed as a UNESCO World Heritage site in 1997, the Amalfi coast has been a famous travel destination for the European upper class for centuries, and also today, the region attracts international jet setters sipping champagne and residing in chic boutique hotels.
Tuscany: Romeo & Julia, The English Patient, Life is Beautiful or Tea with Mussolini - many famous movies and shows had their film sets in Tuscany. And indeed, this beautiful region is a gem, not to be missed. The best is to drive a car to visit one of the many wine yards, castles, villas, and restaurants, hike up some hills, and stay in one of the elegant boutique hotels. Florence is a must-visit.
💡Good to know
Internet: The average internet speed is 54 Mbps download and 19 Mbps upload.
Sim cards: There is 5G in Italy, although limited to the big cities and you get the best coverage with Wind Tre.
Digital nomad community: Italy has so many beautiful little nooks, charming towns, buzzing cities, and remote villages, that it is not really straightforward where to find digital nomads and work-from-home folks. The most popular tourist attractions, such as Florence, Venice, and Milano come with high price tags, and the cost of living can go up to 2,500 - 3,000 Euro per month if you rent a nice place in the city center and want to eat out some times per week. Therefore, let's check the smaller towns. But the first action step is: Join the Facebook group Digital Nomads Italy.
Florence: One of my favorite places in Europe is Firenze (Florence) in Tuscany. A beautifully restored city center, showing off architecture from various epochs, like Roccoco or Renaissance, with cobblestone alleys included. Although Florence is known as a student-friendly city, visiting Florence as a digital nomad or tourist comes with high expenses. You can expect to top up your monthly budget to €2,500 - €3,000.
Cost of living: When traveling on a small to medium budget, check out Padova, Genoa, Bari, and Treviso. In general, the cost of living is highest in the north of Italy and reduces as further south you go.
Climate: Italy's climate is Mediterranean with hot and dry summers and rainy winters. With a length of 1,200 km, Italy shows some microclimates and you can expect much colder winter months in the Italian Alps (north of Florence) than in Naples or Sicily. Summers in Rome and Tuscany (the center) can be extremely hot.
UNESCO: You can find 58 UNESCO World Heritage sites in Italy.
Culture: Cesar's ancient Rome, the Medicis' wealthy Florence, pilgrims' long waits in vibrant Venice - all of Italy's epochs have influenced the country's culture, especially in food, family, architecture, music, arts, and religion. It is impossible, to sum up, Italy's cultural highlights in just one paragraph. Every corner of the country has its unique heritage and cultural treasures. Visit the local museums, the international exhibitions, and the sites, and taste the local cuisine.
Romeo & Juliet: When visiting Verona, you can walk to Juliet's balcony in the city. Shakespeare placed 13 of his 38 plays in Italy, from Ceasar in Rome to Romeo & Juliet in Verona, and Othello in Venice - Italy was a place full of inspiration for the play writer.
🚧 What to avoid
Pickpocketing: Once Rome was famous for being Europe's capital for pickpocketing. But the recent decade shows a decline in pickpocketing. However, it is still very common, especially in Rome, Florence, and other touristy places, so always keep an eye on your belongings and don't keep your backpack with all your valuables on the chair in a café, when you use the bathroom. To show that this table is occupied, use a bottle of water, a cheap pair of sunglasses, or similar items.
Air quality: The air quality in Italy is not the best, in fact, it is moderate. The worst regions in Italy are Campania, Piedmont, and Lombardy.
Overtipping: Remember, you are not in Manhattan, rounding up is enough and custom.
Drinking cappuccino after 11 am: Italians don't drink cappuccino after 11 am, as it is just a morning pleasure. Espresso bars are often crowded and people drink their espresso standing and chatting to their colleagues and friends.
Cutting spaghetti with a knife: I always feel sorry for Italian cuisine which is one of the most popular worldwide but oftentimes done so wrong. Dishes like Fettuccine Alfredo or Pizza Hawaii do not exist in Italy, and Italians might get an increased heart rate when they watch foreigners cutting spaghetti into little pieces. Talking about spaghetti, if you want to eat it like Italians, skip the spoon and knife and simply use the fork.
Dressing inappropriately: Visiting churches and other religious sites in Italy should be done by wearing appropriate clothes. No flip-flops, shorts, tops, or top-less men, please.
🚴🏻‍♀️ How to stay healthy
From skiing in the Italian Alps, kite surfing at the Adria, or hiking in Tuscany - Italy offers a big variety of places for outdoor activities.
Stay active
Winter sports: Trentino-South Tirol province, offers activities such as skiing, sledding, long-distance skiing, snowboarding, snowshoeing, and ice skating.
Kite surfing: This fun sport can be done from Lake Garda to Sardinia, Calabria, and Sicily.
Hiking: You can find hiking trails in the Italian Dolomites, in Cinque Terre, in Sicily, in Merano, or at Lake Garde or Lake Como.
Make friends
Coliving: Near Bolzano in the Italian Alps, you find a beautiful coliving space named Franz & Mathilde. From Bolzano you take the Regiobus 17109 Merano to Vilpiano Nalles. You arrive at the train station of Vilpian and take bus 216 from Lana to Tisens, Longnui. From the bus stop, it is just a 140 m walk to the coliving space. The journey takes between 1:15 and 1:45 hours. Franz & Mathilde comes with a lovely coworking space, which offers fast and reliable internet, stunning mountain views, and a community-focused space with lots of activities on the side.
Health risks
Water quality: Many local people do not trust tap water, and therefore, you should drink bottled and/or filtered water instead.
Air quality: The air quality in Italy is generally moderate.
⚓️ Long stay
Digital nomad visa: Italy's government is planning on launching a digital nomad visa but it is not available yet. Once it is available, we will update our article accordingly.