Last updated 2022, August 15th: Austria, nestled in the heart of Europe, is covered up to 62% by the Alps, which makes Austria one of Europe's popular winter sports destinations. Vienna, Austria's capital, is an essential link between central and eastern European countries, such as neighboring Slovenia, Slovakia, and Hungary.
Austrian musicians, architects, artists, and psychologists were world-class in their fields, such as Wolfgang Amadeus Mozart, Friedensreich Hundertwasser, Gustav Klimt, and Sigmund Freud have left their famous heritage. Austria contributed significantly to today's European culture and I haven't even mentioned Ferdinand Porsche, Arnold Schwarzenegger, or Franz Kafka yet.
🌱 Travel health insurance for Austria
💡
Genki Explorer
is a travel health insurance with worldwide cover. Monthly payment plans, and easy signup in less than 1 minute.
The table of content will be generated here
🇦🇹 Entry requirements for Austria
To enter Austria as a passport holder of the European Union, you don't need a visa to enter the country. If you have another passport other than an EU passport, please make sure you either have a valid Schengen visa or an exemption. The following points are good for entries via plane, land, or sea.
Valid visa: valid visa for non-Schengen citizens or national ID/passport for Schengen citizens
Travel health insurance: Travel health insurance is required to get a Schengen visa. Check out Genki Explorer.
✈️ How to get to Austria
Plane: Austria with 6 international Airports very well connected to all major hubs in Europe, especially to Eastern Europe. Also, the USA, Mexico, Turkey, and Bangkok are linked through direct flights to Vienna (VIE), Salzburg (SZG), Linz (LNZ), Klagenfurt (KLU), Innsbruck (INN), or Graz (GRZ). The most important airport is of course in Vienna. Every day for an interval of 30 minutes you can jump on the CAT (City Airport Train). After a 16-minute ride, you reach the city center of Vienna. The cost for adults for one way is 11 Euro.
Train: You can enter Austria by train from many European cities in Germany, Belgium, Italy, Croatia, Sweden, and many more. Trains of the ÖBB or Westbahn connect villages and towns across the country.
🚌 Public transport
In general, public transport is very well developed in Austria and major cities have an extensive bus network, trams, and Vienna has a metro. Schedules follow strict timelines and are very reliable. Tickets must be purchased in advance. In bigger cities, you can find S-Bahn, U-Bahn (subway), and Straßenbahn (tram).
Vienna: Public transport is very well developed in Vienna. In addition to buses, and trams, the capital offers a metro, too. Monthly tickets are available at Wiener Linien and cost 51 Euro.
Salzburg: Salzburg offers weekly and monthly tickets which can be used for trains and busses. The price for a monthly ticket for the Salzburg area is 99 Euro.
Uber: Uber and Free Now are available in the bigger cities, however, you will not find an Uber in smaller towns or villages. Uber drivers in Austria must have a special driver's license.
Taxi: The old-fashioned way of getting around is the Taxi, which is a safe and reliable form of transport in Austria although it is not cheap.
Public bike stations: Bigger cities, such as Salzburg and Vienna, provide public bikes you can use to ride around the city, for example from Lime and Tier. Choose between E-Scooter and E-Bikes within several European countries of the world. If you feel safe riding a scooter or bike within cities, this is surely a great and green option for sightseeing or transportation short ways.
🏡 How to find a place
Flatio: The new Airbnb? I got this tip from our team member Pedro, and it is definitely worth checking it out and comparing prices to Airbnb listings.
Local sites: Kurzzeitmiete and willhaben offer short-term rentals in Austria.
Airbnb: The go-to booking system for short-term rentals. However, I am not a fan of Airbnb, and would only use it when other sources don't work. The fees skyrocketed in the last few years and I refuse to support it.
🏘 Where to stay in Vienna
Favoriten: Within this multicultural district you find a vibrant start-up scene between urban city programs for new buildings and apartments.
Hernals: This district is known to be "as normal as Wien". It's not as noisy as its neighbor Ottakring but not as posh as Währing.
🧑🏻‍💻 Where to work from in Vienna
Coworking spaces in Vienna
Stockwerk: As the name of the space says, Stockwerk (floor) is a modern coworking that expands on 4 floors. A flex-desk membership is 170 Euro per month. The space offers shorter memberships starting from a daily rate of 15 Euro.
1010.works: This coworking space is centrally located. From Schwedenplatz you can reach every point in Vienna within minutes and after a long and productive day, you can refresh your energy with a cool drink or a hot chocolate at the Donaukanal. At 1010.works you can choose between standing desks or ergonomic chairs, 24/7 access, high-speed internet, and free drinks. The space offers dedicated desk membership only, and it is 230 Euro per month.
Z18: Located within District 9 you will find a 200-square meter functional and stylish place for getting your work done. With 24/7 access and high-speed internet, you can focus on your schedule or chill together with your coworkers, plan events and parties, or watch soccer games. Membership for a flexible desk plan is 200 Euro per month.
Coffee shops in Vienna
Café Freud: Definitely a place for brainiacs looking for a cozy place, with plugs, fast wifi, tasty sandwiches, and freshly roasted coffees by a local brewery.
Das Café: Furnished like an artsy living room you might forget you are in a vibrant café within District 7. From hot curry to freshly baked cakes, to local beers and delicious coffee, you can get a good selection of meals, and snacks at any time of the day.
CoffeePirates: Great place for coffee addicts, and bagel lovers.
🏘 Where to stay in Salzburg
When it comes to living in Mozart's birthplace, is one of the most expensive cities to live in Austria. Prices for smaller apartments, like 1-bedroom apartments increased by 22% over the last decade.
Elisabeth-Vorstadt: This part of the city is filled with hip cafés, a multicultural community of locals and expat, and the home to students. You find international grocery shops here, weekly farmer's markets, and smaller parks.
🧑🏻‍💻 Where to work from in Salzburg
Coworking spaces in Salzburg
Panzerhalle: Within an old army barrack you find this modern coworking space with more than 600 workplaces to rent. The heart of the Panzerhalle is the "Markthalle", a food hall where you can find all kinds of tasty lunch options. Prices for memberships upon request.
Coffee shops in Salzburg
Coffee Press: A cute café near Mirabell park, serving homemade iced tea, snacks, cakes, and daily changing lunches.  
Coffee House: Very centrally located, close to the University of Salzburg and the Mozarteum, you find the Coffee House which suits well for a couple of hours of work.
🚊 How to travel around Austria
Train: Additionally, to the local public transport, Austria has a very good railway system. Trains of the ÖBB or Westbahn connect villages and towns across the country. The Westbahn offers wifi, and the staff is super friendly and helpful.
Bus: You will find several local bus companies supplementing the transportation network efficiently. Have in mind that in more rural areas some bus services run only when passengers have made an advanced booking.
💡Good to know
Safety: Austria is a very safe country and ranks 6th in the World Peace Index. Neighboring countries such as Slovenia rank 5th, Switzerland ranks 7th, the Czech Republic ranks 9th, and Germany ranks 17th. Austria can be ranked as a very peaceful country.
Internet: When it comes to internet speed, Austria ranks 26th among a comparison of 100 countries. The median internet speed is 52 Mbps download and 15 Mbps upload for fixed broadband.
Air quality: Air quality in Austria scored an average of 45 US AQI in 2020 and ranks 78th of the cleanest countries by air quality.
Digital nomad community: Although Austrian cities might not be among the hotspots of digital nomad communities, according to Nomadlist (Vienna 109, Graz 429, Innsbruck 932, Salzburg 972), Austria has local digital nomad communities, e.g. in Vienna.
Quiet: If you are noise sensitive, you will love Austria. Austrians love tranquility and neighbors expect you to be quiet between 10 pm to 6 am. If you don't be quiet or you didn't notify your neighbors about a party, people might call the police. I love a good night's sleep in quiet. In parts of Vienna, there is an all-day honking prohibition (except as a warning signal). This sounds just wonderful to me.
Walkability: If you love walking, Austria is your country. The walkability of cities and towns is really good. They come with wide sidewalks, pedestrian-only city centers, and separate bike lanes. Major cities, such as Salzburg or Vienna offer public bike rentals that are stationed throughout the city. Easy signup and online payment are included.
Quality of housing: The quality of housing in Austria is really good, and besides a cooling AC for the short hot summer, houses in Austria come with central heating and modern isolation which helps houses to keep the warmth.
Friendly locals: Austria is a popular holiday destination in Europe, and much of the country is set up to welcome tourists from around the world. The level of English is good, and the local people are very friendly and welcoming. Austrian hospitality comes with quality and professionalism.
Health care: Austrian health care system is accessible for travelers when they possess a European health insurance card from another EU member state. This covers emergencies, and doctor and dentist visits. In general, health care in Austria has a very high standard.
Cuisine: Griesnockerl, Wiener Schnitzel, or Apfelstrudel - just writing about Austrian cuisine makes me want to go back to Salzburg. I am a big fan of Austrian food. It is hearty, warming, and made with love. Or full of carbs, gravy, and meat. Austrian cuisine is somewhat similar to Bavarian but also East European cuisine and is made to warm you up after a long winter day in the mountains.
Outdoor activities: As mentioned above, around 62% of the country is covered by the Alps, and outdoor activities are therefore a fun way to explore the country and stay fit at the same time. From winter sports to mountain biking, hiking, rafting, paragliding, climbing, or skateboarding - Austria offers a wide range of outdoor activities.
Festivals & events: Every year Salzburg hosts a 3-day Electric Love Festival.
Random facts: Did you know that Austria has one of the oldest national flags in the world? That the first postcard was sent from Austria? Or that the sewing machine was invented by Austrian Josef Madersperger? Austria is full of history, heritage, culture, and modern innovation. My favorite place in Austria is Salzburg.
🚧 What to avoid
Mistaking Austria for Germany: It might sound silly but although we say the German language, Austria is its very own country with its own history, culture, landscape, language, cuisine, architecture, and traditions. There might be similarities in some aspects, but there are also great differences between Austria. Important note: Schnitzel and Apfelstrudel are Austrian dishes. It is called Wiener Schnitzel because it has its origin in Vienna.
Forgetting to tip the waiter: Tipping in Austria is around 10 %. However, in my opinion, and that counts for all places I go, I don't mistake tips for a donation. I only tip for the extra mile and the little extra service, and if it is just a smile. But I don't tip for the unfriendly staff, overly long waiting time or bad meals.
Asking for tap water: Ordering tap water in a restaurant is considered rude. Order water with gas (mineral water) or without gas instead.
Expecting shops to be open on Sundays: This should be avoided to save you from disappointments. Shops are closed on Sundays. If you need anything urgent, train stations have small 24/7 shops including bakeries and a small coffee shop.
Expecting fashion traditions in daily life: Expecting Austrians to dress in Dirndl and Lederhosen all day every day will also lead to disappointment. Although Austrians have popular traditional dresses they might wear on special occasions, Austrians are very up-to-date with fashion, which you can experience by wandering around Vienna or Salzburg.
🚴🏻‍♀️ How to stay healthy
There are endless ways how to stay active and fit in Austria. From winter sports, hiking, mountain biking, rafting, and swimming to running or cycling - Austria is a great country for outdoor activities.
Stay active
Winter sports: Imagine yourself gliding down an untouched piste in a snow-covered forest high up in the Alps. Blue sky, an endless view over the mountain range, sun-kissed glaciers, and on the way down you can stop for warming meals in different restaurants. Austria is a famous winter sports destination. My favorite spot for skiing is Ramsau am Dachstein, which is in close proximity to Salzburg. The best season is December to March, depending on snowfall. Top snowboarding destinations are St. Anton in Tirol, Sölden in Tirol, Ski Amadé in the Salzburger Land, and Vorarlberg. Read more about the health benefits of winter sports.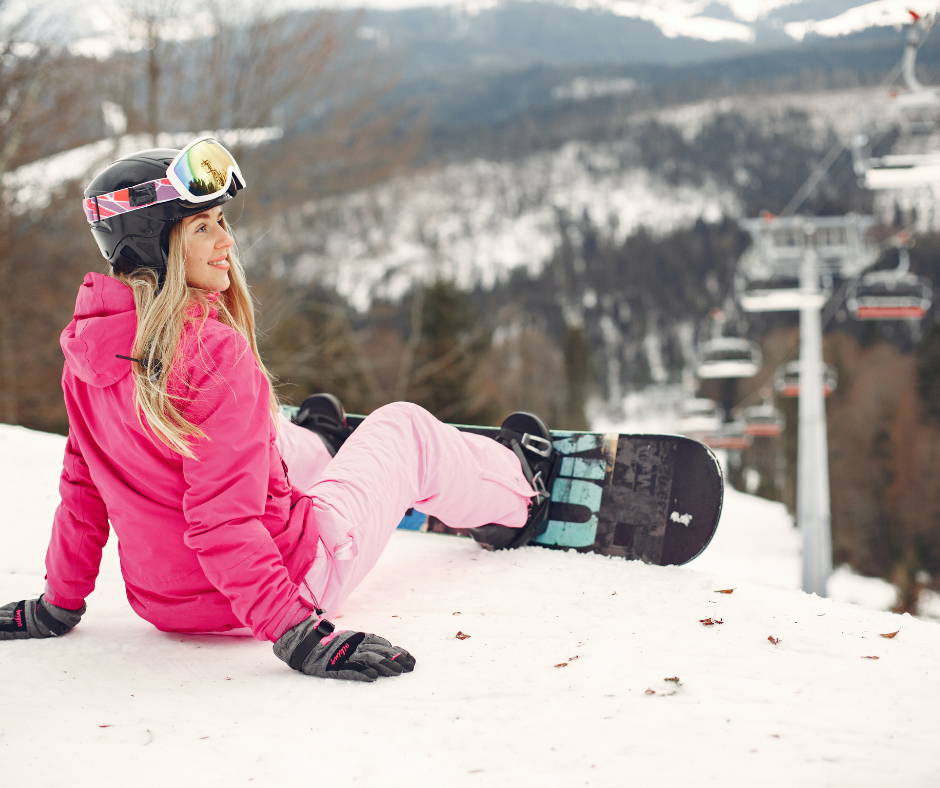 Hiking: Austria has thousands of hiking trails that reach from beginners to advanced levels. You can go for an easy walk through the beautiful Austrian countryside, or go on a multi-day trekking tour. Preparation is everything: Don't play the superhero, instead of avoiding trails that are too steep or too ambitious. Follow your instinct and do your research before hiking blindly.
Mountain biking: Another cardio-benefiting activity is mountain biking which you will find everywhere in Austria. The country offers well-prepared bike lanes, and off-road paths suitable for all levels of mountain biking. You can choose between a leisurely paddle through a medieval town, a relaxed ride along the Danube River, or a challenging mountain bike climb. Read more about Austria's best mountain bike trails here.
Cycling: Cities and villages most likely have separate bike lanes and overall, compared with Asian or Latin American countries I would say, Austria is a very bicycle-friendly country. You will also find public bike-sharing stations in bigger cities such as Vienna or Salzburg.  
Walking: Austria is not just a great country for cyclists but also for pedestrians. Sidewalks are wide, clean, and in many parts suitable for wheelchair access or strollers. Therefore, Austria is a fantastic place for everyone to enjoy walking. This can be a city stroll, an afternoon walk, or a hike, Austria comes with a good level of walkability.
Skateboarding: Another fun way to get the blood flowing and the pulse up is skateboarding. Due to its great walkability and side lanes, Austrian cities are made for skateboarding, too.
Health risks
Water quality: You can enjoy drinking tap water in Austria without any risk
Air quality: The air quality in Austria is good.
⚓️ Long stay
The long-stay Visa (Visa D) allows the holder to stay in Austria for 91 days up to 6 months.
🇦🇹
Experiences to share or questions to ask about Austria?
🇪🇺
Where to travel next? Destinations close to Austria.