Berlin is a melting pot for cultures and lifestyles, an ever-trending destination for international nomads, students, travelers, and expats. Living in this cool metropole means diving into an open-minded, active, and vivid community enjoying the green recreational spaces, hidden gems of local and international gastronomy, vintage shops and chic boutiques, indoor and outdoor activities as well as an innovative startup culture nestled in the history-rich brick buildings of Mitte, and Kreuzberg. Berliners say, their city is poor but sexy.
We were wondering how much it costs to live in Berlin, and we have asked 2 nomads to give us some insights.
🌱 Travel health insurance for Berlin
💡
Genki Explorer
is a travel health insurance with worldwide cover. Monthly payment plans, and easy signup in less than 1 minute.
What do Berlin nomads say?
Our 2 nomads moved to Berlin in the summer of 2022.
👨🏼‍🦱 Tomáš, is originally from the Czech Republic but has lived in several European countries in the past years. Since he became a father recently, he and his wife moved to Berlin together with their 1.5 years old toddler. The small family rented a 3-bedroom apartment in Bergmannkiez, a neighborhood in Berlin-Kreuzberg.

👱🏻‍♀️ Josy just moved to Berlin from Copenhagen. Josy stayed in shared apartments, but in Berlin Prenzlauer Berg, she found a private place that will be her temporary home for the next 6 months.
Both nomads share with us their monthly expenses for rent, groceries, workspace, and recommendations on neighborhoods.
We provide information for price-sensitive nomads (budget-friendly), nomads traveling as a family, as well as nomads with a bigger monthly budget (hipster).
What is the best neighborhood in Berlin?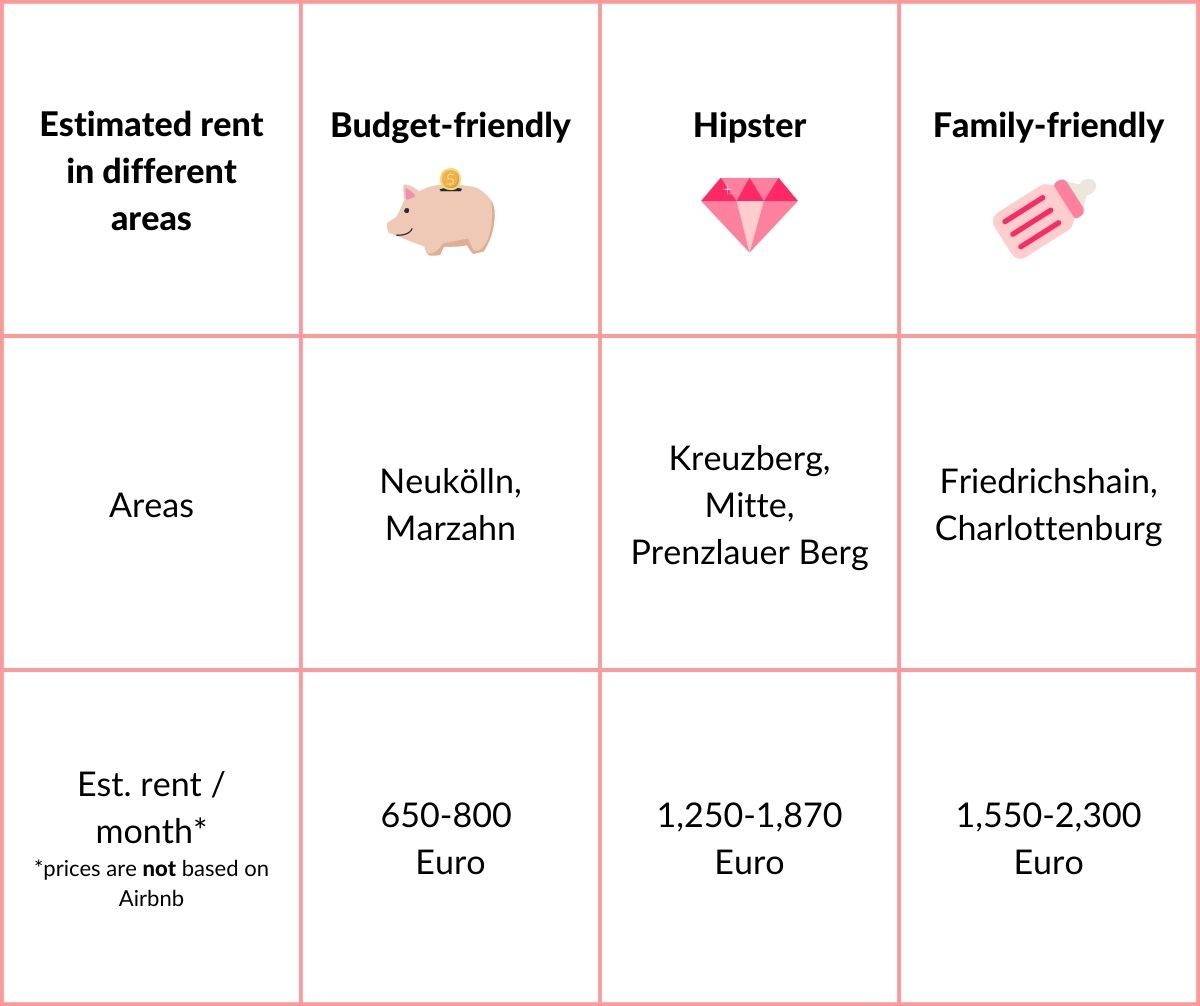 *Please note that the prices do not reflect short-term rentals on Airbnb.
Neukölln: Neukölln is a hip neighborhood with more budget-friendly options than other central Berlin districts offer. Historically, Neukölln was known for being one of the roughest areas in Berlin. But due to rising rents in other parts of Berlin, artists and culturally interested folks settled here and gave the district a new and trendy image. Nowadays you find hip eateries and bars next to rustic restaurants and kebap shops. Local tenants pay an average rent of 656 Euro plus extra charges. Short-term rentals on Airbnb start at around 1,500 Euro a month.
Marzahn: For residents, the district located in the eastern part of Berlin, is afflicted with many prejudices since the largest residential areas were built here in the 1990s. Many of the buildings don't count toward the architectural highlights of Germany. The good thing about Marzahn is that it is affordable, quiet, and green and you have a good public transport connection to central Berlin. Short-term rentals on Airbnb are still at 1,800 Euro a month for a furnished 1-bedroom apartment but if you dig deeper and do some research, you can find apartments for 800 Euro a month.
Kreuzberg: This neighborhood is very popular among expats as it offers multicultural and creative spots, and many people working in the service industry speak English, Spanish and German. Around 35 % of people living in Kreuzberg are foreigners or Germans with foreign roots which makes Kreuzberg colorful and diverse. You find the picturesque Landwehrkanal here, and on its banks, there are bars, restaurants, shops, flea markets, and parks that get busy after work hours. Long-term rentals are around 1,500 Euro a month, but finding a short-term rental on Airbnb might cost you something between 1,600 and 3,000 Euro a month.
Mitte: Berlin-Mitte forms the center of the capital and is both a tourist magnet and one of the most popular residential areas in Berlin. Mitte is packed with sights like Alexanderplatz, Museum Island, and the Brandenburger Tor. Mitte has great shopping areas like Hackesche Höfe and the Mall of Berlin but also many parks and green areas. The average price for a 40-60 m² apartment is 1,550 Euro a month plus additional costs. Short-term monthly rentals on Airbnb start at 2,200 Euro.
Prenzlauer Berg: Since the fall of the Berlin Wall, Prenzlauer Berg became one of the most popular residential districts of Berlin. Prenzlauer Berg is famous for its historical buildings that survived WWII bombings and offer now modern living space. Prenzlauer Berg can be categorized as hipster and family-friendly, but it is definitely one of the more expensive areas to live in. Short-term rentals are mostly between 1,900 and 2,400 Euro.
Friedrichshain: Friedrichshain combines family-friendly infrastructure with cosmopolitan nightlife. Known for clubs like Berghain, or iconic, cultural hotspots such as RAW Temple, Friedrichshain became a famous area for people all over the world. The dynamic district is teeming with trendy bars, cozy cafés, boutiques, galleries, and clubs. Popular residential areas are Bergmannkiez, Wrangelkiez, and Samariterviertel. The average price per square meter in Friedrichshain is 22.90 Euro which leads to a price of 1,145 Euro a month for 50 m². Short-term offers start at 3,500 Euros but are mostly around 5,000 Euro a month.
Charlottenburg: City West describes districts such as Grunwald or Dahlem, which are close to the forest, or Charlottenburg which is more urban but still family-friendly and decent. In this part of Berlin, you will find the Zoologischer Garten, the oldest Zoo in Germany, and the Olympia Park Berlin. Typically City West are single-family houses and family-friendly housing complexes with a wide range of leisure facilities. Because of the high demand, rentals are extremely high and are on average 21.90 Euro for the m².
Where to find accommodation?
Looking for a budget-friendly apartment in Berlin is time-consuming and often ends up in recommendations via Facebook groups. For visiting Berlin for less than 1 week we suggest renting a hotel or an apartment via Airbnb, even if it might be more expensive.
The longer you stay, the more options you will have. The House of Co offers fully-equipped micro apartments and studios for a reasonable price and on a monthly base. The website wg-gesucht extended its portfolio, from private rooms in shared apartments to non-shared apartments, which are mostly less expensive than Airbnb listings.
Besides Airbnb, which is definitely an option in case you don't want to invest much time in research or book last minute, there are other websites you should look at. wunderflats.com is a similar platform for temporary furnished housing. Homelike is another website for short-term housing in Berlin, which has plenty of offers in the mid-range price category.
In case you think about a long-term stay exceeding 3 months, check out immobilienscout24.de, one of the biggest marketplaces of the german real estate market.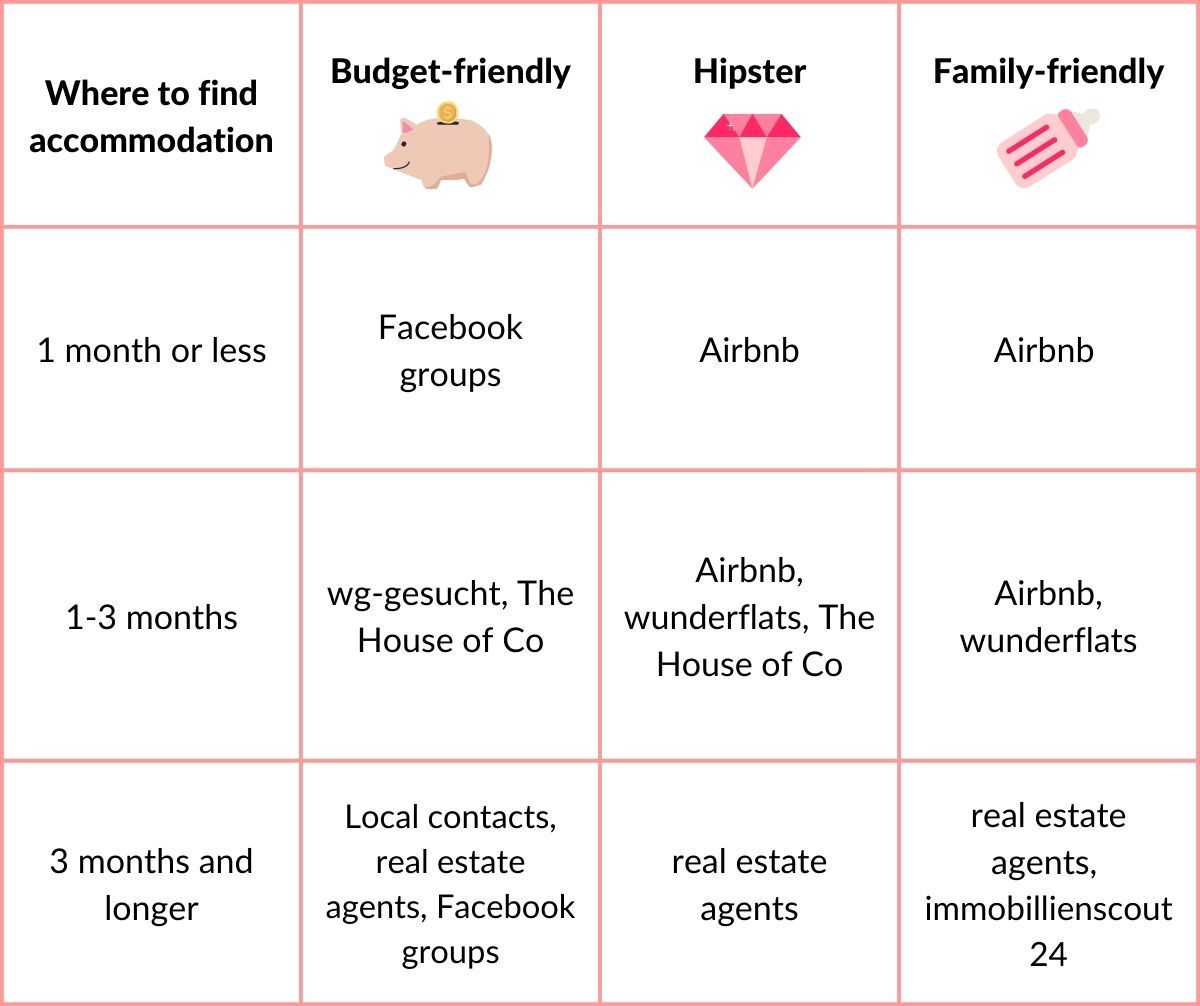 The total cost of living in Berlin
After you got an idea of suitable areas and rental costs, let's have a look at the total cost of living. We include rent, grocery, transportation, workspace, and miscellaneous.

For the budget-friendly and hipster categories, we calculated the cost based on 1 person.

The family is calculated with 2 adults and 2 smaller children. In our calculation, 1 parent is working from a coworking space, and the family uses the family-metro card. All categories are mainly cooking at home and using public transport, e.g. a monthly metro card. For costs for miscellaneous expenses, we calculated 350 Euro per person for a budget-focussed nomad.
The hipster is less price-sensitive, eats out more often, uses public transport and Uber, and signs up for monthly coworking membership.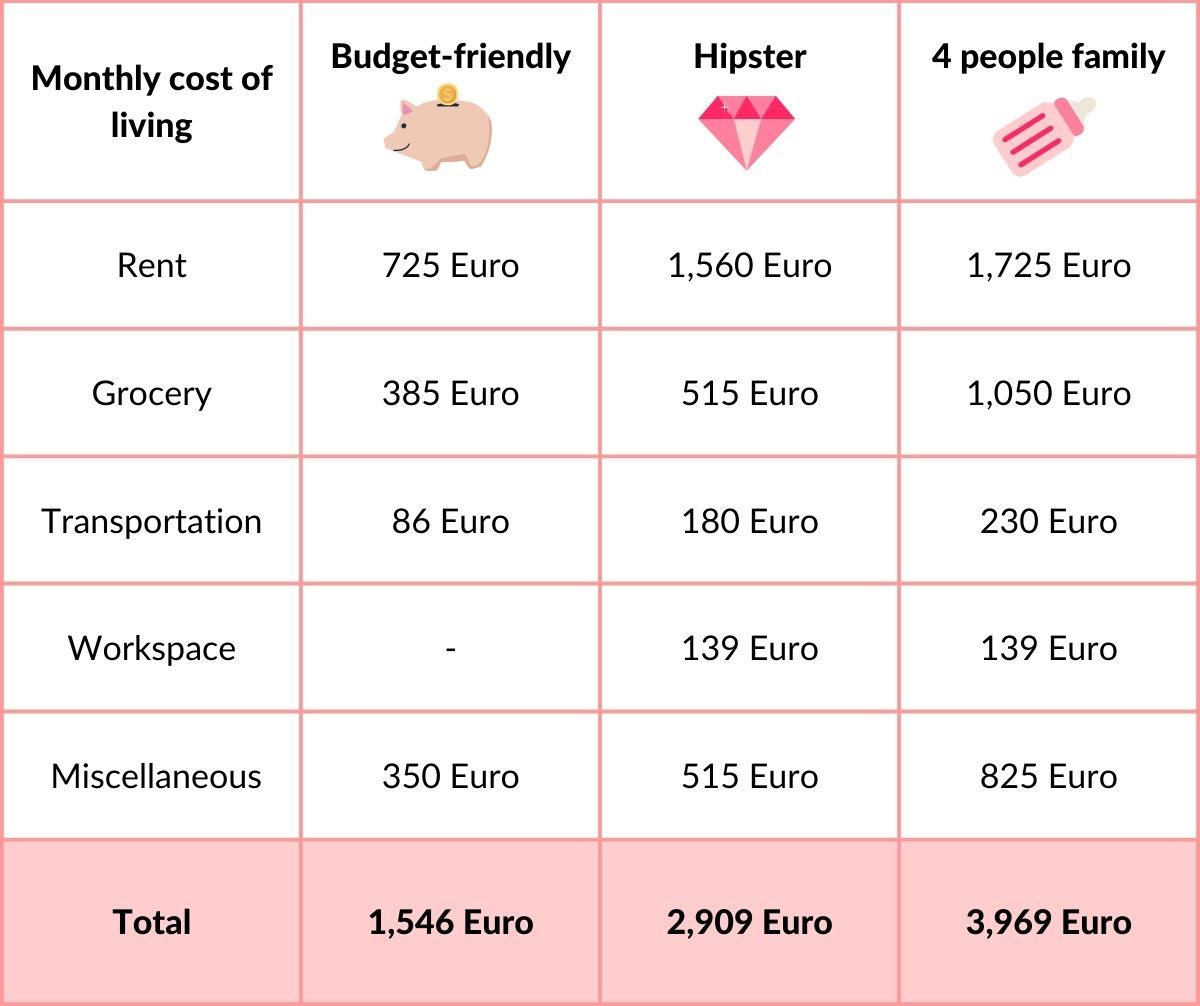 How do our 2 nomads live?
What is your monthly rent?
👨🏼‍🦱 2,500 Euro for a 3-bedroom apartment in Kreuzberg.
👱🏻‍♀️ 950 Euro for a 1-bedroom flat with 48 m² in Prenzlauer Berg.
Where did you find your place?
👨🏼‍🦱 found their place on wunderflats.com.
👱🏻‍♀️ found her temporary flat through wg-gesucht.de, listed by a private person.
How much did you pay for your last meal including a drink?
👨🏼‍🦱 20 Euro for last night's dinner at a kebap shop.
👱🏻‍♀️ 33 Euro for dinner and drinks in a local eatery.
We are interested in your thoughts. Join our Germany channel and let's chat about Berlin with other nomads.
Let us know your experience in Berlin, your tips, and your questions, or simply say hello. See you!