The wonders of Brazil mesmerize travelers, who come to the country from all around the world to experience the colorful Rio Carnival, climb to the magnificent Christ the Redeemer, indulge in the art and architecture of Sao Paolo, travel deep into the jungle of the Amazonas, or watch one of the world's best football teams. The sunny Copacabana with its colorful cangas and the roaring sounds of the Iguazu falls are only two of many reasons to visit Brazil.
Although Brazil shows one of the most relaxed Covid measurements and restrictions, travelers can only enter when providing a negative Covid-test, as well as proof of vaccination. Let's have a look at what to prepare before heading towards the Terra do Brazil.
Entry requirements for Brazil
There is not much to prepare before heading to Brazil but all travelers need to be vaccinated and show a negative Covid-test. Here are the points you need to consider.
Valid visa: To enter Brazil, make sure you have a valid visa. Most countries are exempted from visas, for example, EU countries get 90 days visa-free upon arrival.
Proof of vaccination: You need to be fully vaccinated (minimum 14 days ago) against Covid-19.
Covid test: Proof of negative PCR-test results up to 72 hours prior to travel date.
Digital form: Present the Health Affidavit Form prior to boarding.
Travel health insurance for Brazil
💡
Genki World Explorer
is your travel health insurance for a 2-years worldwide cover. Monthly payment, easy signup, fair pricing.
Covid-19 in Brazil
Brazil shows a vaccination ratio of 76% of its population. Brazil's government, and especially president Bolsenaro show not much interest in handling the pandemic seriously. However, you are asked to wear a mask inside buildings and in public spaces.
How to travel around Brazil
Plane: As we are not talking about a country with the size of Andorra, it makes sense to consider taking the plane for domestic travel. Check GOL, LATAM, and Azul airlines. Plane is the transport option to go.
Uber: Uber and 99 are the two most popular ride sharing applications used in Brazil.
Bus: If you have more time, taking the bus can be another scenic option to travel around Brazil. The country has an extensive bus network which connects all major cities and many smaller towns. Porto Legre to Rio, Rio to Rio beach resorts, Rio to Sao Paolo, and Rio to Florianapolis are routes you can take. As more north you travel, so from Rio de Janeiro up north, the worse gets the quality of the buses. Overnight buses are not recommended, especially in the north of the country.
Boat: Traveling by boat makes sense when going to river cities such as Manaus, Santarém and Belém. Overnight ferries come with hammocks, they are everything but glamorous. They are old, adventurous, and authentic. There are luxurious river cruise options of course too. Check out Macamazon for schedule and tickets to destinations along the Amazon, and Biotur, and CCR Barcas for ferry schedules to tropical islands.
How to find a place in Brazil
Airbnb: Plenty of availabilities are found on Airbnb and very common to book your stay through this platform. However, I think Airbnb got crazy with the fees and I try to avoid them now.
Hotels: I usually go with agoda.com and booking.com. If you want to be close to a specific location, check hotels on Google Maps.
Lodges and Junge Reserves: Brazil is a natural beauty. Make sure to include a stay in one of the reserves and lodges close to nature.
Good to know about Brazil
Internet: The median internet speed in Brazil is 78 Mpbs download, and 38 Mbps upload on fixed broadband. Other sources come to 20 Mbps download and 7 Mbps upload. Brazil ranks 49th worldwide in broadband speed and 5G is on the horizon for wide coverage in rural areas. On Nomadlist, Sao Paolo, Rio de Janeiro, and Florianopolis show bad ranking on the internet, however, the data is collected by many individuals using different types of accommodation. In Latin America, Brazilians are the ones spending the most time on social media. 9 in 10 Brazilians are online for several hours per day.
Sim cards: You can choose between Claro, Oi, Tigo, and TIM. 5G is available in Brazil, but unfortunately not for prepaid sim cards.  
Digital nomad community: Brazil is a hot destination for digital nomads. Firstly, Brazil's cities of Sao Paolo and Florianopolis rank 4 and 5 on Nomadlist, when filtering Latin America. Secondly, the country welcomes you with hundreds of sunny days per year. Brazil has a thriving digital nomad community, especially in Florianopolis and Jericoacoara. Florianopolis, also known as Floripa, is accessible by plane from Rio de Janeiro, Sao Paolo, Brasilia, and Porto Alegre. The beach town Jericoacoara is accessible via the new airport which is linked to Fortaleza and Sao Paolo, or by a 6-hour drive from Fortaleza.
Climate: In general, Brazil is an all-year destination with temperatures always 20 degrees Celsius or more. The climate varies from hot and dry weather in the interior country to sticky and humid in the rainforest. Belem for example counts nearly daily rainfall and is the gateway to the Amazonas region. Sao Paolo shows a subtropical and humid climate with January being the hottest and the wettest month. Rio de Janeiro's summer months of December to February can be 40 degrees Celsius with abundant rainfalls.
Florianopolis: In Florianopolis, you will find coworking spaces on beaches such as Armacao, Mole, or Joaquina. Coworking spaces are e.g. Selina Florianopolis or Vilaj Coworking. Melanie wrote a detailed and updated guide at Digital Nomad World for digital nomads in Florianopolis including coworking and the best cafés to work from. Very resourceful.
Jericoacoara: Jericoacoara offers restaurants, coffee shops, and hotels with decent wifi and spots to work from. However, the government tries to protect Jeri from major developments, so do your research if Jeri is for you.
Watersports: Kitesurfing in Jericoacoara is one of the popular activities at the beach. But also surfing, diving, and snorkeling are popular watersports in Brazil.
Beachlife: Besides the famous Copacabana, Brazil offers thousand of beaches. Worth checking out are Jericoacoara Beach, Armacao in Florianopolis, Praia Grande on the island of Ilhabela close to Sao Paolo, Nativos Beach in Bahia, and many more.
Digital nomad visa: Brazil launched Latin America's first digital nomad visa. Tracey put an article together on nomad girl about the requirements.
Air quality: The air quality, especially in smaller places, and on the beaches in Brazil, is usually very good.
What to avoid in Brazil
Safety: Strolling around in favelas should be avoided. Many areas are controlled by powerful gangs and you don't want to be in a gang fight.
Water quality: Tap water in Brazil, for example in Sao Paolo is drinkable, according to the organization of Tap Safe. Isolated areas might have lower quality tap water. The taste is awful. I would stick to filtered water. The IAMAT, International Association for Medical Assistance for Travelers recommends drinking filtered water only.
Food quality: The overall food quality in Brazil is nothing to worry about. The problem is the water, food, cutlery, and dishes are washed. Here are some tips on avoiding the worst: make sure dishes, glasses, and silverware are dry before usage; drink only bottled or filtered water. Avoid drinks with ice cubes, as they might be made of tap water. Wash fresh fruits and vegetables in salty water before usage. Cut and peel fruits and vegetables yourself. Avoid eating raw, uncooked, and ungrilled meat or animal products. Avoid eating food at room temperature. Look at the restaurants you eat; high turnovers are a good indicator of minimum quality standards.
Covid-19: Brazil shows spiking covid cases and a high number of deaths. Do all the protective precautions like washing and sanitizing hands often, being in the fresh air, and avoiding crowds.
Useful contacts
Medical Emergency: 192
Federal Police: 194
Please note that in an emergency, the ambulance will take you free of charge to the closest public hospital. This can be overcrowded, and public ambulances might not be reliable and fast. Here is a list of some of the best private hospitals in Brazil.
Brazil Hospital Sirio E. Libanes
Rua Dona Adma Jafet, 91 Bela Vista, São Paulo, 01308-050
+55 11 3394 0200
Hospital Sao Jose
Rua Maestro Cardim, 769 – Bela Vista, São Paulo, 01323-900
+55 11 3505 1000
Hospital Samaritano
Rua Bambina, 98, Botafogo, 22251-050, Rio de Janeiro, RJ
+55 21 3444 1000
Hospital Copa d'Or
Magalhães de Figueiredo Street, 875 Copacabana, RJ
+55 11 3505 1000
Hospital Albert Einstein
Avenida Albert Einstein, 627/701, Morumbi, SP 05651-901
+55 21 2537 9722
How to stay healthy in Brazil
Stay active
Outdoor activities: The list of outdoor activities is endless. Enjoy a morning run at the beach, a kitesurfing session before sunset, long beach walks in the afternoons, or hikes and mountain bike trips on the weekends. Have a look at gyms, or yoga studios, and check out Facebook groups for local sports groups.
Sleep well: Make sure that you book accommodation with a comfortable bed, and a good pillow, and if you are a light sleeper, ensure blackout curtains, and noise-canceling windows. If that is not possible, try out to sleep with quality headphones and listen to sleep stories, sleep meditations, or nature sounds. Sleep is not just essential for your physical health but also for your mental well-being. If you would like to dive deeper into the topic, check out my article about sleep and mental health.
Mental health: If you feel overworked, burned out, lonely, or sad, if you have mood swings, low appetite, and/or sleeping problems, no beautiful beach in the world can heal your mental state. Observe yourself and make sure to keep an eye on your mental wellbeing.
Learn how to dance: Dancing samba or salsa is not just a fun way to stay physically in shape and get the cardio going, dancing is additionally a great way to make friends with local Brazilians and other foreigners. Using a shared hobby is the easiest way for me to make friends. Also, dancing makes you happy, it improves your mood and has an impact on your mental health. Have you ever seen someone dancing with a grumpy face?
Eat well
Home-cooked meals: The sun-kissed state of Brazil is home to exotic fruits, vegetables, fresh seafood, and meat. Go out and shop at the nearby local market, dedust the blender in your Airbnb kitchen, or have a look on YouTube at what to cook. You have so many choices, Brazil offers amazing ingredients, make the best out of it.
Food and mental health: When it comes to mental health, we can greatly impact our emotional state by the food we intake. Our gut is the emotional brain and it is linked by the vagus nerve with our brain. You are what you eat is not just an old wives tale it is backed by science that food and mental health have a close interrelationship. If you want to know more about it, read my article about food and mental health.
App: Check out Happy Cow for vegan venues in your area.
Make friends
Live happier: Coliving spaces make an excellent way to socialize and make friends. We don't mean to force ourselves into awkward blind dates or superficial meetups. Still, it is true: Studies reveal, and you know this already, that people with satisfying social relationships live happier, healthier, and longer.
Reduce depression & anxiety: In times of Covid-19, the feeling of loneliness has increased, especially among young adults. A Harvard study reveals, that about 36% of young American adults frequently felt lonely or lonely at all times since the outbreak. Additionally, around 63% of young adults felt anxious and depressed.
Where to make friends: As an introvert, I know how awkward it is for me to make new friends in coffee shops, grocery stores, or the gym. I simply don't want to be bothered when I sweat my butt off during a workout. Instead, I recommend meeting new people by doing what you like, e.g., your hobby. I find it much easier and more natural to meet people at coworking and/or coliving spaces, digital nomad meetups, local dance or cooking classes, book clubs, craft workshops, or simply every other event representing a hobby.
Genki offers travel health insurance for your stay in Brazil. Quick sign up from anywhere in the world (no need to be in your home country to sign up), and you will be covered for up to 2 years (monthly subscription and payment plan).
Featured travel destinations
Check out our list of featured travel destinations. All you need to know.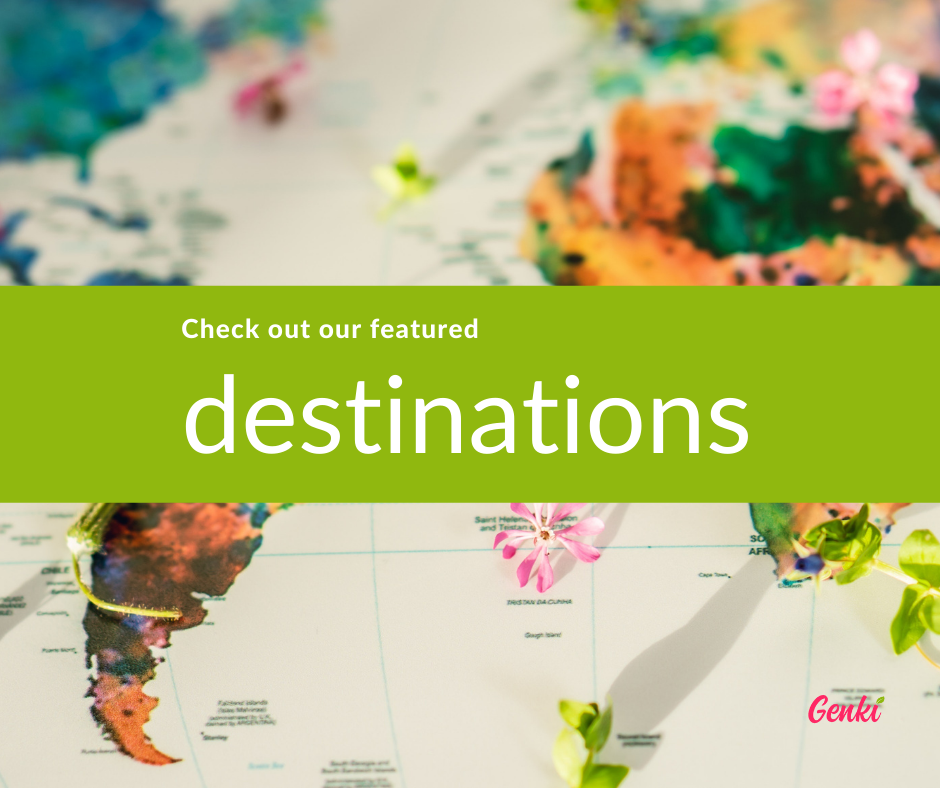 Do you like this post? Share it with your friends and fellow travel buddies!