The wonders of Brazil mesmerize travelers from all around the world. The colorful Rio Carnival, a hike to the magnificent Christ the Redeemer, and the vibrant art and the architectural scene in Sao Paolo are among the top tourist highlights.
For those with more time, the Amazon river offers adventurous river cruises or tours to the famous Iguazu waterfalls. If you feel lazy, watch a football game with one of the world's best teams.
🌱 Travel health insurance for Brazil
💡
Genki Explorer
is a travel health insurance with worldwide cover. Monthly payment plans, and easy signup in less than 1 minute.
The table of content will be generated here
🇧🇷 Entry requirements for Brazil
There is not much to prepare before heading to Brazil but all travelers need to be vaccinated and show a negative Covid-test. Here are the points you need to consider.
Valid visa: To enter Brazil, make sure you have a valid visa. Most countries are exempted from visas, for example, EU countries get 90 days visa-free upon arrival.
Proof of vaccination: You need to be fully vaccinated (minimum 14 days ago) against Covid-19. Or you provide a negative Antigen-test result not more than 72 hours prior to the travel date.
Digital form: Present the Health Affidavit Form prior to boarding.
✈️ How to get to Brazil
Plane: You can find non-stop flights from several European countries, such as France, Germany, the UK, Spain, and Portugal.
- Sao Paolo: The main international airport of Brazil is Sao Paulo Guarulhos International Airport (GRU). The airport is around 26 km outside of the downtown area of Sao Paulo. A taxi from Guarulhos Airport to Sao Paulo downtown costs around 22 Euro.
- Rio de Janeiro: Another major international airport is Rio de Janeiro Airport (GIG), located 25 km north of Rio de Janeiro. Rio de Janeiro is connected to all regions in South America, the United States, Canada, Australia, and Europe. A taxi from the airport to Rio de Janeiro downtown costs between 7 and 10 Euro.
🚌 Public transport
Taxi: Taking a taxi is often the fastest and easiest way. Taxis operate with meters but you can also agree on a fixed price beforehand.
Bus: All major cities of Brazil have a public bus network that provides options for traveling around town or to other cities. The ticket is generally very affordable.
Uber: Uber and 99 are the two most popular ride-sharing applications used in Brazil. Uber is available in Rio de Janeiro, Sao Paolo, Florianopolis, and in many other cities.
Metro: Brazil does have metro systems in a handful of cities such as Rio de Janeiro or Sao Paulo.
🏡 How to find a place
Airbnb: Plenty of availabilities are found on Airbnb and very common to book your stay through this platform. If you are interested in deals and discounts on Airbnbs, sign up for the free RemoteBase newsletter. RemoteBase sends you deals 2x a month. In their premium version, you can request destinations too.
Nomad Stays: An alternative to Airbnb is Nomad Stays, available in more than 66 countries, including Brazil. However, the listing in Brazil is currently rather short, but keep an eye on the platform as they constantly expand their offers.
Lodges and Jungle Reserves: Brazil is a natural beauty. Make sure to include a stay in one of the reserves and lodges close to nature.
🏘 Where to stay in Rio de Janeiro
Flamengo: A popular base for digital nomads and expats is Flamengo. The district is located next to Botafogo, another popular digital nomad district. Flamengo is well-connected, and multi-cultural, and offers a lively nightlife scene.
Botafogo: If you want to live close to the nightlife and clubbing scene of Rio de Janeiro, Botafogo would be a good choice. The area is preferred by students due to low costs for rentals and great subway connection and vibrant atmosphere.
Copacabana: The world-famous beachfront of the city is also a popular residential area for digital nomads and Brazilians alike. The promenade is in short proximity to cafés and bars. Overall, Copacabana is an attractive neighborhood to stay in.
Ipanema: Live between luxurious mansions, trending restaurants, fancy bars, theaters, and international art galleries.
🧑🏻‍💻 Where to work from in Rio de Janeiro
Coworking spaces
Spaces: The modern coworking space concept has two locations. One is in Ipanema, right next to the Atlantic Ocean, and the other one is very centrally located in a former movie theater. Both locations are architectural and design highlights. Spaces run an onsite restaurant or café, offer an outdoor area, and a fast internet connection. Monthly memberships start at 149 Euro.
Selina: You find 2 Selina spaces in Rio. One is in Lapa, and the other one is in Copacabana. Lapa is a trendy upcoming district. Selina Lapa offers a Latin American-inspired onsite restaurant and bar located on the rooftop terrace. Selina Copacabana is a great location if you want to go surfing after work. Both locations offer coliving options as well.
Coffee shops
La Bicyclette: Located close to the botanical garden, la Bicyclette is a traditional french bakery with tasty coffee and handmade bread and pastries. The outdoor area is a great spot for a work session.
Talho Capixaba: Located in Ipanema, Talho Capixaba provides a sophisticated and pleasant setting for a substantial brunch or a delicious coffee. The venue is part deli, part café with imported products popular among locals. You can buy French cheese, paté, and marmalade here. Bread and pastries are made daily fresh on-site. Talho Capixaba has both outdoor and indoor seating with a good wifi connection.
🏘 Where to stay in Sao Paulo
Pinheiros: Pinheiros is one of the most popular residential areas of Sao Paulo for expats. It is very close to the urban center, and it is well connected by the metro. Pinheiros gives you a good insight into the cultural mix that is represented in cuisine and urban lifestyle.
Vila Madalena: The artsy neighborhood is the bohemian heart of the city. Colorful street art, vibrant nightlife, unique boutiques, and trendy cafés are the hotspots here. The area is well connected by the metro (green line). If you want to stay in a trendy and lively part of the city, you find good and safe accommodation in Vila Madalena. Due to its popularity among tourists, prices might be slightly higher than in other districts.
🧑🏻‍💻 Where to work from in Sao Paulo
Coworking spaces
Oworks: One of our favorite coworking spaces in Sao Paulo is Oworks. The space is located in Cidade Vargas, and only 10-min. walking distance to the metro station. A dedicated desk is available starting at 117 Euro per month, with unlimited access and high-speed internet.
CoLab: Another modern coworking space is CoLab, located in close proximity to Butanta and Fradique Coutinho. The monthly membership is 188 Euro which gives you access to a chilled terrace, ergonomic work equipment, and onsite snacks and coffee.
Coffee Shops
Coffee Lab: If you are a coffee-lover you should try blends made by Coffee Lab. It is a famous barista training school and a good place to enjoy some seriously tasty coffee creations. The internet is fast and stable, the place offers comfortable seating and enough plugs.
🏘 Where to stay in Florianópolis
Centro: The center of Florianópolis and the business hub of the town. You find few tourists here as it is not on the beachfront.
Trindade: A local neighborhood tucked away from the beach between the hills, close to the university, and many coworking spaces.
Lagoa da Conceição: This area is named after a large lagoon on the east side of Santa Catarina island. You find many resorts and beach hotels here.
🧑🏻‍💻 Where to work from in Florianópolis
Coworking spaces
Selina Florianopolis: Selina Floripa & Cowork makes sense when you stay in this part of the island, maybe you book yourself a room at their coliving house. The place is 400 m from Mole beach.
Vilaj Coworking: Located in Trindade, close to Centro Florianópolis, Vilaj offers modern coworking facilities. The monthly membership is 86 Euro.
Coffee shops
Lighthouse Speciality Coffee: This café is for you if you are looking for a professionally made cup of coffee. Opening hours are a bit short, from 9:30 am to 6 pm. In between, you find stable wifi here, a cozy coffee shop atmosphere, tasty snacks, and friendly staff.
Arbor Café: Located in Centro Florianópolis, Arbor Café gives the look and feel of a local Starbucks. You find decent coffee, long opening hours, snacks, and stable wifi here.
💡
We featured Florianópolis in our 7 cities for less than 1,500 Euro article.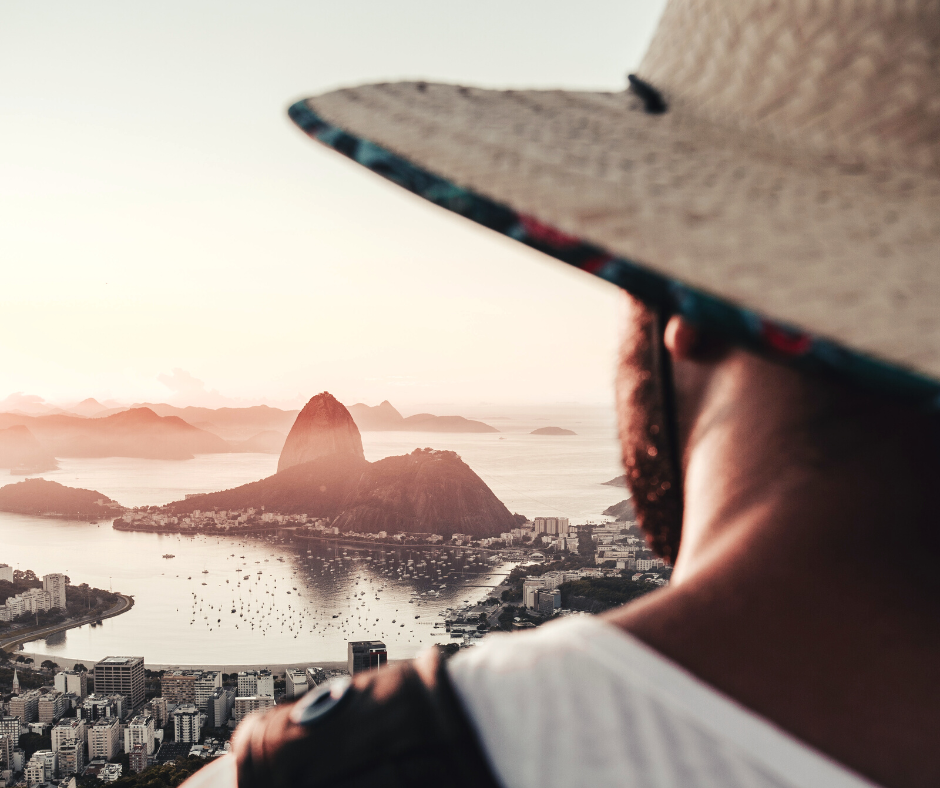 🚊 How to travel around
Plane: Brazil is a huge country, especially for those coming from Europe where countries like Liechtenstein or Andorra exist. Check GOL, LATAM, and Azul airlines for domestic travel. There are direct flights from Sao Paolo and Rio de Janeiro to Florianópolis.
Bus: If you have more time, taking the bus can be another scenic option to travel around Brazil. The country has an extensive bus network that connects all major cities and many smaller towns. Porto Legre to Rio, Rio to Rio beach resorts, Rio to Sao Paulo, and Rio to Florianopolis are routes you can take. As more you travel to the north, meaning from Rio de Janeiro up north, the worse becomes the quality of the buses. Overnight buses are not recommended, especially in the north of the country due to safety reasons.
Boat: Traveling by boat makes sense when going to river cities such as Manaus, Santarém, and Belém. Overnight ferries come with hammocks, they are everything but glamorous. They are old, adventurous, and authentic. There are luxurious river cruise options of course too. Check out Macamazon for schedules and tickets to destinations along Amazon. Biotur, and CCR Barcas for ferry schedules to tropical islands.
🎖Must see
Florianópolis: You find coworking spaces in "Floripa" on beaches such as Armacao, Mole, or Joaquina. The beach town is popular among digital nomads and many spend the entire season here. Florianópolis is connected via direct flights with Rio de Janeiro (1:30 hour flight) and Sao Paolo (1:15 hour flight).
Jericoacoara: The small beach town is far away in the north of Brazil. Take a flight to Fortaleza and an 8-hour drive to "Jeri" including the last part in a 4x4. You can take a flight to the Jericoacoara airport which is located 35 km outside of Jeri in the city of Cruz. Direct flights connect Jeri with Sao Paolo and Fortaleza. Jericoacoara offers restaurants, coffee shops, and hotels with decent wifi and spots to work from. However, the government tries to protect Jeri from major developments, so do your research if Jeri is for you.
Beachlife: Besides the famous Copacabana, Brazil offers thousands of beaches. Worth checking out are Jericoacoara Beach, Armacao in Florianopolis, Praia Grande on the island of Ilhabela close to Sao Paolo, Nativos Beach in Bahia, and many more.
💡 Good to know
Internet: The median internet speed in Brazil is 78 Mbps download, and 38 Mbps upload on fixed broadband. Other sources come with 20 Mbps download and 7 Mbps upload. Brazil ranks 49th worldwide in broadband speed and 5G is on the horizon for wide coverage in rural areas. Internet depends greatly on your accommodation.
Sim cards: You can choose between Claro, Oi, Tigo, and TIM. 5G is available in Brazil, but unfortunately not for prepaid sim cards.
Socket Type: Type C and N.
Currency: The Brazilian Real is the official currency of Brazil. 1 Euro is 5.53 R$.
Digital nomad community: Brazil is a hot destination for digital nomads. Firstly, Brazil's cities of Sao Paolo and Florianópolis rank 4 and 5 on Nomadlist, when filtering Latin America. Secondly, the country welcomes you with hundreds of sunny days per year. Brazil has a thriving digital nomad community, especially in Florianópolis and Jericoacoara.
Climate: In general, Brazil is an all-year destination with temperatures always 20 degrees Celsius or more. The climate varies from hot and dry weather in the interior country to sticky and humid in the rainforest. Belem for example counts nearly daily rainfall and is the gateway to the Amazonas region. Sao Paolo shows a subtropical and humid climate with January being the hottest and the wettest month. Rio de Janeiro's summer months of December to February can be 40 degrees Celsius with abundant rainfalls.
🚧  What to avoid in Brazil
Safety: Strolling around in favelas should be avoided. Many areas are controlled by powerful gangs and you don't want to be in a gang fight.
Food quality: The overall food quality in Brazil is nothing to worry about. The problem is the water, the food, the cutlery, and the dishes are washed. Here are some tips on avoiding the worst: make sure dishes, glasses, and silverware are dry before usage; drink only bottled or filtered water. Avoid drinks with ice cubes, as they might be made of tap water. Wash fresh fruits and vegetables in salty water before usage. Cut and peel fruits and vegetables yourself. Avoid eating raw, uncooked, and ungrilled meat or animal products. Avoid eating food at room temperature.
🚴🏻‍♀️ How to stay healthy
Stay active
Outdoor activities: The list of outdoor activities is endless. Enjoy a morning run at the beach, a kitesurfing session before sunset, long beach walks in the afternoons, or hikes and mountain bike trips on the weekends. Have a look at gyms, or yoga studios, and check out Facebook groups for local sports groups.
Watersports: Kitesurfing in Jericoacoara is one of the popular activities at the beach. But also surfing, diving, and snorkeling are popular water sports in Brazil.
Dancing: Dancing samba or salsa is not just a fun way to stay physically in shape and get the cardio going, dancing is additionally a great way to make friends with local Brazilians and other foreigners. Using a shared hobby is the easiest way for me to make friends. Also, dancing makes you happy, it improves your mood, and has an impact on your mental health. Have you ever seen someone dancing with a grumpy face?
Health Risks
Water Quality: Tap water in Brazil, for example in Sao Paolo is drinkable, according to the organization of Tap Safe. Isolated areas might have lower-quality tap water. However, it is recommended to stick to filtered water.
Air Quality: The air quality in Brazil is moderate.
⚓️ Long stay
Brazil offers a digital nomad visa, and other long-stay visas.
Visa Guide wrote an extensive article on the different visa types in Brazil.
Financial requirements: Monthly income of at least 1,400 Euro per month. Or around 17,000 Euro funds in your bank account.
Fee: 120 Euro.
Length: 1 year. You can extend 1x for another 1 year.
💡
Where to travel next? Destinations close to Brazil.