The small tropical paradise of Belize surprises with ancient Mayan ruins in the thick jungle of its hinterland, a former capital and cultural center on the Carribbean peninsula, and a colorful marine life for top snorkeling and scuba diving experiences. Mayan history, a multi-cultural population that influenced Belize's cuisine, dance, and music, and perfect postcard cover island paradises are a just few reasons why the little country often exceeds travelers' expectations.
Entry requirements for Belize
For vaccinated travelers
Valid visa: Apply for the visa before traveling.
Proof of vaccination: A valid EU Digital COVID certificate or a valid recovery certificate or an alternative proof of full vaccination. If you have been vaccinated in the USA, please show your CDC-card. No quarantine or self-isolation is required. If you received your vaccines from another country, please bring proof of your vaccination.
Travel health Insurance: Travel health insurance is mandatory to enter Belize.
For unvaccinated travelers
Valid visa: Apply for the visa before traveling.
Covid test: Proof of a negative COVID-test result prior to your travels. Negative PCR-covid test within 48 hours before boarding or entering the country.
Travel health Insurance: Travel health insurance is mandatory to enter Belize.
Travel health insurance for Belize
💡
Genki World Explorer
is your travel health insurance for a 2-years worldwide cover. Monthly payment, easy signup, fair pricing.
Covid-19 in Belize
Belize shows a vaccination ratio of 52% of its population.
How to travel around Belize
Taxi: You can recognize licensed taxis by their green number plate but don't expect a meter. The fee within a town should be between 8 to 10 BZD (Belize Dollar), so 4-5 Euro. If you take longer rides, make sure to agree on the price beforehand.
Local bus: The cheapest option to travel around Belize is by taking the local bus. The bus network connects nearly every town and the longest trip in Belize is between Belize City to Punta Corda and takes 6-7 hours. The bus from Belize City to Orange Walk takes 1.5 hours, Belize City to Placencia is about 5 hours. Bus tickets are between 2 and 20 BZD (Belize Dollar), meaning between 1 and 9 Euro. You can spot the bus by its yellow color, as you will ride in one of the old American school busses. Local busses operate from Monday to Saturday only.
Shuttle bus: A more efficient way to travel around Belize is by taking a shuttle bus, which takes you reliable from A to B.
Water taxis: From Belize City, you can take the water taxis to go to the island Caye Cauker or San Pedro on Ambergris Caye. The water taxis from Belize City to Caye Cauker take about 45 minutes and tickets should be around 20 BZD (10 Euro) per person. Belize City to Caye San Pedro takes about 1.5 hours and cost about (15 Euro).
Golf cart taxis: Don't be afraid to use the golf cart taxis on the islands.
Plane: Belize has two domestic airlines, Maya Island Air and Tropic Air which operate between Caye Caulker, Placencia, Corozal, and Ambergris Caye. Domestic air travel is not on the cheap site though, a round trip from the main land to the islands costs most likely between 100 and 200 Euro.
Bicycle: Cycling is a great way to visit ruins and explore the country side. Especially San Ignacio and Placencia are great places for leisure cyclists.
Where to find a place in Belize
Hotels: My first choices would always be hotels, as I like the fact that there is someone responsible for the service I paid for. There is a receptionist I can hold accountable when something doesn't work, a refund policy, and in general, I like to support hotels as Airbnb got too crazy with their fees. Depending on which country you are coming from, Belize provides a pretty affordable range of hotels and you can get decent accommodation for 20 Euro per night.
Airbnb: Yeah, it has to be part of the list. So check it out if you find better deals on Airbnb, maybe cool apartments or affordable studios.
Good to know about Belize
Internet: The average internet speed for fixed broadband is about 41 Mbps download and 28 Mbps upload.
Sim cards: Get a DigiCell sim card for around 20 BZD which gives you best coverage within the country.
English: Level of English is pretty high in Belize, as every second person speaks at least a minimum level that will help you to get the basic information.
Climate: Belize has sub-tropical climate with a dry season between February to May and a wet season between June and November. The average temperature in the coldest month of December is 21 degrees Celsius, and 29 degrees Celsius in the month of July. From July to November, Belize can experience typhoons (hurricanes). In 2000 a typhoon devasted Belize and its infrastructure and tens of thousands of people were displaced.
Safety: Belize is fairly safe, but there are certain areas you should avoid, especially some parts of Belize City which are ruled by gangs that cause violence and rising crime rates. Most touristic areas are along the coast, border areas, especially to Guatemala should be avoided.
Digital nomad community: Digital nomads can be mainly found in Belize City and in Caye Caulker.
Digital nomad all-inclusive: The Noma Collective offers monthly stays at the Umaya Resort. An alternative for those looking to meet new people in an instagramable location and not afraid spending money.
Did you know? Although I mentioned Belize City a few times already, did you know that Belize City is not the capital of Belize? In the 1970s, a big flooding destroyed the former capital city of Belize City, and the government moved the capital to Belmopan.
Belize City: It is most likely that you will either arrive or departure in/from Belize City, the largest city in the country and the main transportation hub for international travelers. The former capital is still the best place to see a modern Belize, enjoy architecture, nightlife, culture, and food. The city is the best connected place in the country. From here, you can take water taxis to islands, take busses to the inland's Mayan ruins or hop on cross-country busses to Mexico.
Altun Ha: Just an hour drive from Belize City are the ancient Mayan ruins of Altun Ha which were undiscovered and hidden by jungle until 1964. You can see the pyramids rising through the forest.  
Caye Caulker: Is the diver's paradise as it is only 2 km from Belize's Barrier Reef. Snorklers, sun-worshipers, beach lovers, and hammock addicts will be very satisfied on this little island. It is the perfect backpacker and diver's island, as it comes with lots of hostels and budget places.
Ambergris Caye: The main village of Amergris island is San Pedro, a laidback and relaxed little town with stunning views, a vibrant restaurant and nightlife scene, and some really cute cafés. The southern tip of the island the beautiful Hol Chan Marine Reserve, which is a fun day trip from San Pedro. The reserve has mangroves, seagrass beds, the shark-ray alley, and the reef.
Tobacco Caye: This palm-fringed five-acre islet is part of the South Water Caye Marine Reserve and is an exotic gateway for everyone who is seeking alone time, silence, hammock time. Me-time. It is like a Carribbean Silence Retreat for newbees. There is no stable internet connection on this islet, also no public phone service nor landlines, nor TVs.
San Ignacio: Located on the mainland, San Ignacio is a good place for outdoor sports like hiking, and mountain biking. But the area is most famous for its ancient Mayan ruins - a must visit.
Placencia: This little coastal town located on a peninsula was once home to Mayan salt traders and today a famous spot for diving or explorations in the Cockscomb Basin Wildlife Sanctuary.
Cockscomb Basin Wildlife Sanctuary: Established in 1984, the wildlife sanctuary is the world's only jaguar sanctuary, dedicated to provide a safe home to these majestic wild cats. But before I get you too excited, if you choose to visit Cockscomb, you will see colorful birds, a lush jungle with mature trees, and all the little creatures that come along with forest. But you will not see jaguars, as their very existence is about seeing and not being seen.
Cuisine: Belizean dishes are named Boil Up, Black Dinner, and Fry Jack. More national dishes in Belize, check out this handy article.
What to avoid in Belize
Crime: Parts of Belize City are ruled by gangs and cartells that cause violence and rising crime rates. Also, border areas, especially to Guatemala should be avoided.
Sitting under a palm tree: I could mention this point for many places, it is a bit random, I must admit. But did you know that people die from falling coconuts? Always check what's hanging in the trees.
Depending on credit cards: Depending on where you go, paying with credit card can get harder, especially on the islands and in remote areas. Cash is king. Talking about cash, Belize accepts USD, so you don't need to exchange all your dollar notes.
Useful contacts
List of hospitals in Belize for visitors and expats
Belize American hospital & medical supply
2118 Guava St, Belize City
Tel: +501 620-5689
Belize Healthcare partners
Corner Blue Marlin &, Chancellor Ave, Belize City
Tel: +501 280-5000
How to stay healthy in Belize
With most of its attractions on the coast and on the islands, Belize is a wonderful place for watersports, such as snorkeling, diving, and swimming. Also kayaking, hiking, mountainbiking, and running are fun ways to stay fit in Belize.
Stay active
Watersports: Besides snorkeling and diving in the beautiful Belize Reef, or at one of the many tropical islands, Belize has great kayaking spots too.
Hiking: The 4 km long Tiger Fern Trail brings you uphill to an 279 elevation and a waterfall. Another intermediate hike of 4 km is the Ben's Bluff Trail, or if you feel adventurous, try out the Victoria Peak multi-day cave adventure trek.
Walking: Including walks into your daily life, e.g. 1-hour beach walk, a 1-hour evening stroll through your neighborhood in Belize City, a 1-hour morning walk to listen to your favorite audiobook, podcast, or the news is another easy way to integrate fitness into your life in Belize.
Make friends
Coworking spaces: The introvert tip for making new friends is joining a coworking space. And I know what I am talking about, as I found one a while ago. Coworking spaces can feel everything from the awkward classroom atmosphere to the joy of prom night and all that in between. People are generally curious about what others do for a living, what hobby one has, why one is in town, or where one has been before coming here. And, if you think you have had enough small talks like these, make some effort as it takes about 3 to 9 weeks before you become friends.
Coliving spaces: You can speed up the 3 to 9 weeks when signing up for a coliving space. Why not share a house with all new potential? At least, coworking and coliving spaces can boost creativity, raise the work spirit, and enable you to make new business contacts. Check out Umaya Resort in Belize, a digital nomad village on the Caribbean beach.
Genki offers travel health insurance for your stay in Belize. Quick sign up from anywhere in the world (no need to be in your home country to sign up), and you will be covered for up to 2 years (monthly subscription and payment plan).
Featured travel destinations
Check out our list of featured travel destinations. All you need to know.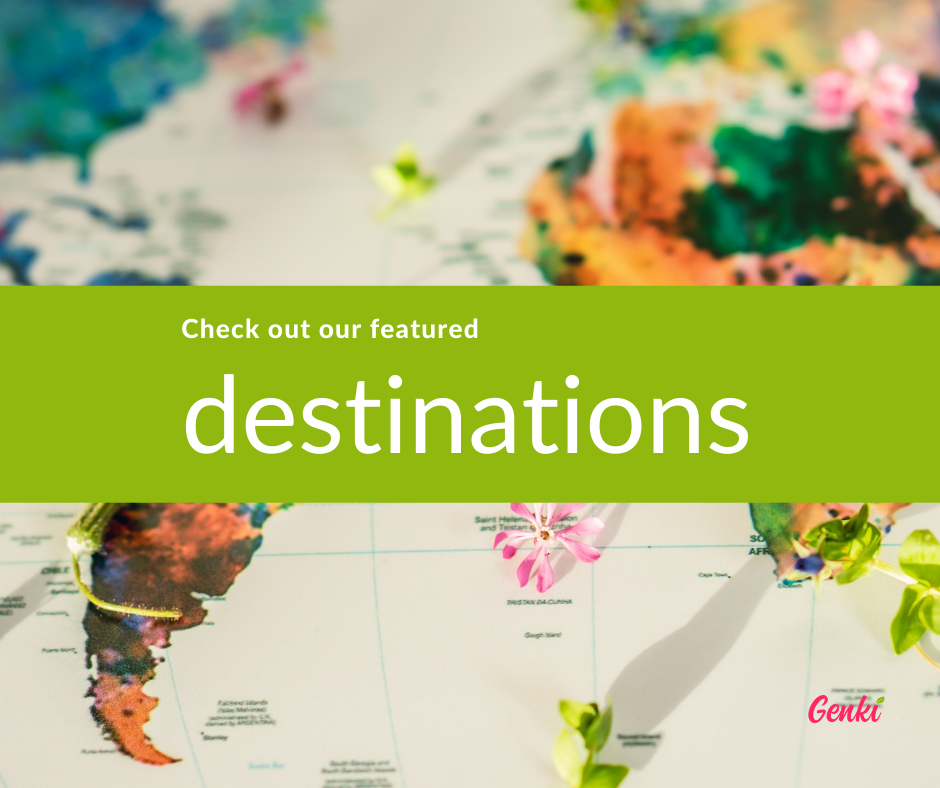 Do you like this post? Share it with your friends and fellow travel buddies!