Last updated 2023, September 11th: Do you plan to travel to Thailand? Check out Thailand's entry requirements first, and get your worldwide health insurance before taking off.
🌱 Travel health insurance for Thailand
💡
Genki Explorer
is a travel health insurance with worldwide cover. Monthly payment plans, and easy signup in less than 1 minute.
The table of content will be generated here
🇹🇭 Entry requirements for Thailand
Visa: Check out this site if you are exempted or not. The visa application must be submitted online (e-visa) not less than 3 weeks prior to the expected date of departure.
Covid test: A negative PCR test result issued within 72 hours before departure is required.
✈️ How to get to Thailand
Plane: Flights to Thailand are available from several national and international carriers. The national airline is Thai Airways, which flies from dozens of international locations. Bangkok Airways offers international flights to and from destinations within Asia.
🏡 How to find a place
Airbnb: In the wet season (May to October) the average price per month is 450 to 550 Euro for an apartment or private room in a shared house on Airbnb. During the cool season (November to February) the average price per month is between 550 and 800 Euro. Airbnb is a great option to check out short-term stays
Facebook: When looking for a mid-term rental, it might be worth monitoring some Facebook groups, for example, House for rent in Chiang Mai, and Expat Services - in Bangkok Thailand including Apartment and Condo for rent.
Coliving: Thailand is also known for its nomad scene which is often found in coworking and coliving spaces. Here are our 3 top spaces worth checking out:
Bangkok: LITA Bangkok: For €700 per month you can book yourself in the beautiful area of Bangkok which is known for providing one of the most significant nomad communities and networks in the area. Located at the center of it all, this charming five-story shophouse is a former warehouse/office owned by a local Thai/Chinese family. Fully revamped with provisions of comfort and style, LITA Bangkok encourages guests to explore the city and experience authentic local living from this little alley at the heart of Bangkok's new CBD.
Chiang Mai: Hub53 Coworking and Coliving Space: For €165 per month, you will find rooms that fit any nomad's budget and needs, from standard superior rooms to roomy king-sized accommodations. The residents also get 24/7 access to the coworking space so that they can work anytime they want. Hub53 is a coworking, coliving, and community space designed to help digital nomads and travelers make the most of Chiang Mai. Those looking to escape the 9 - 5, see the world, pursue their passions, or build the next great app will find a home in Hub53. Here, you will find yourself a brief 8-minute walk from Nimman Road and some of the best restaurants and cafes Chaing Mai has to offer.
Koh Lanta: KoHub: Founded more than 7 years ago, is a community-focused coworking and coliving space open between November and April. Kohub is available for around €1,200 a month, including private accommodation onsite, daily meals, community and coworking. You can combine Koh Lanta easily with Phuket, and Krabi. Or hop on a short flight to Koh Samui.
🚌 Public transport
Metro & BTS: This applies to Bangkok only. The city provides a modern public transportation network, linking both airports with the city and the numerous districts with each other. A great way is to purchase the Rabbit card and top it up with a small amount.
Tuk Tuk: This multicolored 3-wheeler is the most authentic form of transportation. Since it's a tourist favorite, it tends to be expensive, costing anywhere between €2 and€ 4. However, we'd recommend at least one ride for the sheer experience! Make sure you know a few Thai phrases, so you don't get conned into paying an absurdly high fee.
Taxi: Bangkok has the largest ratio of taxis to people worldwide! Owing to the meter system that was implemented several years earlier, this mode of transportation is highly reasonable. The price begins at €2, after which it is €0.50 for the first 2 km, followed by €0.50 per km thereafter. If you're traveling a short distance, it might be better to opt for a motorcycle taxi instead. It begins at only €1.
Grab: Grab is not necessarily cheaper than meter taxis. However, unofficial reasons why a Grab driver in Thailand may refuse a ride are, e.g. if you come with takeaway food, a pet, or if the ride is too short. They also may refuse a ride when they are not sure how to get there or if they don't speak English. If all these hurdles are off the table, Grab is a good way to travel around the cities.
Songthaew: Essentially a tiny pick-up truck with 2 rows of seating at the back, Songthaews are one of the cheapest and most convenient ways to get about smaller towns. A little buzzer on the roof will alert the driver to a halt, after which one can make a payment of 10 Baht and upwards.
🏘 Where to stay in Bangkok
The cost of living for expats is around €900 to €1,500 a month. Bangkok is a huge city, and it depends on where you stay and what you find obviously. The cost of living for expats is a lot more than for locals, and as shorter, you stay as more you will pay. One of the most expensive ways to rent a place is by booking through Airbnb.
Ekkamai: For a middle budget of around €800 rent (no Airbnb), check out Ekkamai in the Sukhumvit area with easy access to the BTS line, shopping malls, restaurants, bars, and gyms. Ekkamai is an area where traditional Thai culture blends in with the modern lifestyle.
Thong Lo: If you have a bigger budget, stay where the upper-class Thais live, for example in Thong Lo. Surrounded by trendy bars, hip eateries, and boutiques, this is a place where you find many expats too. You can expect to pay around 900 Euro rent a month for a modern apartment in a condo (no Airbnb booking).
Sathorn: With an even bigger budget for rent, stay in the Sathorn area. This centrally located neighborhood is near Lumpini Park, a green spot in the middle of the city and a fantastic place for a run or walk.
Phra Kanong: When visiting Bangkok on a tighter budget, have a look at the Phra Kanon area which is very local with a smaller expat community.
🧑🏻‍💻 Where to work from in Bangkok
Coworking spaces
Wolf Coworking: Located in the Silom / Sathorn area, Wolf Coworking space is a professional coworking with a nice nomad and expat community that mingles with local Thai entrepreneurs or freelancers. Memberships start at €96 a month.
The Work Loft: This well-designed loft-style coworking space is located in Silom and grants its members 24/7 access. A 1-month membership is 110 Euro, and you have quite some floors to choose from.
Coffee shops
Too Fast To Sleep: This coffee shop in Siam is a 24/7 open spot mainly for students but nowadays, you will find nomads working here too. Too Fast To Sleep is for you if you don't mind a little noise here and there, as it can be crowded with studying groups. The significant advantage is the long open hours which is excellent when working in another time zone.
Yolo Cafe 15: The baristas take their job very seriously here and you can find delicious art in a cup from vegan to non-vegan, little snacks, and a chat with the staff. If you are here for work, you find tables, wifi, and plugs too. Yolo Cafe 15 is located in Sukhumvit Soi 15.
AIS Design Center: Located in Sukhumvit, the AIS Design Center comes with lightning-fast internet of around 600 Mbps download speed. Although it is a coffee shop, if you want to work, you need to pay for a day pass. The downside, the temperature is freezing cold, and many nomads leave after a few hours as they can move their fingers anymore. Some people like those temperatures though, so if that is you, this is your place.
🏘 Where to stay in Chiang Mai
The nomad capital Chiang Mai in the north of Thailand is around 20% to 30% less expensive than Bangkok. The cost of living for expats can go down to €800 to €1,000 a month - if you want to stay on a budget. Of course, you can find beautiful villas and big apartments for a lot of money in Chiang Mai.
Nimmanhaemin: Especially when arriving in Chiang Mai for the first time, Nimmanhaemin, short for Nimman, is a great place to land in. Northwest of Oldtown, you find here the most elaborate coffee bars, popular restaurants, the Maia shopping mall, and many condos rented by expats and long-term nomads. Nimman provides everything you need from grocery, gym, yoga studios, and coworking spaces.
Oldtown: Maybe a bit more touristy in parts, Oldtown provides the traditional Thai style of living, with wooden houses, smaller condos, many well-designed hotels, and low-rise shopping facilities spread out in squares and alleys. You find coworking spaces here, for example, Punspace, restaurants, and bars from low to upscale, sightseeing, and walkable and cycling-friendly streets. Living in Oldtown means living in the former Lanna capital surrounded by moats ancient city walls, temples, and historic sites.
Nong Hoi: If you prefer to live closer to the locals, with fewer tourists and fewer facilities that cater to Westerners, try out Nong Hoi. Home to the Wung Kam Kum temple complex, Nong Hoi is an interesting area for families but also for nomads traveling on a budget.
💡
We highlighted Chiang Mai in our article Asia on a budget: 6 destinations for less than €1,200 a month. Read more.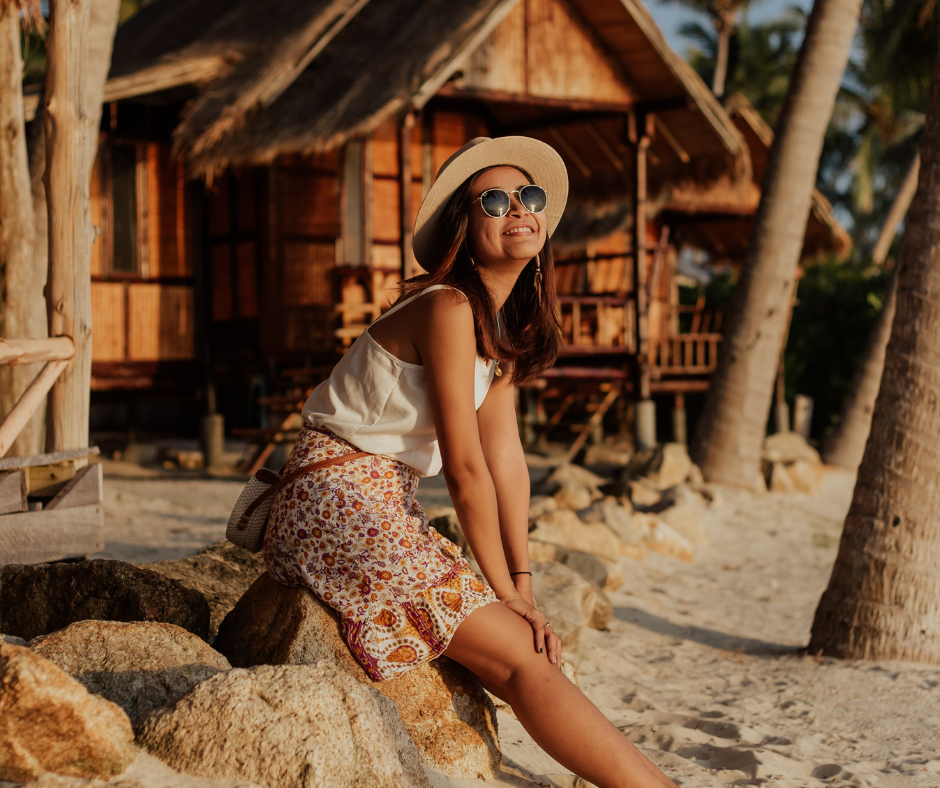 🧑🏻‍💻 Where to work from in Chiang Mai
Coworking spaces
Punspace: A serious coworking space with 3 locations spread over Chiang Mai. Memberships start at €70 a month. Punspace is well known for its community lunches and events, they attract the serious nomad. Sometimes the space is so quiet that even dropping a pen gets you looks from your coworkers. However, aircon, outside work spots, as well as meeting rooms, phone booths, and shared desks make Punspace a great coworking space in Chiang Mai.  
Yellow Coworking: Surrounded by lush flora, Yellow Coworking can't help but relax and inspire. With 16,000 square feet of coworking space, finding a spot at the table isn't a problem. The space offers shared and private office spaces, meeting rooms, event areas, soundproof phone booths, YouTube streaming rooms, recreational zones, and other coworking facilities for digital nomads, remote workers, and roaming IT expats. The monthly rate starts from €90 a month.
Coffee shops
Artisan Café: Artisan is a secret coffee shop gem tucked away in Chiang Mai's southern districts. Dark wooden tables, hanging plants, and specialty coffee make this café a wonderful spot to have a chat with a friend or to work in one of the nooks for a few hours.  
Ombra Caffe: Located in the Nimman area, on a dead-end street, Ombra Caffe is a wonderful brunch and breakfast spot. With its indoor and outdoor seating areas, tasty food and coffees, and superb working tables, Ombra Caffe is a great choice for a work session.
Buristro at Buri Siri: Buri Siri is a boutique hotel that also doubles as a café and coworking space for digital nomads. The best part? They have strong wifi and a large pool for you to take a dip if you're in need of a break. To access the space, you'll need to purchase a day pass.
🏝️ Thai islands
Thailand would not be complete without mentioning its stunning islands. The best islands for nomads are
Koh Lanta: "Lanta" has one of the last individually run coworking spaces that survived the massive Covid closure of spaces. KoHub, founded more than 7 years ago, is a community-focused coworking and coliving space open between November and April. You can combine Koh Lanta easily with Phuket, and Krabi.
Koh Phangan: The small island is located close to Koh Samui and Koh Tao, two world-class dive spots. The island of Koh Phangan has the most hippie vibe, a coworking space, and all the tropical island atmosphere you are looking for.
Koh Samui: Located next to Koh Tao and Koh Phangan, Koh Samui is a well-known spot for water sports, island life, nature and hiking, as well as wellness and digital nomad lifestyle. For work visit Coffee Connextions which stands out as a beacon of inspiration, driven by the passionate and dynamic duo behind it: Marina and Luke. This extraordinary coworking space goes beyond the conventional concept, offering a unique environment where community, creativity, and wellness intersect harmoniously.
🚊 How to travel around Thailand
Train: Thailand is one of the few countries in the region with a decent rail network. It covers 2,796 miles and is one of the best and cheapest ways to get around the country. The train pass for a month costs €33.50.
Bus: As trains don't go everywhere in Thailand, taking the bus is your second-best option. Actually, buses are the widest form of transportation here. You can go anywhere in Thailand by bus. Though they often show bad Thai movies with the sound turned up too loud and blasting the A/C, they are a comfortable and spacious ride.
Taxi: For shorter distances in Thailand it is possible to get from A to B by Taxi and it's not too expensive. For example, a taxi from Bangkok to Hua Hin for around 2,000 baht which is around €50 for almost a 3-hour journey. So if money isn't an issue, then getting to and from particular places is possible via taxi.
Scooter rental: Renting a scooter in Thailand is affordable. Depending on the exact location, you could see different prices. To rent a scooter costs €65 a month.
🎖Must see in Thailand
Golden Mount temple in Bangkok: The Golden Mount temple is built on top of a hill, which allows you to enjoy a 360-degree view of Bangkok. You can walk up its long staircase where you find fountains, statues, and various gongs that you can play to attract luck.
The Grand Palace in Bangkok: The Grand Palace is the most visited tourist site in Bangkok. Built in 1782, the year Bangkok officially became the country's capital after the fall of the Ayutthaya and Thonburi kingdoms, the complex includes more than 100 buildings, palaces, and pavilions. It is surrounded by a 1.9-km-long wall. The king of Thailand still performs official ceremonies in the complex.
Khao Yai National Park: Khao Yai National Park was the first national park to be established in Thailand and is the third largest in the country. Covering an area of 2,168 square kilometers it is a huge site to visit. The park comprises rainforests as well as grasslands which all add up to a large number of animals you can see. There are an estimated 300 species of birds in the park, as well as bears, elephants, deer, gibbons, and macaques. There are a couple of waterfalls in the park which are well worth a visit as well and are easily accessible by car.
Koh Lanta: Located in the Andaman Sea, Koh Lanta is a beautiful island only 20 km in length. There are 17 dive shops on the island and some of the most beautiful diving in the world is to be had in the sea surrounding the island. Famous dive sites are Hin Daeng and Hin Muang, these are considered to be the best in the area. When staying at Koh Lanta, check out Kohub, the island's only coliving space with a colorful international mix of nomads.
💡 Good to know
Internet: The median internet speed for fixed broadband is about 189.14 Mbps download and 153.68 Mbps upload speed.
Sim card: Although the country offers many internet providers, DTAC has quickly become one of the most popular options for tourists coming to Thailand who want quick and easy connectivity. You can buy SIM cards at the airport, in local shops, and even in a convenience store.
Digital nomad community: The majority of digital nomads are probably found in Chiang Mai and Bangkok. Check out the local Facebook groups to connect with fellow nomads.
Currency: In Thailand, you pay in the Thai Baht. 1 Euro = 35 Baht. You can exchange Euro at the airport, and many places are official money changers.
Climate: Thailand's climate is subtropical throughout most of the country, leading the weather in Thailand to year-round hot and humid conditions. The wet season starts from May to October. During the cool season, November to February, the hot season is March to May.
Safety: In general, Thailand is a safe country for travelers. Yes! In fact, Thailand is rated as the least dangerous country in Southeast Asia for travelers. There is a history of social unrest and violent conflicts in parts of the country, but crimes in tourist areas are rare.
🚧 What to avoid
Burning season: The city of Chiang Mai lies in a valley, surrounded by mountains. Chiang Mai has an extensive burning season, which takes place mainly between January and March. Some days, the smoke is so thick that you can not see it a couple of meters. Highly to avoid.
Malaria: According to the WHO, "malaria risk exists throughout the year in rural (especially forested and hilly) areas of the country, mainly toward the international borders, including the southernmost provinces. There is no risk in cities (e.g., Bangkok, Chiang Mai, and Pattaya), urban areas, Samui Island, and the main tourist resorts of Phuket Island" (WHO). The risks of catching malaria are higher in the bordering areas of Myanmar and Cambodia.
Dengue fever: Another painful disease and I talk from personal experience, is dengue fever. You can get it through bites from the Aedes mosquito, which is primarily active during the day. It is not much you can do except use mosquito repellent. However, tests and treatment can get costly.
Traffic accidents: Accidents caused by traffic are the third most common injury in the kingdom, and 74% of all traffic accident deaths are motorbike drivers. Around 80% of all accidents are caused by young men around the age of 25. Although the WHO recommends an urban speed limit of 50km/h, the urban speed limit in Thailand is 80km/h, alarming for experts. Add the manual enforcement of traffic laws to control alcohol levels, speed limits, and helmet laws, and you can imagine why Thailand is ranked high in fatality rate for traffic accidents. The average annual fatality rate for traffic accidents has been around 2ok people in the past 10 years.
Hands Off the Monks: Don't touch monks. This mainly applies to women, as women aren't allowed to come into physical contact with Buddhist monks. If you are in a situation where you want to give something to a monk, don't hand it directly. Put it down so they can pick it up. A monk will do the same if he wants to give anything to a woman. Remember this if you donate or give alms at a temple.
Don't withdraw small amounts from ATMs: The reason for doing this is that even if your home bank has zero or low fees for overseas ATM withdrawals, Thai banks don't. Users with overseas cards are charged 220 Baht (6 Euro) for each withdrawal. Thailand is still mostly a cash-based society, so you'll have to get into the habit of going to the ATM again.
🚴🏻‍♀️ How to stay healthy
Stay active
Muay Thai: If you want to study the ancient art of Muay Thai, which better place is out there than Thailand? By the way, Genki's health insurance covers Muay Thai. So: Let's get ready to rumble!
Yoga: If kickboxing is not your thing, why not follow the ancient yogis? Thailand offers wonderful yoga retreats and drop-in yoga classes in most tourist areas. Check out BookYogaRetreats by Tripaneer for ideas to book your yoga teacher training or your next yoga retreat in one of the many beautiful and unique resorts.
Outdoor activities: Thailand offers a wide range of outdoor activities. Outdoor activities include surfing, running, hiking, cycling, canoeing, or SUP. Sander from Go To Thailand selected some outdoor activities that give you an idea of what you can do in Thailand.
Health risks
Water quality: Although tap water meets international standards in Bangkok, you won't find many people actually drinking it.  And it's the same across the country, Thais always drink bottled water. So, stay safe and do the same regardless of where you are staying.
Air quality: In April 2022, PM2.5 concentration in Thailand's air was 4 times higher than the WHO annual air quality guideline value. This means the Thai population breathes in air that is too polluted, which will affect their health.
🪪 Long-stay visas & residency
Length: Valid for 10 years. Extendable for an additional 5 years.
Financial requirements: You earn no less than $80,000 annually for the past two years. Or $40,000 annually for the past two years including a Master's Degree or an authorized university.
Professional work experience: Between 5 and 10 years, depending on the type of visa you apply for, and dependent on your level of education.  
Costs: €1,360 (50,000 Baht) plus an annual fee of €86 (3,000 Baht).
Income tax: 17% for national generated income. Tax exemption for overseas income.
Purpose: To attract "high-potential individuals" to Thailand.
💡
Where to travel next? Countries close to Thailand.