Sabai dii in Laos - the land of the one million elephants! The country that often looks like the film location of Rudyard Kipling's Jungle Book is covered by thick forest and it is home to some of Asia's rarest species: The Indochine Tiger, the Asian Elephant, and the Asian Sun Bear.
When I traveled to Laos for the first time in 2008, Luang Prabang was a little sleepy mountain town. The calmest place I have been up to that date. Luang Prabang's airport consisted of a tiny tinned-roofed hut with two gates, called 81 and 82. We stepped out of the plane and walked over to the airport field. One plane per day brought not even a hundred passengers in a small propellor plane from Vietnam's capital of Hanoi. The immigration procedure was done in 2 minutes and was followed by many welcoming smiles. Luang Prabang is one of my favorite places in the world and I hope I can provide you with an authentic article with all the pros and the cons, with insights and inspiration.
Entry requirements for Laos
Please note that only fully vaccinated foreign tourists can enter Laos.
Valid visa: Apply for the visa before traveling. It takes around 3 business days to complete the process.
Point of entry: Must be Vientiane
Covid test: Proof of a negative COVID-test result prior to your travels. Negative PCR-covid test within 72 hours before boarding or entering the country.
Vaccination: A valid EU Digital COVID certificate or a valid recovery certificate or an alternative proof of full vaccination. If you have been vaccinated in the USA, please show your CDC-card. The vaccine must be no less than 14 days prior to arrival.
Travel health insurance: You need health insurance in order to match the entry requirements. The insurance policy must cover a minimum of $50,000 including Covid-treatments. Check out Genki's health insurance and tick this off your list.
Eligible country: You need to be a national of one of these countries.
Stay in Green Travel Zones: You can only travel to Vientiane, Luang Prabang, and Vang Vieng (a scenic town halfway between Vientiane and Luang Prabang)
Prebooked tour: At the moment (March, 29) you need to pre-book your stay in Laos with a licensed tour operator. Check out EXO, an Asian-based tour operator where you can pre-book hotels. I vouch for EXO, I have a 5-years long business relationship with them when I worked in the tourism industry myself.
Quarantine: Quarantine of up to 24 hours after arrival is mandatory to receive the negative COVID-test result. The COVID test is done directly after arriving.
Health declaration form: Before traveling to Laos, you need to fill out and upload a health declaration form. You can do this with an authorized tour operator, e.g. EXO Travel.
Travel health insurance for Laos
💡
Genki World Explorer
is your travel health insurance for a 2-years worldwide cover. Monthly payment, easy signup, fair pricing.
Covid-19 in Laos
Laos shows a vaccination ratio of 60% of its population.
How to travel around in Laos
Please note, for the moment, Laos is in phase 1 of a 3-phase opening to tourism. Transportation in Laos is limited but can change from day to day. The list below provides types of domestic transport that will be available as soon as phase 3 is reached.
Public transport: There is no public transport in Laos that is worth trying. Cities have neither tram, metro, subway nor a reliable bus network. In cities or towns, it is easy and best to take a taxi or tuk-tuk.
Train: China invests heavily in Laos, mainly to in-depth the country so it can extract valuable natural resources. But that is another - sad - story. China built a railway that connects Vientiane with Luang Prabang (and China). Land borders are not open. As the railway opened in 2021, I have no personal experience with the train. If you want to travel southward to Thailand, there is a train that connects Vientiane with Bangkok. However, foreign tourists can not cross borders by train yet.
Bus: The domestic bus network is okay-ish. You can take minivans or bigger busses to travel across the country. At this moment, you need to take transport from licensed transport companies that operate between the Green Travel Zone which is between Vientiane, Vang Vieng, and Luang Prabang only. You can purchase tickets in Vientiane, the only entry point right now.

Laos offers a relatively good bus network. Pre-Covid, you could take overland busses that connect Laos with Vietnam (Hanoi), Thailand (Bangkok), Cambodia, and China. At the moment, there is no border crossing overland possible.
Taxi: Official taxis are widely available in Laos. However, recent reports by tourists include price scams and a lack of navigating the nearest route to the destination.
Tuk Tuk: Similar to Bangkok's Tuk Tuks, Laos' Tuk Tuks are a nostalgic way to get around, for example within Vientiane or Luang Prabang.
Bicycle: It is easy to rent a bicycle in Laos and many locals use bicycles to get around. Tourists often use bicycles to paddle through Luang Prabang and Vang Vieng although the heat and high level of humidity make it a workout. Cycling in Vientiane is not recommended due to the lack of bike lanes, and heavy and chaotic traffic.
Scooter rental: Another way to be self-sufficient is by renting a scooter, which is often done by travelers. The rental process is uncomplicated. Please be aware that the traffic in Laos has basically no rules. Busses and trucks drive fast and don't mind racing through big puddles soaking pedestrians, cyclists, and bikers in dirty water. It's not advisable to take scooters overland. However, the hardcore biker will find his/her way.
Where to find a place in Laos
Please note that this list offers ideas for travels in Laos for phase 3 of the 3-phased opening period. At the moment Laos launched phase 1 and you need to pre-book your accommodation with a licensed tour operator.
During phase 1
Authorized tour operator: You need to pre-book your hotels with an authorized tour operator. I can recommend booking with EXOTISSIMO (EXO TRAVEL).
From phase 3 onwards
Airbnb: I used Airbnb in Laos and haven't had a bad experience so far. I just don't like to support the service as I think their price scheme is off since the pandemic and fees have skyrocketed.
Hotels: Depending on how long you stay in one location, I would always search on booking.com and co. for available hotels. The advantage of staying in a hotel is that there is staff around you can make accountable for things that were promised but were not provided. It is also easier to get a refund through a booking site or with a hotel by negotiating this matter with a private landlord. Plus: Laos is a fairly cheap travel destination and it might be worth spending some money on a nice sea view villa or colonial-style hotel in urban areas.
Good to know about Laos
Internet: The average broadband connection in Laos is an average of 28 Mbps download and 24 Mbps upload.
Sim cards: TLine (former BeeLine) or Lao Telecom are good mobile internet providers.
Safety: Laos is a fairly safe country to visit. Its Global Peace Index is 50, so directly next to Indonesia (49) and Serbia (51).
Climate: Tropical monsoon climate with a heavy rainy season between May and October and a hot dry season between November and April.
Vientiane: Laos is not super popular for digital nomads. However, there is a big expat scene in the capital of Vientiane, the economic, diplomatic, and political hotspot of Laos. I am not a big fan of Vientiane, mainly because of its wild and non-existing urban design, heavy traffic, and border-city charm. On the positive side, you find the best infrastructure in Vientiane, from quality hotels, professional service, and international influences you can experience in cafés, restaurants, shops, art galleries, and events. I stayed a couple of times at the Beau Rivage Hotel which is located on the river banks.
Vang Vieng: The least attractive town in Laos because of its popularity by Australians and Co. celebrating spring break, making out drunk in public, and dying naked on river-tubing. Vang Vieng pre-Covid was a hell of a place. In one of these places, I feel ashamed to be a Westerner. I hope that Covid will bring change for the better for Vang Vieng's reputation because the natural beauty and the welcoming local population are worth visiting. Sand karst mountains, valleys, rice fields, and river landscapes make Vang Vieng one of Laos' most photographed destinations. It is one of these Instagram places, especially during sunset. Vang Vieng is between Vientiane and Luang Prabang. When taking the bus, make sure you get some Dramamine as the road winds through the steep mountain range.
Luang Prabang: It is possible to assume I don't like Laos. This is absolutely wrong. Besides Vientiane and Vang Vieng, Laos is stunningly beautiful, with lush green jungle, the river Mekong which enters Laos from Thailand and leaves it towards Cambodia, as well as its inhabitants, the people, and the wildlife. Luang Prabang is nestled between the rivers Nong Khiau and Mekong and the center of the small town lies mainly on the peninsula. The center of Luang Prabang consists of a ring road (river promenades) and the main road in the middle where you can find the main sightseeing attractions such as temples, museums, art galleries, famous restaurants, bars, the post office, and the night market. Luang Prabang - for more than a decade - is one of my favorite places in the world. It was never so easy to fall into relaxation. My favorite place to stay is My Dream on the opposite side of the river but within walking and cycling distance to the center.
Mekong cruise: If you are into river cruises and the travel limitations are lifted, you want to consider visiting the Pak Ou Caves, which are just north of Luang Prabang and only accessible by boat. Once you are already on the water, why not travel further to a campsite in the wild? A glamping experience is a stay at the Kamu Lodge or the Luang Say Lodge.
Bolaven Plateau: If you are into hiking, coffee, and elephants, the Bolaven Plateau is for you. With its cooler climate, the mountain range is famous for its tea and coffee plantations. I have heard that the Vietnamese buy Lao coffee and sell it as Vietnamese coffee, as Lao's coffee export hasn't really taken off yet. Not sure if that is true though. However, hiking trails to waterfalls like the Tad Fane fall, wild elephants in Tad Lo village, and delicious coffee can be found in the Bolaven Plateau, which is - normally - accessible via Pakse airport which connects to Vientiane, Luang Prabang but also Siem Reap. From Pakse, you take the car to Tad Lo and stay in the Tad Lo Lodge. If you are lucky, a group of elephants passes by your hut.
4,000 islands: Although Laos is landlocked, the country has more than 4,000 islands. Si Phan Don describes an area in the south of the province Champasak, the land where Laos kisses Cambodia. The two countries are connected by the majestic river Mekong. In its pools, a number of 4,000 islands have shaped the landscape. Two famous islands which are inhabited are Don Det and Don Khon. A true backpacker's paradise. Suitable for nomads only when staying in better accommodation. I personally recommend staying at Sala Don Khone.
Elephants: Once the land of the million elephants, experts from elephant conversation groups and the Lao government believe that there are only 800 elephants left in the country. Of those, around 400 are in captivity and 400 are wildlife. Both groups are not sustainable and the numbers are declining. The cause of the decline of the wild elephants lies in notorious deforestation. From once 70% forest coverage, only 40% of the jungle is left. Body parts such as ivory and skin are used in Burmese and Chinese traditional medicine.
Wildlife: Laos is home to the rarest species on earth, such as the Asian Elephant and the Indochinese Tiger. But also the endangered Asian Sun Bear, the leopard cat, the marbled cat, langurs, and monkeys live in the lush jungles of Laos.
Local life: As mentioned in the paragraph Luang Prabang, I appreciate the slow pace of the Lao lifestyle. You will often see Lao napping in a hammock, a group of monks passing by, or school kids cycling their way home from school. The density of temples in Luang Prabang is high, and you will not find a hotel with a pool directly next to a temple. Temples are easily accessible, you just walk into the court, take off your shoes and watch the birds, the monks, or some tourists taking photos. Life in Laos, besides the high season in Vang Vieng or the traffic in Vientiane, is a refuge of serenity. It might be difficult to keep up with the workload of one's job with so much calmness around.
Vietnam war: Did you know that Laos is the most bombed country in the world? Between 1964 and 1973, the USA dropped more than 2 million bombs across Laos during the Vietnam war and 30% of the bombs did not explode. This leads to the sad fact that a vast area of the land is not feasible for agriculture. Still today, hundreds of locals get killed and injured every year due to new explosive discoveries.  
What to avoid in Laos
Elephant riding: Instead of Elephant riding, it is possible to visit Elephant conversation camps around Vientiane and Luang Prabang. These camps are established to support the species of the Asian Elephant from not extinct.
Nudity: Laos is a deeply Buddhist country and nudity, including sunbathing topless on the beach (on Don Det island) or at the hotel is an act of disrespect.
Shoes: When you are invited to someone's private home or when you visit a temple or other religious site, make sure to take off your shoes.
Affection: In respect of the local traditions, don't make out in public, touch inappropriate or kiss each other in public, and especially never in front of monks or in a temple or on the temple's property.
Arguing: Lao people are friendly smiling, welcoming, and mostly very relaxed and easy-going people. They do not wish to have an argument or disagreement, especially not in public or in front of other people.
Monks: Never touch a monk.
Children: Never touch a child's head.
Useful contacts
Emergency: 195
Tourist police: 192
How to stay healthy in Laos
Laos is a lush country with many options for outdoor activities, such as water sports, hiking, mountain biking, or local fitness and yoga groups. Please note that Laos was closed for tourism for more than 18 months and just opened its borders in March 2022. It is possible that you won't find many promoted activities and events.
Stay active
Gym: You will find the best gyms in Vientiane and Luang Prabang. Local gyms often come without AC but with an affordable price tag. If you want to sweat in a fancy place, check out the 4- and 5-star hotels and ask for a membership.
Yoga: Just have a look on Facebook and you should find someone who offers yoga classes for very little money. Yoga studios can be found in Vientiane and Luang Prabang.
Cycling: Laos is a cycling-friendly country, thanks to the fact, that many Lao people use to cycle, especially the elderly and people in the countryside. Not sure if I would cycle in Vientiane and but definitely in Luang Prabang, and Pakse. Please note that Pakse is currently not accessible due to travel limitations.
Mountain biking: It might depend on the availability of bikes but if Grasshopper Adventures still exists when you travel to Laos, check them out as they are known as the provider of the best mountain bikes plus equipment. Mountainbiking is fun around Luang Prabang, Nong Khiau, Vang Vieng and Pakse. For the fit traveler, the Bolaven Plateau can be traveled by mountain bike as well.
Hiking: Laos offers many short and long-distance hiking trails. Around Luang Prabang, you can find hikes to the Kuang Si waterfall or in the nearby jungle and villages. The Bolaven Plateau is Laos' most famous hiking destination as travelers love to chase waterfalls. If you are into glamping, check out the Kamu Lodge and Luang Say Lodge, north of Luang Prabang which are off the beaten track and surrounded by forest and rivers.
Genki offers travel health insurance for your stay in Laos. Quick sign up from anywhere in the world (no need to be in your home country to sign up), and you will be covered for up to 2 years (monthly subscription and payment plan).
Featured travel destinations
Check out our list of featured travel destinations. All you need to know.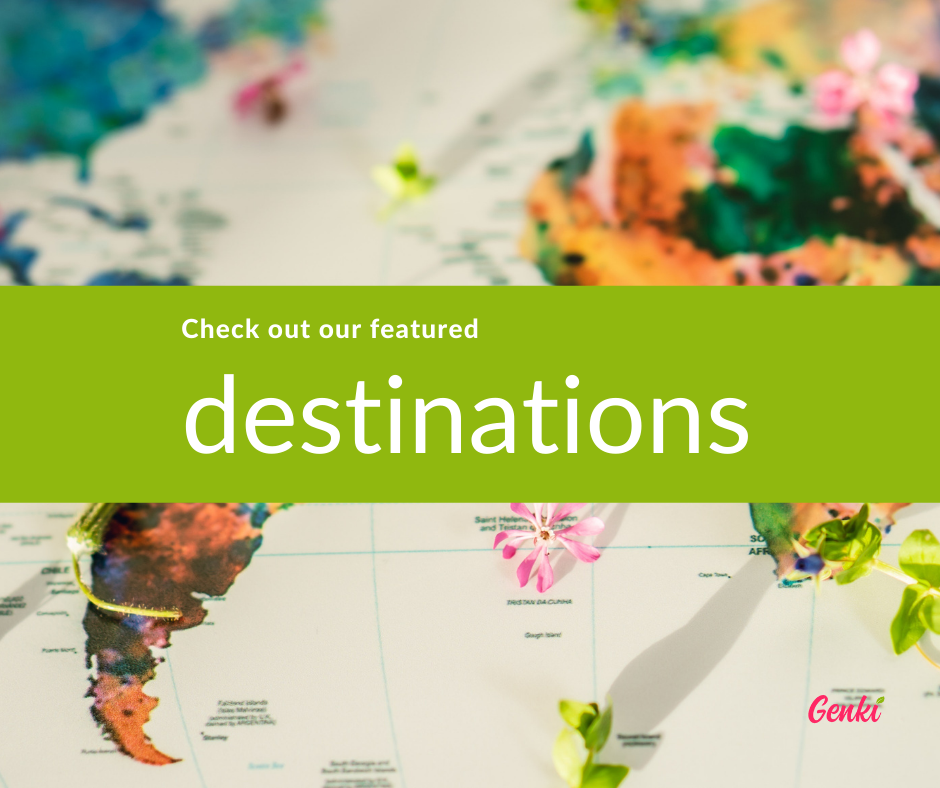 Do you like this post? Share it with your friends and fellow travel buddies!