Last updated 2022, November 28th: Every nomad will be in Bali at one point, as it is just the best place to live. Work close to the beach, surf the perfect wave and enjoy sundowners and long beach walks.
The island is a magnet for travelers, nomads, and escapists, a vibrant place for artists, musicians, and creatives. Do you plan to travel to the island of Gods? Check our guide for nomads.
🌱 Travel health insurance for Bali
💡
Genki Explorer
is a travel health insurance with worldwide cover. Monthly payment plans, and easy signup in less than 1 minute.
The table of content will be generated here
🇮🇩 Entry requirements for Bali
Valid visa: Visit visa exemption or visa on arrival for leisure purposes
Return ticket: A return flight ticket to continue the trip to another country
Proof of visa payment: Proof of payment of PNBP Visa on Arrival of 500,000 IDR (32 Euro)
Registration via the app: Recommended health protocols, along with the use of the PeduliLindungi application while in Indonesia
Vaccination: Proof of full vaccination (2nd dose minimum 14 days prior departure) through digital certificate or physical paper card (e.g. US CDC card)
Please note: Quarantine is no longer required for those who have received the complete dose of vaccine at least 14 days before the departure time.
A quarantine period of 5 x 24 hours is required for those who have not been vaccinated or have not received the complete dose of vaccine.
✈️ How to get to Bali
Plane: You can transit to Bandar Udara International Soekarno Hatta (Jakarta) before connecting to Bandar Udara Internasional Ngurah Rai (Bali). Alternatively, you can take a direct flight to Bali depending on your country of origin. The best way for connecting transport is by using local taxis at an affordable price.
- Airport to Canggu is a 19 km drive which takes 35 mins. A local taxi to Canggu costs around 20 Euro.
- Airport to Ubud is a 36 km drive which takes about an hour. A local taxi costs around 25 Euro.
🏡 How to find a place
Airbnb: In the dry season (April to October) the average price per month is 250 to 500 Euro for an apartment or private room in a shared house on Airbnb. During the rainy season (November to March) the average price per month is between 350 and 800 Euro. Airbnb is a great option to check out short-term stays
Facebook: When looking for a mid-term rental, it might be worth monitoring some Facebook groups, for example, BALI ❤️ LONG TERM Yearly/Monthly Rentals, BALI CHEAP HOUSE RENT, and Bali House Apartment Villa for Rent.
Jungle-Eco Hotels: When in a tropical place, you might want to stay somewhere special. Or maybe just for a weekend or a little week. For these occasions, have a look at Munduk Cabins, Bambu Indah, and Sumberkima Hill.
Coliving: Bali is also known for its nomad scene which is often found in coworking and coliving spaces, for example:

Outsite Bali in Pererenan: For 740 Euro per month you can book yourself in the beautiful Outsite which is known for providing one of the biggest nomad communities and networks in the coliving space universe. Located just 45 minutes from the Ngurah Rai International Airport, Outsite Coliving Bali is near Canggu's most popular restaurant and bar street. The space is close to the beach, too. Surfing, sipping organic coffees in cafés, and browsing through local handcraft and artisan shops are all within walking distance.
🚌 Public transport
City Bus: Bali has a city bus called Teman Bus and at the moment all the buses are free in Bali where ever you want to go within the route that is available. You can download the app for Teman Bus on Play Store to see the daily route and schedule for the buses.
Bluebird taxi: A safe and reliable form of transport is by taking a taxi, and you can find taxis in every big city, at the airport, and at bigger plazas or sites of interest. The fare starts at around 0.50 Euro and every km is an additional 0.30 Euro. Make sure your driver knows the destination and is using the meter. You can pay for taxis in cash. When using the app, you can also pay via card through the app.
Other local taxis: The service works perfectly in Bali and is widely available. The price is negotiable and it would be helpful in helping the local economy. Smaller local taxi companies have no app or credit card payment system and you need to pay in cash.
🏘 Where to stay
Ubud: The cost of living in Ubud is about 1,000 to 1,900 Euro per month, highly depending on the rent you pay. Ubud is a desirable place for digital nomads thanks to an abundance of coworking spaces and cafés with free wifi. There are great yoga studios, lots of daily events, an inspiring vibe of local entrepreneurs, expats, and travelers, and an attractive crowd of creative folks, too. You find people working in all kinds of industries, coming from Austria to Europe, and the USA. Most people come to Ubud for a couple of months per year.
Canggu: The cost of living in Canggu is around 900 to 1,800 Euro per month. The small beach town is not just a beautiful place to live with its small green pockets of rice fields that surround the terrain, gorgeous beaches, semi-retro architecture, and delicious food - it is also a place of welcoming locals who keep cultural traditions alive and a growing nomad scene. The infrastructure offers everything you wish for, from fast internet connections to excellent restaurants, long-term accommodation options, and idyllic surroundings.
Seminyak: A bit more affordable than Ubud and Canggu is Seminyak, where the cost of living might be between 1,000 and 1,500 Euro per month. Seminyak is one of the touristy areas with beaches popular for sunsets. It is a lovely area but depends on the place you find to live in. In Seminyak, you find surf spots, coworking, and good cafés.
💡
We added Bali to our article Asia on a budget: 6 destinations for less than 1,200 Euro a month. Read more.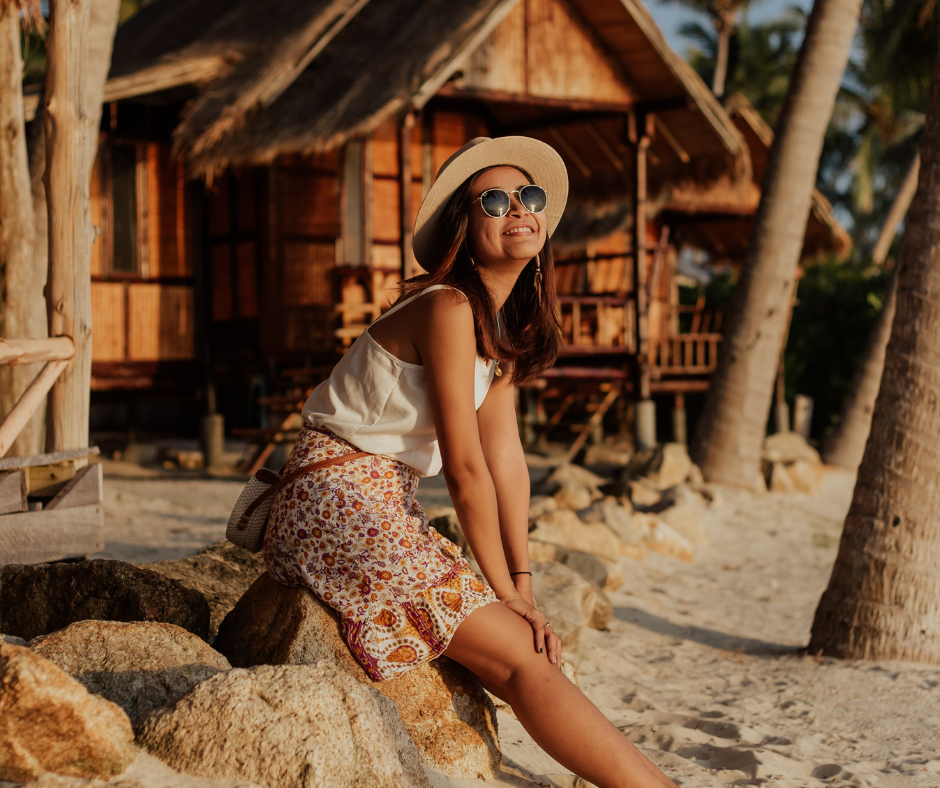 🧑🏻‍💻 Where to work from
Coworking spaces in Ubud
Beluna House of Creatives: This is a brand new coworking space in the Ubud district. The space focuses on community, hosts weekly events, and provides fast internet in a beautifully designed eco-space. The monthly coworking rate starts at 650,000 IDR (43 Euro). You can message them and ask for a free trial day.
Outpost Ubud: This coworking gem in both Ubud and Canggu describes itself as "the coworking space Google would create if they opened in Bali". With amazing amenities and a vibrant, productive, and engaged community of doers that supercharge your productivity. Outpost is the coolest spot to get your geek on. A month's membership starts at 173 Euro.
Coffee shops in Ubud
Clear Cafe: In terms of atmosphere, Clear Cafe is a favorite spot among remote workers, and it probably provides the fastest wifi outside of a coworking space. It's huge and airy, and very instagramable.
Alchemy: A vegan cafe with a plant-based menu, located very close to Outpost Ubud. You find mouth-watering meals, comfortable chairs, and work spots in a cozy ambiance.
Coworking spaces in Canggu
BWork: A beautiful coworking space with bright and modern work areas, different seatings, standing desks, and comfortable chairs. Choose to work inside or outside at the pool or at the terrace. BWork offers events, from social to sportive, from business to fun. Memberships are 147 Euro for 100 hours (1-month validity), or 88 Euro for 50 hours (2 weeks validity).

[email protected]

: Technically a hotel, a café, and a coworking space, all together in one spot. [email protected] is an open-air bamboo coworking and meeting space which zero membership fees. You sit in breezy and spacious rooms of their bamboo pavilion.
Coffee shops in Canggu
ZIN Cafe: Zin Cafe is a true blessing to have in Canggu as it comes with a large open-air space in modern tropical design. The staff is very welcoming and the work slots are great to work from. You find plugs everywhere and fast internet too. It has a good variety of different areas to choose from.
Milu by Nook: This huge café brings an interior that might remind you of Ubud but you are directly in the heart of Canggu. It is entirely open air with nice high ceilings and fantastic views over the rice fields. The café lacks power plugs, so come here with fully charged batteries.
Coworking spaces in Seminyak
Biliq Bali: Biliq Bali is the first pay-per-minute coworking space on the island, making it one of the most affordable and flexible options around. Biliq Bali also serves up delicious tropical smoothie bowls and awesome coffees. Additionally, they also offer coliving.
Coffee shops in Seminyak
Kynd Community: This cool café is located in the Seminyak area, offers a great variety of food, and is laptop-friendly. KYND is a community of earth-conscious foodies serving up plant-based dishes and drinks for people who like to eat lightly – all in pinch-me-cute pink interiors with swings and instagramable lounges. The perfect spot for a short-time work session over lunch or brunch.
Other digital nomad-friendly coffee shops
NOIR Cafe: Located north of Denpasar, this place has fast wifi connection and a comfortable setup, and it is one of the must-see cafés you should check out.
Pitaloka Sanur: Pitaloka is located on the other side of Bali, which is where you can catch incredible sunrises. The concept of the café is Dutch-inspired and its affordable menu and coffees are popular among locals and tourists alike.
🚊 How to travel around Bali
Grab: Once landed at Denpasar Airport, use the airport's wifi and set up your Uber or Grab ride. Uber and Grab are around 30% cheaper than meter taxis. A taxi from Denpasar to Seminyak charges you approximately 350,000 IDRR (23 Euro) whereas Grab charges 60,000 to 70,000 IDR (4 - 4.50 Euro). Make sure to follow the instructions on the app and get to the official Grab pickup point.
Bluebird taxi: If you want to take a taxi and the drive is less than 5 km, make sure to go by meter. If you take a taxi long-distance, for example from Denpasar to Ubud, negotiate the price with the driver beforehand.
Private transport: A thumb rule is that if you want to go for some sightseeing and your route is longer than 5km or more than 4 hours, you might want to hire a private car and driver. A driver for one day costs approximately 600,000 IDR (40 Euro) minimum, but can also go up to 800,000 to 1,000,000 IDR (52 to 65 Euro), depending on route and hours.
Car rentals: You can find all major international car rental services in Bali. Be aware that in Bali, you will drive on the left side of the road. Day rates start at 20 Euro.
Renting a scooter: When renting a scooter in Bali, make sure that you always have your international driver's license with you as this is the law. Many rental services don't ask for your driver's license but you need to have one and you need to have it on you always when riding your bike. If you don't have an international driver's license yet, you can apply for one in your home country. Before paying for your rental bike, check it carefully, including breaks, wheels, and oil. Always wear a helmet and be aware that Bali is left-side traffic, just like the UK or Australia. An okayish rental bike should not cost more than 80,000 IDR (5 Euro) per day. Extra tip: When renting a scooter in Bali, choose the bicycle route option on Google Maps as these routes are often way more scenic with less traffic.
🎖Must see
Tanah Lot Temple: Tanah Lot epitomizes the romantic island of Bali. Tanah Lot means land in the sea, a perfect fit for its unique offshore location. The silhouette of the Pura Tanah Lot is one of the most popular iconic features of Bali.
Trekking to Mountain Batur: The Mount Batur sunrise hike proved to be one of the most incredible experiences you might have to date. When breathtaking views, an endorphin rush, and an outdoor experience are what you want.
Penida Island: Just a 30-minute speedboat ride southeast of the Bali mainland lies Nusa Penida (Penida Island). Nusa Penida has a surface area of approximately 202 square kilometers. For an island that size, Penida is laden with hidden treasures, exquisite beaches, and lush jungle hills you want to see.
Garuda Wisnu Kencana: Garuda Wisnu Kencana Cultural Park is located on top of a limestone hill 263 meters above sea level. Garuda Wisnu Kencana Cultural Park is approximately 250 hectares and it is planned to establish a statue there as a new Bali landmark. Initially, the park is designed to be one of the prestigious performance venues in Bali. If you are looking forward to seeing historic Bali culture, this is the place to visit.
Waterfalls and lakes: Bali is not only famous for its beaches, sunsets, and unique culture. The island of the gods offers beautiful lakes and waterfalls spread around the island. Ask your local neighbor, waitress, or driver for a hidden gem in the wild. You won't be disappointed.
💡Good to know
Internet: The median internet speed for fixed broadband is about 21.68 Mbps download and 10.25 Mbps upload speed.
Sim card: Although the country offers many internet providers, Telkomsel has the best coverage and speed. You can buy sim cards at the airport, in local shops, and even in a convenience store.
Digital nomad community: The majority of digital nomads are probably found in Canggu, Ubud, Sanur, Kuta, and Uluwatu. Check out the local Facebook groups to connect with fellow nomads.
Currency: In Bali, you pay in the Indonesian Rupiah. 1 Euro = 15,500 Rupiah (IDR), or 10 Euro is roughly 150,000 IDR. It's a lot of zeros, however, you can exchange Euro at the airport, and many places are official money changers.
Climate: The climate of Indonesia is almost entirely tropical. Being a tropical country, Indonesia does not have spring, summer, autumn, or winter, instead of just the two seasons of Rainy and Dry, both of which are relative. While there is significant regional variation, in most of the country (including Bali) the dry season is April to October, while the wet season is November to March.
Safety: Bali is incredibly safe to visit, pretty much always. While petty crime has increased in the wake of the pandemic, with some street smarts and simple precautions, this shouldn't be an issue for you. Pack away your bag under the seat on your bike, don't hold your phone ready to be grabbed, and avoid wandering the streets at night – easy to do, and keeps you safe.
🚧 What to avoid
Money exchange on the street: You have to be careful when using money exchange on the street. Sometimes they will scam you if they notice that you are the first timer in Bali. You can find another option with a better and bigger office to exchange your currency.
Tourist scams: Tourist restaurants, taxis, and other shops and services around the old town are known to rip off tourists. Stay alert, check your bill, your change, and the tax and fees they try to charge you.
Kuta, Canggu, any place after midnight: You must be careful with snatchers. Most of the time they will be in action at midnight or after your party time is over. So, make sure you keep yourself alert.
Yellow fever: Check your vaccine status for other illnesses, such as measles, polio, or yellow fever. A vaccine against yellow fever is required to enter Bali when entering from a high-risk country. When coming from Saudi Arabia, you must prove a vaccine against meningitis. Please check the WHO statement on Indonesia here.
Malaria: According to the WHO, "malaria risk exists throughout the year in most areas of the five eastern provinces of East Nusa Tenggara, Maluku, North Maluku, Papua, and West Papua [...]" (WHO). Tourist areas, such as Bali or Java, are excepted. However, some mosquito repellent might protect you too.
Dengue fever: Another painful disease and I talk from personal experience, is dengue fever. You can get it through bites from the Aedes mosquito, which is primarily active during the day. It is not much you can do except use mosquito repellent. However, tests and treatment can get costly.
Traffic accidents: Scooter accidents in Bali are common, and Indonesia has the highest fatality rate for traffic accidents. In 2016, more than 31k people in Indonesia died in traffic accidents. In 2020 the rate was still more than 23.5k (statista.com). According to the WHO, about 73% of the people involved in traffic accidents in Indonesia are motorcyclists. Additionally, every third person doesn't wear a helmet. Although scooters are fun and give us freedom: Make sure you get health insurance that covers accidents, and: always wear your helmet. By the way, Bali is not the most pedestrian-friendly place, so better watch your steps.
Air pollution: According to IQAir, Indonesia ranked as the 9th most air-polluted country in the world in 2020. However, Indonesia is a big country, and air pollution varies from island to island. The most polluted areas are Java and Riau. Let's check Bali. The places around Jimbaran and Ubud are the most air-polluted regions in Bali, with an IQAir index of 73 for Jimbaran and 69 for Ubud (November 17th, 2021). According to IQAir, Jimbaran and Ubud show moderate data. The best air quality can be found in Kuta, Bali, with an IQAir index of 12, stated as good air. For up-to-date data, please check this website.
Water pollution: Unfortunately, tap water in Bali is not the safest to drink. Due to agriculture, industrial waste, and domestic sewage, the water quality in Bali varies from place to place. The safest way to drink water is by using a water filter or buying bottled water. You can see the entire lab report here.
Food poisoning: The overall food quality in Bali is nothing to worry about. The problem is that the water, food, cutlery, and dishes are washed. Here are some tips on how to avoid the worst, e.g., Bali Belly (see next point): make sure plates, glasses, and silverware is dry before usage; drink only bottled or filtered water, and avoid drinks with ice cubes, as they might be made of tap water; wash fresh fruits and vegetables in salty water before usage; cut and peel fruits and vegetables yourself; avoid eating raw, uncooked, and ungrilled meat or animal products; avoid eating food at room temperature; have a look at the restaurants you eat, high turnovers are a good indicator for minimum quality standards.
Hospital stays: Reef burn, Bali tattoo, and Bali belly, better known as surfing accident, traffic accident, and traveler's diarrhea, are everyday emergency situations in Bali. First, you want to have some numbers handy, and second, you want to know where to go.
🚴🏻‍♀️ How to stay healthy
Stay active
Gyms: The classical way for your workout. Check out this list of some of the best gyms in Bali (by Flokq.com, February 3rd, 2021).
Yoga: Another great way to stay healthy is by doing some Asanas. If you don't want to practice yoga yourself, check out this list by Louise, Honeycombers, from January 15th, 2021).
Outdoor activities are another fun way to stay healthy. You might want to go for a hike, chase waterfalls, paddle or surf the waves, swim laps in your pool, or cycle across the island. You have loads of options! Check out our article Surfing & Health.
Health risks
Water quality: The tap water in Bali isn't recommended for drinking, so avoid it and stick to sealed bottled water.
Air quality: The air quality in Bali is moderate. The biggest air pollution comes from the rising number of vehicles.
🪪 Long-stay visas & residency
The single-entry visa is one of the favorite options for medium to long-term stays in Bali. The visa allows for stays of up to 6 months in Bali. After this 6-month period, foreigners can apply for a new single entry visa again for another period of 6 months. This process can be repeated several times.
The government-planned digital nomad visa will be valid for five years. It will allow remote workers to live in the country tax-free, as long as their income derives from businesses based outside of Indonesia.
At the moment, digital nomads can apply for a temporary visa to work from Indonesia. Options include the Visa on Arrival (VoA), which is valid for 30 days, the tourist visa, which can be renewed to last a total of 60 days, or a business visa which can be extended to 180 days.
A work permit (KITAS) is the legal way to work & stay in Bali for as long as you need to. If you are already in Bali or Indonesia on a short-stay visa, you can apply for KITAS now.
💡
Where to travel next? Destinations close to Bali.