Describing South Korea in only three words would include service, soju, and smartness. The technology-driven state in the southern part of the Korean peninsula is delivering superb quality of service and innovation directly extracted out of the gigantic Seoul's Digital Media City, a former landfill. Seoul is the world's leading smart city, integrating innovative technologies for its citizens, businesses, and environment that go align with the urban and regional planning policy. Having the Korean war (1950-1953) in mind, it is absolutely inspiring how South Korea rose from the ashes, just like Phoenix.
A rebirth might be necessary once one has experienced a proper night out in Seoul. In a country, where local schnaps soju is cheaper than water, there is no surprise that South Korea is famous for its drinking culture, extensive nightlife, and love for karaoke. Local chefs developed a whole cuisine on the cure of hangovers, which is made of beef broth, congealed cow blood, and bean sprouts. Let's dig into that dish later.
Entry requirements for South Korea
Valid visa: Visa or K-ETA (Korean Electronical Travel Authorization) application. K-ETA application requires one to be a national citizen of one of the eligible countries. K-ETA will be valid for multiple entries within a period of 2 years.
Covid test: Proof of a negative COVID-test result prior to your travels. Negative PCR-covid test within 48 hours before boarding or entering the country.
Vaccination: A valid EU Digital COVID certificate or a valid recovery certificate or an alternative proof of full vaccination. If you have been vaccinated in the USA, please show your CDC-card.
Quarantine hotel: Quarantine of 7 days after arrival is mandatory and the facility will be randomly chosen for foreigners. There is a fee to be paid to the quarantine facility. You can apply for a quarantine exemption here.
There is no mandatory obligation stating that you must have insurance when traveling in South Korea.
Travel health insurance for South Korea
💡
Genki World Explorer
is your travel health insurance for a 2-years worldwide cover. Monthly payment, easy signup, fair pricing.
Covid-19 in South Korea
South Korea shows a vaccination ratio of 80% of its population.
How to travel around in South Korea
Train: Before flying to South Korea, get a KR pass, which is not available once you are in the country. You can exchange the KR pass for an actual ticket which is valid for consecutive days depending on the pass you buy. If you travel with 2 or more people, you can buy a Saver Pass, and people under 24 can buy a pass at a 20% discount. The KTX trains are express trains and connect major cities.
Bus: Traveling by bus is the cheapest way to get around in South Korea and the network connects even the smaller towns and villages. You can purchase tickets online or at the Seoul Express Bus Terminal.
Subway: Seoul, Busan, Daegu, Gwangju, and Daejeon each have their own subway systems and it is the easiest and fastest way to get around in the city.
Taxi: Flagging down a taxi in South Korea is possible almost everywhere in the country. Taxis are relatively inexpensive, they are metered by distance, they are safe and clean. It is useful to have the destination written down in the Korean language.
Bicycle: Cycling is not really recommendable, especially in bigger cities. There are often no separate bike lanes and cycling through the traffic can be dangerous. However, for mountain bikers, the country has some excellent mountain bike trails.
Where to find a place in South Korea
Apartments: If you are looking for an apartment in Seoul, for example, you can use zigbang website, which guides you through the different districts. The site is in the Korean language, and to use it, download an extension for your browser, e.g. Google Translate, to translate the site into English, or your preferred language.
Hotels: If you chose to book a hotel, make sure you check beforehand where it is located and that necessities are within walking distance including subway stations.
Airbnb: The go-to booking system for short-term rentals. However, I am not a fan of Airbnb, and would only use it when other sources don't work. The fees skyrocketed in the last few years and I refuse to support it.
Facebook groups: Have a look in digital nomad and/or expat Facebook groups to find a place.
Good to know about South Korea
Internet: South Korea ranks 2nd (after UAE) when it comes to the country with the fastest average internet speed. Fixed broadband often comes with 110 Mbps download and 109 Mbps upload speed
Hospitality: South Koreans are very good hosts and service is often very professional. People are welcoming and friendly, although it will take a very long time or it might be impossible to be fully integrated into a Korean community.
English: The level of English-speaking Koreans reaches a good level for the capital Seoul. However, taxi drivers may not speak English, and as further outside the city you travel, the fewer you meet English-speaking Koreans.
Districts in Seoul: Arty districts in Seoul, e.g. the student district of Hongdae or Itaewon and Gangnam are the perfect base in the city.
Excursions: Take a day trip to Nami Island which is 1.5 hours drive from Seoul and a beautiful hideaway from the busy metropolitan buzz into quiet nature.
Food: Korean cuisine has more than 200 types of kimchi and the fermented healthy dish is served in every restaurant in the country. Koreans love their kimchi so much that you can find it in burgers, pizza, and pancakes.
Family names: Did you know that a Korean baby is already 1 year old on the day it is born? Therefore, Koreans are always one year older than most of us. Additionally, 26% of all Koreans have the same family name. Around 10 million Koreans are named Kim, followed by Lee, Park, Choi, and Jung.
What to avoid in South Korea
Air pollution: Air quality in South Korea is moderate with an average of 66 AQI in 2020.
Water scarcity: Water in South Korea is a precious resource as the country faces the highest population density and water shortage in the OECD countries. Water in the basins is fully but already allocated which makes water a scarce resource for future generations. Having this in mind, keep the shower time economical.
Gym memberships: Gyms in South Korea are pretty expensive. If you are on a budget for your workout, try out outdoor sports or YouTube yoga for your time in South Korea. If you are not on a budget and you can afford to spend around $70 per month for a gym membership, then you are all good here.
Superstition: The number 4 in Korean sounds similar to the word death, that is why you won't find 4 in elevators, apartment numbers, or floors. Tetraphobia, the fear of the number 4, is very common in East Asia. Writing with red ink or red color is closely linked to the fear of death. Unless you wish someone dead, you should avoid writing with a red pen.
Unhealthy beauty standards: Seoul is the capital of plastic surgery. Having a nose job done is as normal as going to the orthodontist to get braces. Although it is very normal for Koreans to get under the knife, I think this new normal is an unhealthy societal pressure (in general). So, why?
Facial hair: Having a beard. Well, coming from a family where almost every male family member would have a beard, men with beards are very common to me. However, Koreans don't think beard and any facial hair are attractive and therefore, Korean men go with a youthful no-beard look. That shouldn't upset you, as long as you are not looking into dating a Korean woman.
Useful contacts
Emergency: 119
Police: 112
How to stay healthy in South Korea
South Korea offers amazing outdoor activities in its mountainous areas, already accessible from Seoul. The Han River provides runners' trails and bike lanes to get the cardio up, and if you are not on a tight budget, even the gyms and yoga studios are an option. Besides the usual hotel stay, I have some fun and relaxing tips for your stay, including treehouses, temple stays, and capsule hotels.
Stay active
Gyms: If you want to go to the gym in South Korea, you will pay a lot more than the average gym in Europe, South East Asia, or the USA. Gym memberships in Seoul and Busan are often around $70 per month. So, yeah, gyms are really expensive in South Korea. One of the cheaper gym chains is Goto.
Yoga studios: Similar to gyms, also yoga studios come at a higher cost in Seoul. Prices per month can easily range between $80 and $150.
Running: It might depend on where you live and how easy access you have to the subway but Seoul has some decent running paths, e.g. along the Han River as well as Namasan mountain. Also trails around the Olympic Park, the Yongsan Family Park, and World Cup Park are good running spots.
Cycling: Seoul has a great cycling lane along the Han River. If you don't have a rental bike or your own bike, try out Seoul Bike, a public rental bike service.
Surfing: South Korea might not be the most famous surfing spot but there is a great surfer community in Busan. Also, Jeju Island and Yangyang are fantastic surfing destinations with surfing schools. If you want to read more on the health benefits of surfing, check my article Surfing & Health.
Skiing & Snowboarding: Around 3 hours from Seoul, accessible via a shuttle bus, you can find yourself in the Asian version of a winter wonderland, that welcomes you with slopes and lifts. Check out the Young Pyong Resort, which was home of the Winter Olympics 2018. Wondering about the health benefits of skiing and snowboarding? Read my article Snowsports & Health.
Sleep well
Genki offers travel health insurance for your stay in South Korea. Quick sign up from anywhere in the world (no need to be in your home country to sign up), and you will be covered for up to 2 years (monthly subscription and payment plan).
Featured travel destinations
Check out our list of featured travel destinations. All you need to know.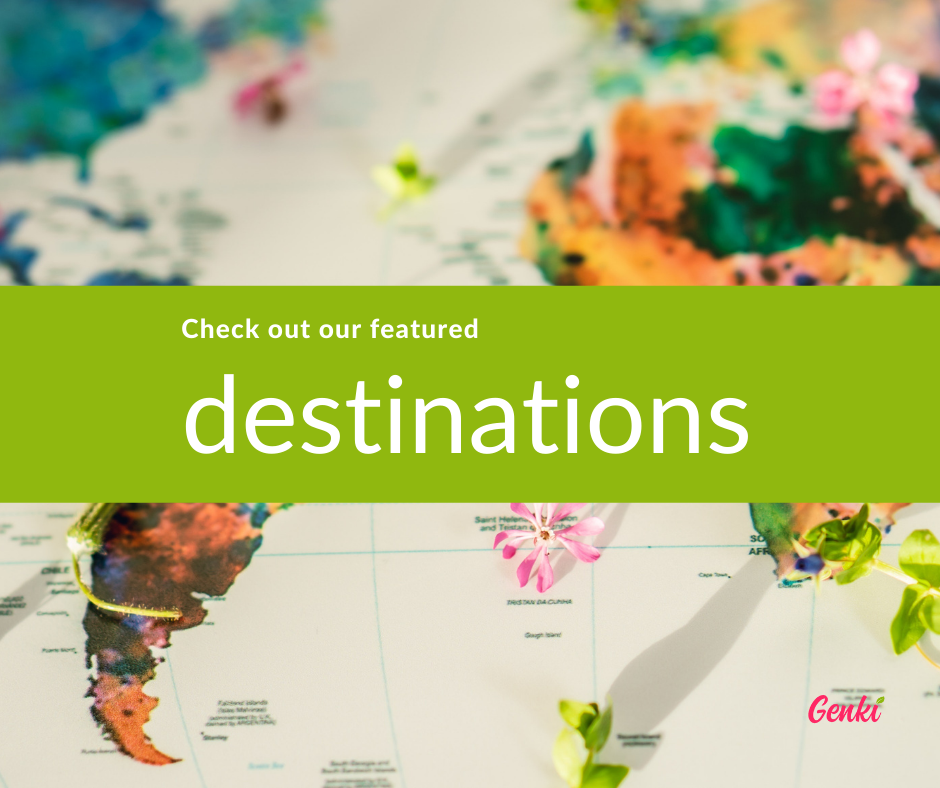 Do you like this post? Share it with your friends and fellow travel buddies!